Enterprises envision pretty pictures as nation says 'cheese' more often
Share - WeChat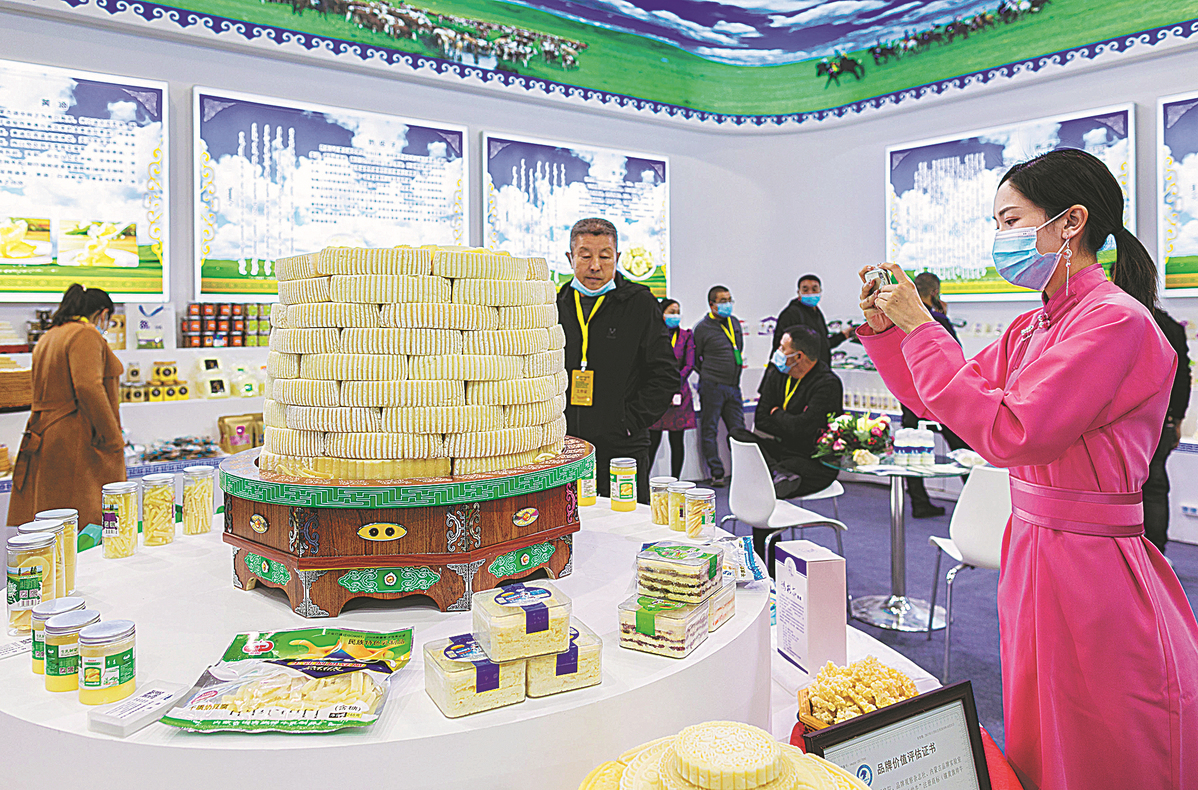 The launch of an innovation and production center by the country's leading cheese manufacturer-Shanghai Milkground Food Technology Co Ltd-has further accelerated its development and manufacturing capacity of cheese products for food service and retail sales.
The 800 million yuan ($126.2 million) center, covering more than 50,000 square meters in Shanghai's Jinshan district, is part of its efforts to play a greater role in the nation's fast-rising cheese market.
The company has also built a high-end dairy product testing and examination platform, which serves as the country's leading testing lab and database for the cheese industry, the company said.
Milkground's first phase of its smart factory began operating in April with 50 production lines and facilities for research, development and testing.
The annual production capacity for cheese products such as sticks and slices and also butter is about 80,000 metric tons. Along with its innovation capacity, the center is expected to give Milkground one of the country's largest cheese production facilities, the company said.
According to market research provider Euromonitor, Milkground's market share rose from 3.9 percent in 2018 to 27.7 percent in 2021, overtaking German cheese brand Milkana as the No 1 player in the sector in China.
Chai Xiu, president and founder of Milkground, said: "The innovative cheese center has what is among the most advanced and smartest production technologies, and it is expected to become a tourist site focusing on cheese themes that will attract visitors to come and understand our industry."
In the third quarter of 2021, the company's revenue reached 3.14 billion yuan, up 67.58 percent year-on-year. Net profits increased 171.1 percent to 143 million yuan yearly.
Revenue generated by the cheese business surged 69.9 percent to 2.28 billion yuan compared with 2020, making up 72.6 percent of its total revenue. Even though the company entered the cheese business relatively recently, in 2016, its mozzarella has a 60 percent market share among its product category.
The company's products were handled by 4,226 wholesalers by the end of September, and they were sold at more than 360,000 retail outlets covering more than 95 percent of Chinese cities, the company said.
E-commerce has become a major driving force for its business growth as well, with its products available on leading e-commerce platforms such as Tmall, JD and Pinduoduo.
Mengniu Dairy, a major producer and distributor, became the largest shareholder in Milkground after investing 3 billion yuan in 2020 to take control of the cheese company after several earlier buy-ins as the Chinese dairy giant moved to diversify its product line and cater to Chinese consumers' emerging tastes.
Chai said by leveraging Mengniu's resources in dairy farms, global supply chains and its product quality control system, Milkground, focusing on high-end cheese products, will have the capacity to become a global leader in cheese manufacturing.
In Western cultures, cheese is eaten mostly as a dairy treat or as part of a cooked dish, according to Annie Jiang, research analyst for food and drink at market intelligence agency Mintel Group. In China, growing cheese usage in the food service sector, such as for pizza or cheese foam topping for milk tea, has increased consumers' exposure to the product, Jiang said.
Targeting Chinese dining tables, Milkground has plans to roll out new products to better integrate cheese with Chinese recipes.
Chai said she has observed the growing demand for mixing cheese into Chinese congee, in which the hot dish makes cheese softer and tastier for Chinese seniors, she said.
According to Mintel's December 2020 report on China's cheese market, retail sales of cheese were estimated at 5.34 billion yuan in 2020, having grown 18 percent year-on-year, aided by increased time spent at home during the COVID-19 pandemic and interest in cooking and baking.
Mintel predicts total retail sales of cheese in China will reach 8.9 billion yuan in 2025. The total retail volume of cheese is predicted to reach 67,300 tons in 2025. The forecasts place cheese as the fastest-growing dairy category.
Cheese, not a popular traditional food in China, can still be a tough sell at retail markets in the country. However, years of market exposure and growing health awareness have cultivated an awareness of its benefits as a snack, the report said.
International and domestic companies have expanded cheese snack offerings, mostly marketed to children. Yili, Bright and Mengniu lead in consumer brand recognition.
There is still a long way to go before cheese becomes a part of the daily diet for most people in China, which is why brands should not rely only on retail sales but also think about food service sales to educate or inspire consumers on the best ways to enjoy cheese, the report said.