'Actors' jump at the chance to flee reality
Share - WeChat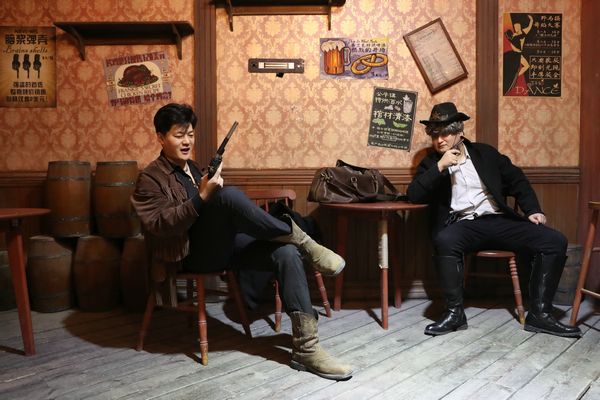 Escape room games rise in popularity as young players relish their roles.
Just before New Year's Eve, Zhao Mudi, a 21-year-old college student, and five classmates experienced "time travel" in the renovated basement of a Beijing furniture retailer.
They found themselves playing passengers in period costumes on a train traveling in the United States in 1865 just after the Civil War.
There was an explosion, the train went out of control, and the shocked passengers extricated themselves from the wreckage to find they were in a small town in the middle of nowhere.
Zhao and his classmates were taking part in Wild Story of a Wilder Town, one of the most popular escape room games in the Chinese capital.
They had 145 minutes to escape from the room-and the clock had already started ticking. The passengers, who included "Monica", a young woman working on farmland, "Peter", a bounty hunter, and "Emily", a spy in search of gold, were assigned different secret missions. Their roles were decided by drawing lots.
They also needed to deal with those living and working in the town, including cowboys and bartenders, while keeping their own identities secret.
In China, escape rooms first became popular more than 10 years ago and initially centered on horror themes. In less than a decade, they evolved from players solving a series of puzzles in a predetermined time to escape from a locked room, and now feature puzzles, action-driven storylines and complex characters.
Zhao, who has visited escape rooms since high school, said: "It's the third time I've been to this one to play this game. I know the story, I'd played two different roles before, but I wanted to experience a new one this time.
"I promised my classmates I would not reveal any secrets, as it was the first time they had played the game. I told them it was captivating, but difficult."
As Zhao and his classmates set about their tasks as though they were acting in a cowboy movie, they worked as a team and also as individuals to solve problems and make decisions, which brought them different endings to the story.
Most Popular