Logistics sector navigates staying open during Spring Festival
Share - WeChat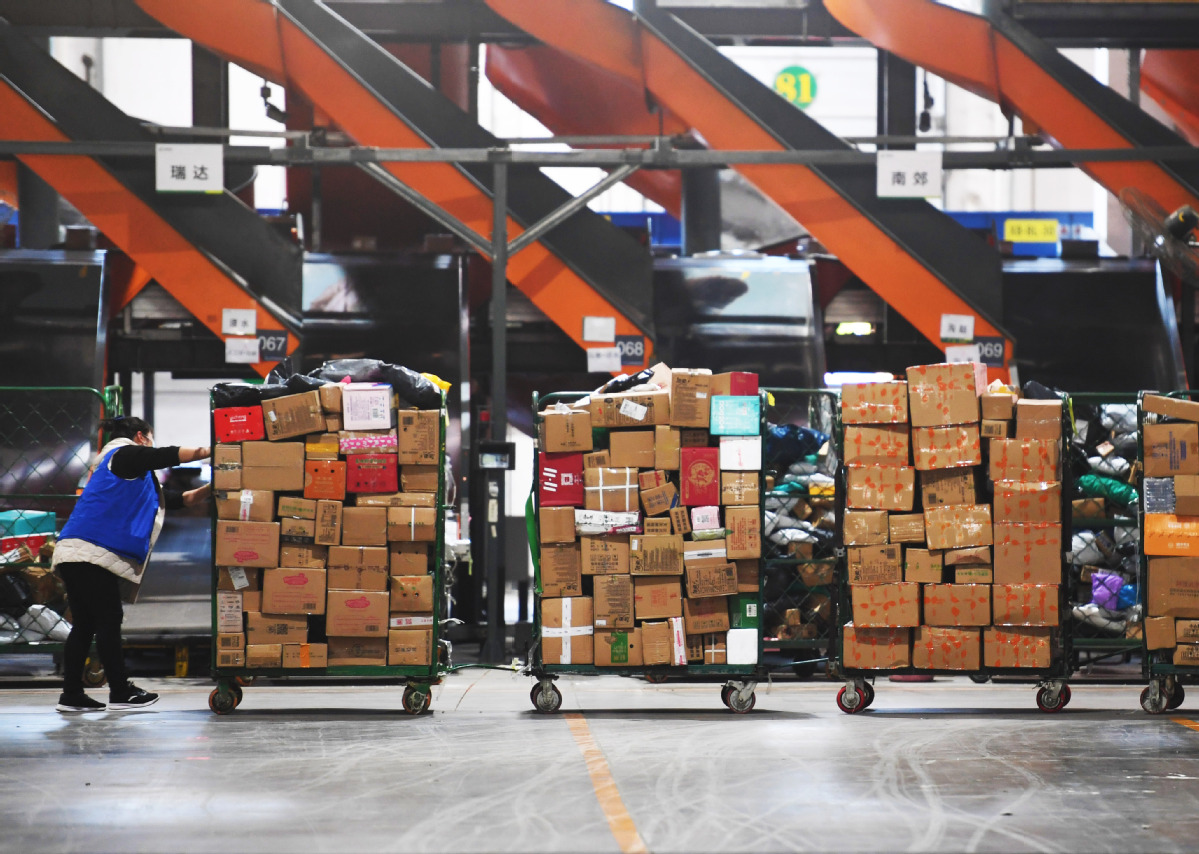 Many Chinese logistics and express companies decided to keep their business going during this year's Spring Festival, which lands in early February.
Deppon Logistics Co Ltd, one of China's largest logistics companies, first announced the plan last month, followed by ZTO Express, Yunda Express, JD Logistics, STO Express and J&T Express.
China's postal industry saw robust growth in revenue and parcels handled in the first 11 months of 2021, along with the rapid development of e-commerce. The sector raked in more than 1.16 trillion yuan ($182 billion) during the period, up 17.1 percent year-on-year according to the State Post Bureau.
China's courier companies handled 98.05 billion parcels from January to November, surging 32.3 percent from a year earlier. Their combined business revenue amounted to 941.47 billion yuan during the period, a yearly increase of 19.6 percent.
Affected by the pandemic, more people are staying where they work or study to celebrate Spring Festival, and this further pushes delivery demand up during the holiday season.
According to the SPB, China's postal industry collected and delivered a total of 660 million parcels, a year-on-year increase of 260 percent over Feb 11 to 17 in 2021, the Spring Festival holiday period that year.
Data from JD.com showed as many college students stayed in school for winter vacation, online shopping orders from this group increased 373 percent year-on-year from Jan 13 to 31 last year.
The trend is expected to continue this year, People's Daily Overseas Edition reported on Thursday, and the decision to keep operating during Spring Festival helps to solve the supply-demand problem in the peak season, it said.
Yang Daqing, a parcel delivery industry specialist, told the paper not closing during Spring Festival has become a way for most express companies to compete, and leads to improved service awareness and capabilities.
But Yang also warned of unfair competition among courier companies and against any behavior harmful to the industry and their employees.
Staying open during Spring Festival will definitely increase costs, and express companies should take a long-term view and assume responsibilities instead of transmitting pressure to front-line operators. The decision should be a "win-win" result for consumers or practitioners alike, Yang added.
Many express companies in China have been experiencing upgrade pains. In periods when costs are rising, most choose not to raise prices in order to stabilize the market, but this will obstruct income increases for first-line practitioners, said Yang, adding the express industry should gradually improve the price formation mechanism based on service refinement and quality differentiation.