Wave of courage
Share - WeChat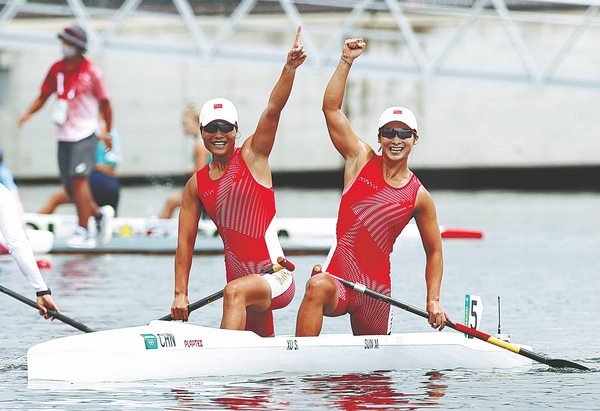 When Xu Shixiao went to work as usual in a furniture company in Nanchang, Jiangxi province, five years ago, she was surprised to get a call from her former coach, inquiring about her willingness to return to canoeing and compete in the Tokyo Olympic Games. Xu quickly made her decision.
"I quit my job as a human resources manager, informed my family and went back to training three days later. There was not much time left for me to prepare for the Olympics," Xu recalls.
On Aug 7, Xu and her partner, Sun Mengya, won gold in the first women's canoe double 500m event at the Tokyo Games. It was also the first Olympic gold medal for China in the event.
Yet Xu's journey to the Olympics was bumpy-she faced lots of difficulties, such as her physical condition after years of retirement and her parents' opposition because they thought it was time for her to get married.
"It was really a hard decision for me to go back to being an athlete after four years of retirement," says Xu.
"I didn't want to regret not competing for a gold medal. I desired to be a champion. I had nothing to lose even if I failed."
When Xu retired in 2013, she struggled about the decision for months. At the time, women's canoeing was still not an Olympic event, nor was it in the National Games. Xu felt depressed to retire without a canoeing gold after years of training.
Most Popular