US table-tennis player recounts pairing with Chinese team
Share - WeChat For Kanak Jha, playing with one of the best table-tennis players in the world, it was a memorable experience.
Jha, the top US men's player, said his recent mixed-doubles pairing with China's Wang Manyu — the women's singles world champion — is something he won't forget.
"It's really exciting just to play with the Chinese national team, who are the best in the world," said Jha in an exclusive interview with China Daily. "I really wanted to be like a sponge, just absorb as much knowledge and information they have. And it's definitely something I'll remember in my career."
In late November, the World Table Tennis Championships Finals took place in Houston, the first time they were held on American soil. But his pairing with Team China made it even more memorable.
Just two days before the championships started, the table tennis associations of China and the US announced the two mixed-doubles pairs would compete to coincide with the celebration of the 50th anniversary of Ping-Pong Diplomacy.
"For me, it was a huge honor to be a teammate with Wang Manyu and also be a part of this historic 50th anniversary of Ping-Pong Diplomacy, something very important to the history of our two countries," said the 21-year-old, adding that he learned about that event and how it helped ease the tensions between the two countries during a time of uncertainty.
The reciprocal international visits of the American and Chinese teams in 1971 was credited with being a steppingstone to the establishment of diplomatic relations between the US and the People's Republic of China one year later.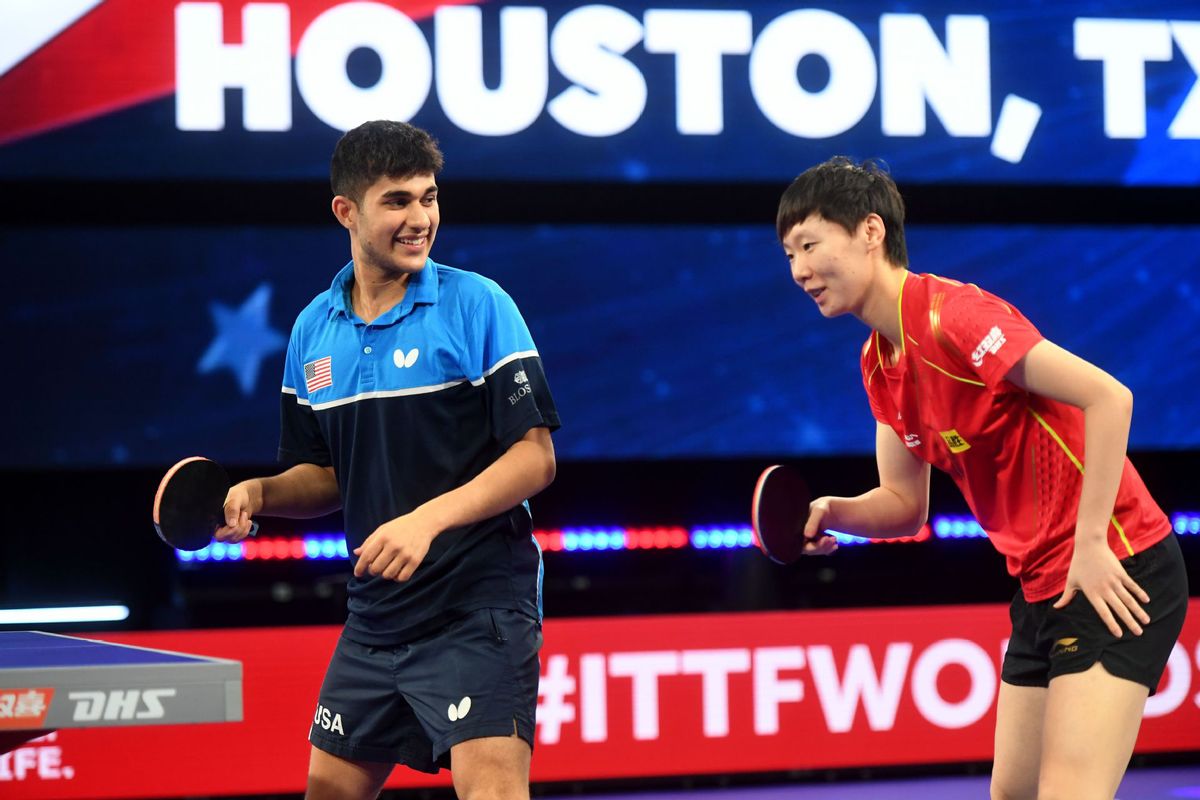 However, some critics said that after the pairings were announced, the cooperation wouldn't have the same impact as it did 50 years ago, due to the current geopolitical and economic tensions between the two major powers.
Still, Jha stressed the importance of sports as a positive influence.
"A huge part of what sports means for my whole career and for many people is to bring people together," he said. "Maybe we don't speak the same language, we don't have the same culture, but we all speak the language of table tennis. That's something really important about sports and what it does for humanity."
Wang Manyu illustrated the strength of that bond when asked if there were language barriers between them.
"Actually, the table tennis itself is a common language and a way of communication for us," she said. "I'm very lucky and delighted to have the opportunity to pair with the US player and hope here in Houston we can make our story become a part of history by our effort."
Although the pair failed to reach the final eight after losing to a team from India, Jha said they did "quite well together overall, especially for our first time".
"Manyu was able to guide me quite well with her experience and knowledge," Jha said, noting that she was a former doubles world champion in 2019. "So she has a lot of knowledge and experience about the tactics of doubles and how to move, and ways to win a point."
Jha also revealed some heartwarming moments behind their combination. "When the pairing was announced with Wang Manyu, I got many messages even on my Instagram from a lot of Chinese fans, or fans of Wang Manyu," he said. "And they wanted to support our combination, hoping we will do well together."
Jha said he was thankful to everyone supporting and following him. "[That's] something that really gives me a lot of energy to know that there's people behind me. Very appreciative," he said.