US democracy has become an empty slogan
Share - WeChat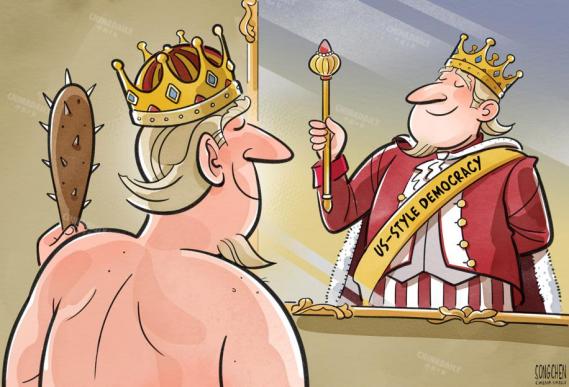 By hosting the so-called Summit for Democracy, the US is desperate to portray itself as a champion and defender of democracy, only to reveal the hard truth: the US has put things upside down with an overemphasis on votes instead of lives, on formality instead of real results, on ideological confrontation instead of international solidarity.
Democracy should be a shared value for all humanity. To protect democracy, we need to consolidate its foundation, i.e. to resolve real problems, in particular to improve people's livelihood. However, the US failed to stand as a model of democracy for development and livelihood as it ought to have done, both domestically and internationally.
To date, more than 800,000 have died due to COVID in the US. Over 3 million were living in poverty in 2020. The consumer price index soared by 6.2% in one year, highest in the past three decades. The killing of Floyd smothered minorities' hope in America and ignited rage across the society. But pathetically, the US ascribed challenges from economic growth, COVID-19 pandemic, inflation to social injustice to the so-called "fragile democracy".
"It's the economy, stupid!" shouted Bill Clinton in his campaign in 1992, an indication that growth and livelihood should be government's top priorities. But today, some US politicians have become the stupid part of Clinton's campaign slogan, who regard the fake democracy as a panacea for the real challenges of governance.
While struggling at home, the tilting democratic beacon has faded into dogmatic preacher that points fingers around without concrete actions and doggedly sells the ideas of American democracy to the world. US politicians simply ignore the fact that state building and economic adaptation, rather than the lip-service and vague dreams of American democracy, are what other countries need for development.
That is clearly evidenced by the stark contrast between countries with different approach to democracy. For those forced to adopt American democracy, voluntarily or not, they were unable to escape economic crisis or even warfare. From the third wave of democratization and the color revolution in the last century, to the Project on Middle East Democracy and the Arab Spring, American democracy entails stagnation and turmoil. For those countries that found the path suited to their own situations and kept distance from the American propaganda, they were able to achieve sustained growth and stability.
People need food, safety and healthcare, rather than the empty promises or slogans, to survive. Losing focus on livelihood, American democracy has become a cliche that ties problems into a Gordian knot.
The US had learned no lesson whatsoever. Instead of the so-called Summit for Democracy, what the US should hold is a Summit for Livelihood to help the people, particularly its own.
Most Viewed in 24 Hours
China Views