US failure on COVID sees 'tragic milestone'
Share - WeChat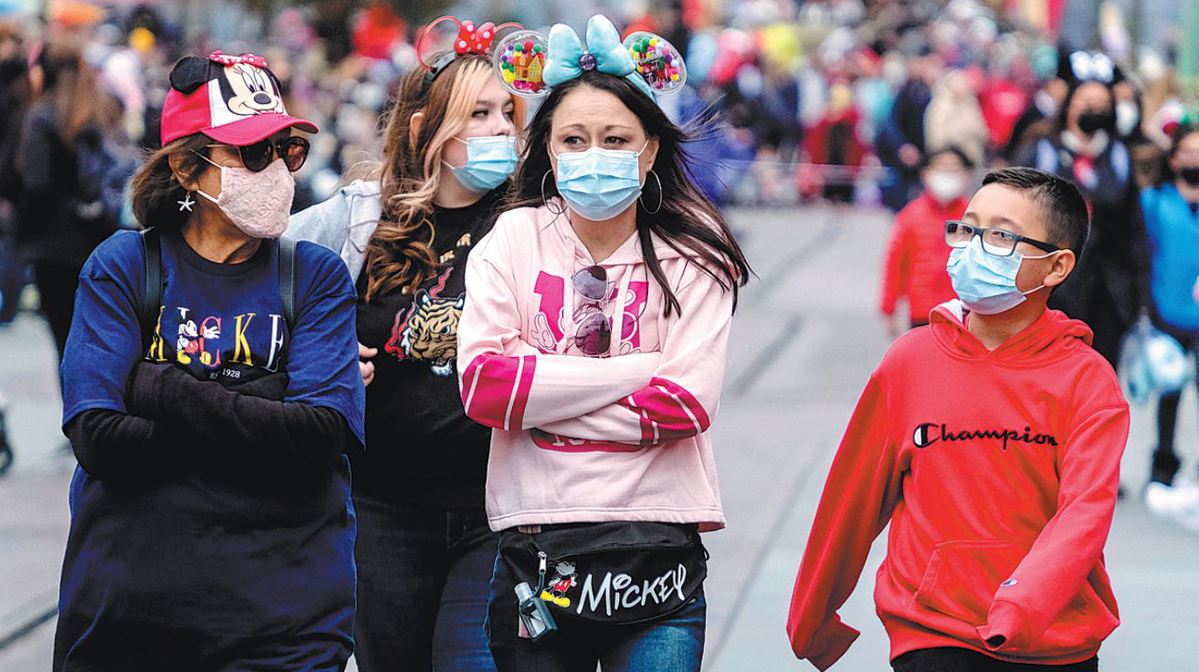 Biden's measures too little, too late for fast-moving virus, experts say
The COVID-19 death toll in the United States has surpassed 800,000, a somber reminder that 2021 was a year that saw a relentless wave of new infections.
The stark number was recorded among a cumulative total of more than 51 million coronavirus cases in the country. The US makes up 4 percent of the world's population, but accounts for 15 percent of the 5.3 million COVID-19 deaths.
The "tragic milestone", as US President Joe Biden put it, arrived amid calls for vaccination as the Omicron variant gains ground.
"If you're not fully vaccinated, you have good reason to be concerned," Biden said on Dec 21 at the White House, where he unveiled the federal government's plans to buy 500 million rapid coronavirus tests to be distributed free to those who request them starting in January.
About 200 million people, or 61 percent of the US population, are fully vaccinated.
Biden also activated some 1,000 military medical personnel to support hospitals. But health experts said the new measures are too little, too late to stem a surge of Omicron cases over Christmas and New Year.
Anne Rimoin, an epidemiology professor at the University of California, Los Angeles, praised Biden's focus on testing, but added it is a "critical tool" that the US is "woefully" behind on. "Unfortunately, it's late in coming and will be a small drop in the bucket compared to the tsunami of cases on the horizon," she said.
The tests promised by Biden equate to just one or two per US resident. Households need far more to make daily decisions about exposure.
"We need those tests now," she said. US testing is behind the curve because of a lack of skilled workers, a shortage of at-home test kits and low investment in the equipment in recent months, according to interviews with officials, health providers and test kit makers.
Omicron now accounts for 73 percent of all new cases in the US, up from less than 1 percent at the beginning of the month, according to the Centers for Disease Control and Prevention.
Omicron infections are also rising among the country's fully vaccinated population. Only 30 percent have had booster shots, which are said to provide more protection from the variant.
"He kept reiterating, 'vaccines work, vaccines work', like a mantra, a talisman," tweeted Gregg Gonsalves, a Yale University epidemiology professor, adding that Biden should have made clear that a booster shot was key to protecting against Omicron.
Masks are integral
He also said Biden should have made masks a more integral part of the response.
"And on masks? Bupkis. Get people N95s and other better masks," he wrote. "This sounded like an administration caught flat-footed, running to play catch-up."
Joshua Salomon, a Stanford University health policy professor, said he would have liked Biden to elaborate on reducing risks. "There's a tidal wave of infection coming, and I would have liked to see the president emphasize that all of us, whether vaccinated or boosted or unvaccinated, can do more to minimize transmission risks," he said.
Ahead of the holidays, the World Health Organization urged people to cancel gatherings, saying they would result in "overwhelmed health systems and more deaths".The White House said on Dec 21 that it was following CDC guidance, which includes recommending masks in indoor public settings and self-testing before gatherings with another household.
"They're going to the path of least resistance now. They know people are tired, people are fed up. They know that any talk of any harsher measures... will get met by vociferous pushback from the Republicans," Gonsalves said.
Monica Gandhi, an infectious diseases expert at the University of California, San Francisco, told China Daily that cases will likely surge during the holidays, but the country is in a "different place" this year compared with 2020 due to vaccines.
Gandhi said the most important thing for the US is to encourage vaccinations, deliver boosters to high-risk individuals such as those over the age of 65 and those with medical conditions, and track hospitalizations carefully during the holidays.
About 75 percent of those who have died from the virus have been 65 or older. For those who have died from the virus, the rate is one in 100 for older people compared with one in 1,400 for people younger than 65.
Biden, who took office in January, campaigned on a promise to take control of the pandemic, which his predecessor Donald Trump played down as hundreds of thousands died.
He has largely focused on persuading the public to get vaccinated, amid pushback from many Republican leaders who reject vaccine and mask-wearing rules and an anti-vaccination movement fueled by conspiracy theories on social media. The country's vaccination rate lags behind most rich nations.
Impact on schools
COVID-19 is also having an impact on education.
The highly transmissible Delta and Omicron variants have forced some schools to revert to remote learning.
Amid a recent surge in coronavirus cases, the New York City Education Department shut down 859 classrooms this month, four times the number in November. Nearly 2,500 classrooms faced partial closure as a result of the newly reported infections.
In New York, nearly 42,600 people tested positive for coronavirus from Dec 15 to 18. According to the city government website, 82.5 percent of adult New Yorkers were fully vaccinated as of Dec 21.
Biden also announced that the city would be the first to have federal testing sites.
School districts nationwide are also canceling classes for "mental health days", so that students and staff could recover from the stress of returning to school during the pandemic.
Many K-12 schools across the country have implemented strict mask and vaccination requirements to help keep students in school safely. Those measures, however, do not prevent schools from closing temporarily when coronavirus outbreaks are detected among students and staff.
Agencies and Xinhua contributed to this story.