Readers' club in Serbia opens new chapter for Chinese literature enthusiasts
Share - WeChat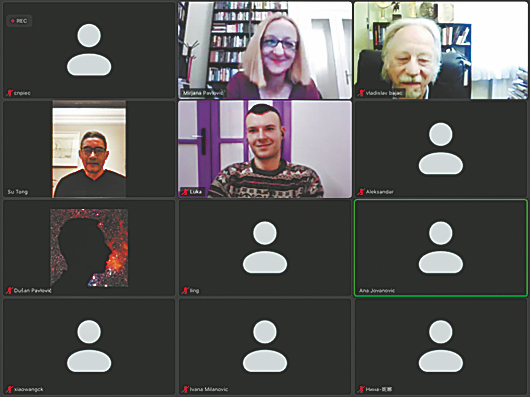 Serbia may seem like an unlikely setting for an organization called the Chinese Literature Readers' Club, but on Dec 20 the club was formed in Belgrade with the expressed intention of bringing more Chinese literature to the attention of Serbian readers. Its formation was marked with an online seminar to introduce the works of Chinese writer Su Tong to local bookworms.
The club is dedicated to providing greater access to Chinese literary works and helping people accumulate a greater knowledge and understanding about Chinese literature and culture. It also hopes to discover young translators and provide them with a platform to communicate with Chinese stakeholders.
Three of Su's novels, Binu and the Great Wall, Wives and Concubines, and My Life as Emperor, are recognized by Serbian readers, says Mirjana Pavlovic, an associate professor of Chinese language and literature at the University of Belgrade, who has translated two of Su's works into Serbian.
During the online seminar, Pavlovic posed questions on topics such as the relationship between history and fiction and the portrayal of female images in Su's novels, which she personally was interested in.
Su says, with Wives and Concubines, he intended to look into contradictions and entanglements of human nature, and in a polygamous family, intense interactions and less personal space may be more likely to lead to sharper conflicts.
Su also explains the relationship between history and fiction using the example of his My Life as Emperor. He obscured the time the story took place on purpose because instead of recounting something that happened in the past, he hoped to elevate major issues like the survival or destined fate of humans.
He believes writers can turn history into fiction when they recount the past in their own way, and history and fiction can reflect each other.
Binu and the Great Wall was translated into Serbian, the first among several other foreign versions of the book, ushering in a new era for the publication of Chinese literature in the country, according to Vladislav Bajac, a Serbian writer and head of Serbian publisher Geopoetika.
During the event, Su also introduced the background of some of his other works, and the Chinese folk operas and tales involved, to around 70 local readers.
Pavlovic, in charge of the club, says she hopes to hold various events like this to promote exchanges and mutual understanding between the two countries.
fangaiqing@chinadaily.com.cn