Deadly mix: Tusks, tigers and humans
Share - WeChat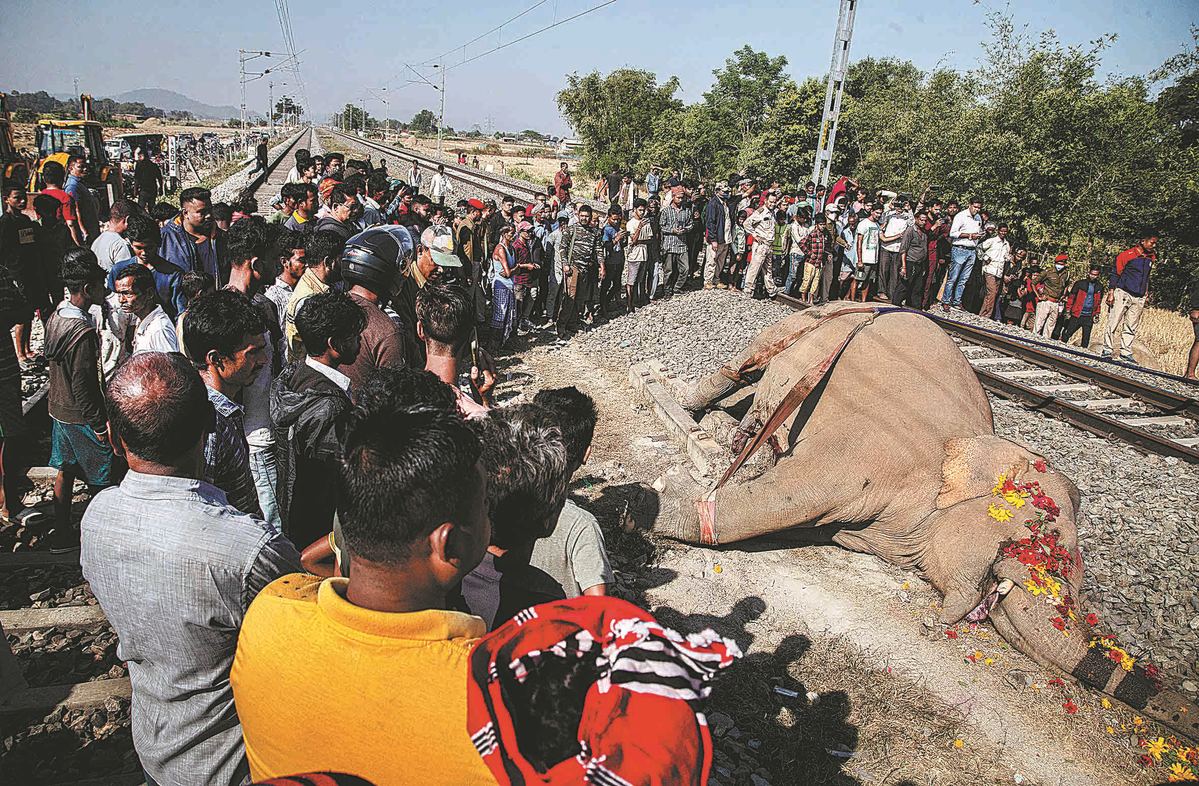 Authorities in India have adopted a number of measures to contain the alarming rise in incidents of human-wildlife conflict recently.
According to data from the National Tiger Conservation Authority, 320 people were killed by tigers in India from 2014 to 2020, with the western Maharashtra state topping the list with 99 deaths. And 857 tigers died nationwide from 2012 to 2020 due to various reasons including poaching.
Government figures also showed that more than 500 elephants were killed in India during the 2014-15 and 2018-19 periods, with most of those incidents linked to conflict with humans. During the same periods, 2,361 people were killed in conflicts with elephants.
Indian states have now launched various measures to minimize these incidents. In eastern Bihar state, officials plan to release bison and spotted deer in tiger habitats, so that the big cats do not search for prey near human settlements.
The plan was introduced because the tigers were frequently seen straying from their habitat in Valmiki Tiger Reserve, roaming near human settlements in search of food and resulting in human-animal conflicts. This year tigers have killed about 10 people, and angry villagers have attacked and severely wounded some of these animals, forest department officials said.
"We plan to release bison and spotted deer in tiger habitats at regular intervals," said Hemkant Roy, the tiger reserve's director.
"This should prevent (these animals) from coming near human settlements in search of food."
Ranked the fifth best tiger reserve in India, Valmiki is a 900-square-kilometer area home to some 40 tigers.
Several measures have also been taken in Maharashtra, which has reported 42 deaths in human-tiger conflicts this year.
Trenches, fences
In southern Tamil Nadu state, home to 15 wildlife sanctuaries, five tiger reserves and four elephant reserves, forest authorities have taken other measures to keep recurring incidents of human-animal conflicts in check.
"We are digging trenches, building solar-powered fences and carrying out regular patrols to keep animals in the habitats itself," said Sachin Bhosale, deputy director of Mudumalai Tiger Reserve.
Conflicts with humans occur as the wild animals are attracted to agricultural crops, officials said.
Wildlife experts said three factors are largely responsible for the increase in such conflicts. These are the rapid urbanization and industrialization that lead to a reduction of wildlife habitats, expansion of road and rail networks through forest areas, and the increase in human population that results in people moving to the edges of protected wildlife sanctuaries.
They have called for extensive awareness campaigns and "responsible tourism" initiatives to keep human-wildlife conflicts in check.
"People need to be taught about what they should do when they encounter such a situation," said Kaustubh Srikanth, wildlife expert and founder of The Wild Connect.
The author is a freelance journalist for China Daily.