How to ensure the success of policy to ease pupils' burden
Share - WeChat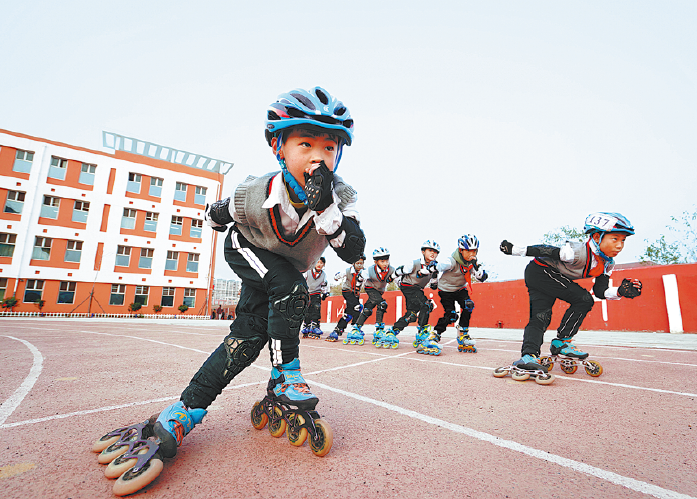 Thanks to the "double reduction" policy, many Chinese private tutoring giants including New Oriental Education and Technology Group, TAL Education Group and Juren Education have announced that they will terminate their tutoring business for primary to junior high school students (the nine-year compulsory education period) by the end of this year.
In order to reduce students' stress, the Chinese government implemented the "double reduction" policy to ease homework and after-school tutoring burdens, the General Office of the Communist Party of China Central Committee and the General Office of the State Council jointly released the policy on July 24, with the policy taking immediate effect.
Beijing, Shanghai, Guangdong province, and all other cities and provinces then introduced a series of measures to implement the policy locally. The policy mandates the banning of tutoring companies from making profits, or providing test-preparation courses during national holidays, weekends, and summer and winter vacations, or teaching lessons from the new syllabus before the beginning of a new school session, or introducing foreign textbooks in their courses.
China's efforts to cool down the overheated private education sector have yielded some great results. Five months after the implementation of the policy, on Dec 21 to be precise, the Ministry of Education announced on its website that 84 percent of after-school tutoring institutions in pilot cities across the country had ceased operations.
While Beijing shut down 98 percent of the unlicensed offline cramming schools, Shanghai saw the closure of more than one-fifth of the private tutoring institutions that provided compulsory education, with about 35,000 people leaving the sector.
But there is still a long way to go before the private tutoring companies can transition to another business.
While New Oriental Education and Technology Group might return to their old business of preparing students for overseas studies and higher education in China, TAL Education Group might revert to the field of research and high-tech, in order to capitalize on its advantages. In fact, instead of preparing students to secure higher scores in examinations, TAL should help children improve their reading experience, develop logical thinking, and learn to effectively express themselves. If the company does so, it could help make off-campus training classes more diverse and interesting.
Since the "double reduction" policy is aimed at easing the education burden on students rather than compromising on standards, it's important to improve the quality of education both at school and after class, and distinguish between the two to meet the different demands of students, in order to effectively implement the policy.
It is also important to encourage students to acquire more knowledge rather than just forcing them to cram for exams. Bridging the gap between public schools and using different evaluation methods to select talents can also help effectively implement the policy.
Bur since test scores still dominate gaokao (college entrance exam), it may be difficult to completely root out private tutoring institutions. Indeed, the "double reduction" policy can work for private tutoring giants, but it may drive smaller institutions underground. As the limelight shifts from the private tutoring institutions after the implementation of the policy, some after-school education institutes may change their form and format and continue to operate as before.
The government published its first document to ease students' burden way back in 1951. But the goal has not yet been realized, because students, with the help of their teachers and parents, are still busy trying to improve their test scores with little time and energy left to realize their full potential. And schools, treating students as an undifferentiated group of examinees, have failed to create a productive learning environment.
That's why the "double reduction" policy encourages students to quit the rat race of securing higher grades as long as they can meet the national curriculum standards. Test scores shouldn't be the only criterion for judging whether a student is good or not. Instead, the aim of education should be to encourage students to excel in their respective fields by realizing their full potential, not just focus on scoring high marks in exams.
In short, education should encourage both students and teachers to explore the best way to enhance their knowledge based on their areas of interest and personality traits, so that their academic burden reduces automatically.
The views don't necessarily represent those of China Daily.
If you have a specific expertise, or would like to share your thought about our stories, then send us your writings at opinion@chinadaily.com.cn, and comment@chinadaily.com.cn.
Most Viewed in 24 Hours
China Views