Online creator conference looks at new focus
Share - WeChat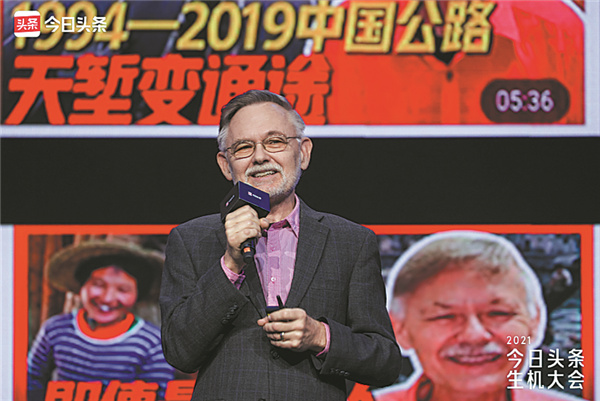 The seventh Toutiao Annual Creators Conference was held online in Beijing on Dec 20. Chen Xi, president of Toutiao proposed that high-quality and diversified content aimed at various age groups will become the new focus of the platform. Chen says they have always been committed to allowing users to see a bigger world. Toutiao is one of China's most popular content discovery and creation platform where users explore news and content through personalized recommendations.
To encourage the creation of high-quality content, one of the next priorities for them, Chen announced the "Content Appraisal Officer" initiative. The plan is to invite 1 million users who are experts in various industries to jointly evaluate the quality of content. Content acknowledged by these professional users will be given more exposure and creators can receive fivefold revenue sharing at maximum.
Toutiao will also launch a special project to better support the knowledge-based content in the form of documentaries, museums, poems, electronic publications, audiobooks and open courses.
Xu Yilong, deputy editor-in-chief of Toutiao says they have seen such knowledge-based content scale up on their platform. More than 13,000 new posts about poems are published every month with viewerships exceeding 35 million.
Song Baozhen, head of the Drama Research Institute of the Chinese National Academy of Arts says the popularization of art requires professional support. After the academy officially settled in Toutiao in January, the first interpretation video about the Chinese literary classic Dream of Red Mansions has received more than 100,000 views.
"This makes us realize that works in the original academic circle can also be accessed through the platform, entering thousands of households," Song says.
In addition, Toutiao will increase the investment in diversified content categories appreciated by various age groups. Their research shows that users born after 1980 consume much more short-form videos on their Weitoutiao account than other age groups.
Zang Qian, director of creator operations at Toutiao says there will be a "New Vitality" initiative focusing on such content. The platform expects to boost additional 200 million views for content categories such as technology, games, automobiles, food and photography, and offers about 360 million yuan ($56.5 million) cash resources to cultivate creators in these genres.
In 2021, 8 million users are expected to earn an income through Toutiao, an increase of 48 percent from last year. The total income of creators grew by 32 percent year-on-year.
"We hope that through this initiative, more good content with outstanding information or aesthetic experience will be presented to our users," Chen says.
Some creators highlighted the critical role of authenticity and professionalism in content creation, and some talked about their story of being a creator on Toutiao.
Most Popular