Putin highlights strong China-Russia cooperation at annual news conference
Share - WeChat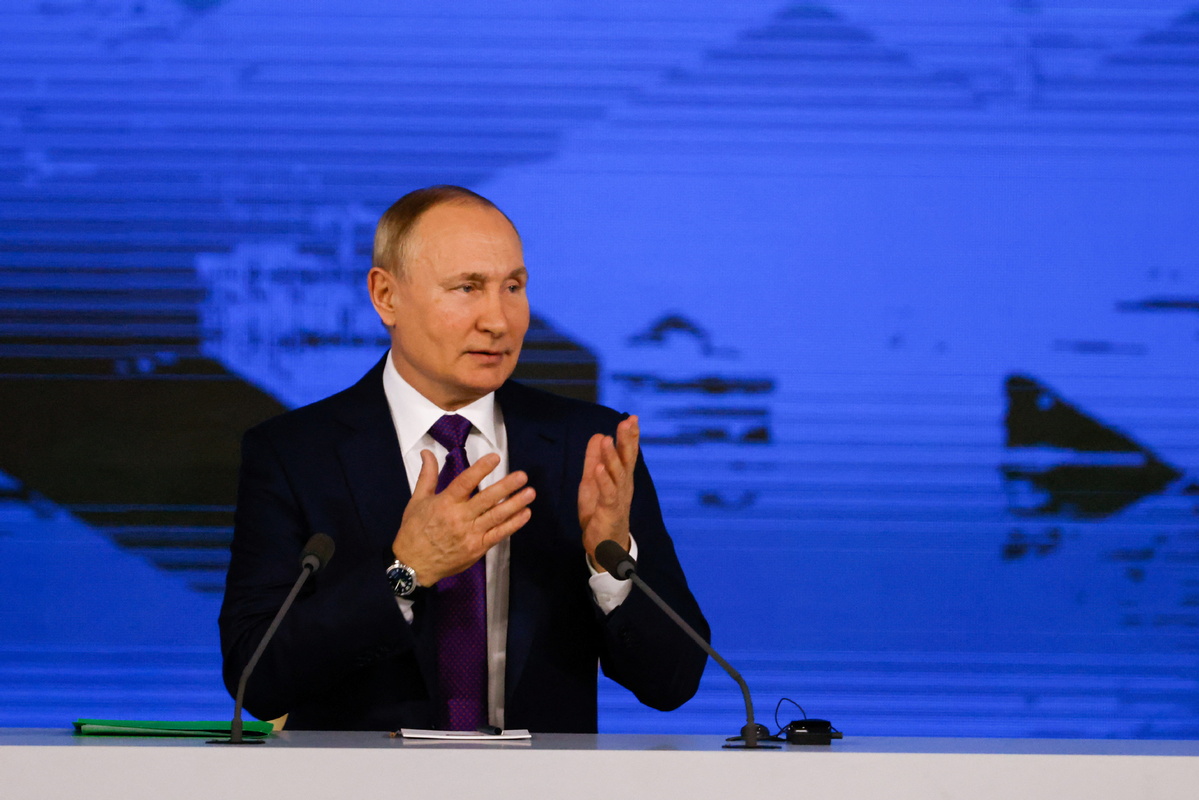 High-level relations between China and Russia are developing according to the expectations of both countries, and bilateral cooperation has exceeded the pre-pandemic level, Russian President Vladimir Putin said on Thursday.
Putin made the remarks during his 17th annual news conference at Moscow's Manege Hall. Only 507 reporters were invited to this year's news conference due to anti-COVID restrictions.
"If you can see, President Xi Jinping and I called each other 'old friend'," Putin said, adding that mutual trust between the two leaders benefits the mutual trust of the two countries.
Last Thursday, the two presidents had their second virtual meeting of this year, during which they looked back on the remarkable progress in pragmatic bilateral cooperation in 2021, which showcased strengths in both politics and opportunities.
The economy of Asia is growing, and China has played the leading role not only in Asia's economic development, but also in global economic growth, Putin said.
"China is Russia's No 1 trading partner, and we have maintained high-volume bilateral cooperation, which has exceeded the level before the start of the coronavirus pandemic," Putin said.
In the first 11 months of this year, Sino-Russian trade reached a historic high of 843.41 billion yuan ($132.5 billion), a 24 percent year-on-year increase, and surpassed the level of 2020, according to the General Administration of Customs.
Russia will cooperate with China to achieve the goal of reaching carbon neutrality before 2060, and even continue to work with China to reduce its CO2 emissions after 2060, Putin said.
Apart from that, Russia and China cooperated in fields including nuclear energy, high-tech research, space cooperation, aviation, culture and youth exchanges, Putin said.
He also hailed the two nations' close cooperation in the military and national security fields. He said the two sides worked together on the designing of planes, helicopters and some high-tech weaponry.
The news conference lasted 3 hours and 56 minutes, and more than 40 questions were answered by Putin.
Earlier, Kremlin spokesman Dmitry Peskov said that this would be a classic news conference with an open agenda, free questioning and exhaustive answers by the head of state.
Putin has been meeting with journalists at large annual news conferences since 2001. There was a pause when he was Russian prime minister from May 2008 to May 2012.
In 2020, due to the restrictions resulting from the coronavirus pandemic, Putin answered questions from his Novo-Ogaryovo residence in the Moscow Region.