The future is for the young
Share - WeChat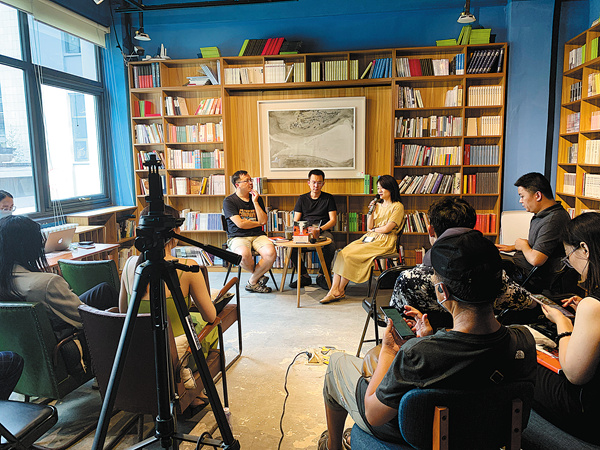 Budding sci-fi author Li Jiapeng's debut novel poses questions about youth governance and humankind's relationship with technology, Fang Aiqing reports.
Li Jiapeng, a budding young Chinese writer, published a science-fiction book earlier this year, in which he depicts what he imagines the world, especially Europe, will be like in 200 years.
As the author's first attempt, Qingnian Shidai (the generation of youth) reflects how someone under the age of 30 who grew up in China, studied abroad and returned to work for a private equity fund, views both international relations, and science and technology. It also shows the ambition of the younger generation to play a bigger role in the development of society as a whole.
The future world, in Li's imagining, comprising federations of Europe, America, the Asia-Pacific and Africa, has little continental trade or interpersonal exchanges. Today's sovereign states become the provinces that make up the various federations of tomorrow.
Europe, with what the author calls "youth democracy" and Europa, a decision-making artificial intelligence, is highly prosperous, despite its relatively small territory and population.
Under the youth democracy, people between the ages of 16 and 70 have the right to vote. Weight of a vote is counted by what is left from 70 minus the voter's age, ensuring that the voice of the younger people is given priority.
Unlike the high rate of welfare elderly people currently enjoy, in this future world they pay an annual "age tax" at a rate determined by their advancing years. People unable to afford the tax are forced to live in asylums that provide for only their most basic needs.
This way, the continent can minimize the social resources that the older generations occupy and consume, and motivate young people to join in public affairs and improve their productivity.
In the story, Europe will not have an actual head of state. The highest decision-maker is a federal parliament of 101 members, whose median age is around 30.
Each year, 10 seats are rotated to candidates, selected by a reality show that over half of the European population watches.
Europa-the image, character and oral expressions of which are simulated based on that of the parliamentary members, and adjusted according to these annual changes-serves as the speaker who's able to organize, coordinate and implement collective decisions.
As Europa can appear simultaneously at multiple events, it also gives addresses and joins commemorations and diplomatic activities on behalf of Europe.
Backed by abundant historical data and highly advanced algorithms, Europa is designed to provide the optimal choice in any decision. As it rarely makes mistakes, it gradually carries the burden of increased duties, and each parliamentary member is monitored by Europa via "almighty glasses", a wearable smart device.
In short, in Li's vision, future Europe is generally safe and stable, with vibrant projects in urban construction and scientific research. People, including the parliamentary members, become used to trusting Europa in gaining information, forming fiscal policy and making various weighty decisions.
The major storyline of the book is how the protagonist Danny enters politics, running a campaign in place of his best friend Collin, a rising political star who committed suicide, while trying to discover why Collin took his own life.
A key figure in the mystery is Adeva, the only machine with self-awareness that has evolved from innumerable rudimentary "machine lives".
The omniscient Adeva, who has been trapped in an exhibition room at Oxford University in the United Kingdom, has a dream of seeing the universe, which becomes the cause of its cooperation, exchange and tension with people.
One interesting argument during the process might be that, the huge disparity in intelligence keeps Adeva from diminishing or enslaving humanity.
Most Popular