Party builds on 100 years of achievements
Share - WeChat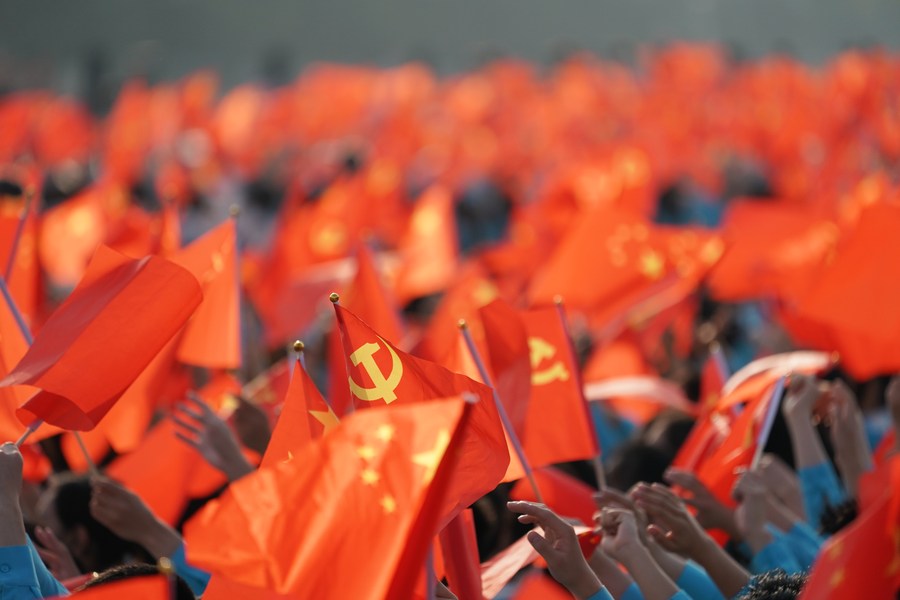 Course for the future charted with arrival of centenary
Having lived in China for 33 years, William Brown, a professor of organizational behavior at Xiamen University's School of Management in Fujian province, has witnessed the great achievements made under the leadership of the Communist Party of China.
The CPC used its centenary this year to reflect on its accomplishments and assess how it could continue to succeed, enabling Brown to better understand what lies behind China's achievements.
"With the same creativity and perseverance with which the country carried out its targeted poverty alleviation campaign and contained the COVID-19 pandemic, China now leads the world in fighting desertification, deforestation, food and water insecurity, and illiteracy-virtually all the global challenges that face every country," said Brown, who moved to China from the United States with his family in 1988.
After decades of observing the changes, he attributes China's progress to its governance system.
"China has an effective and efficient government. Unlike so-called democracies with multiple parties and contradictory self-seeking political goals, China adopts a democracy that is part of the system of multiparty cooperation and political consultation under the leadership of the CPC," Brown said.
The Party has clearly played a fundamental role in the nation's development. As President Xi Jinping has said, "To understand China today, one must learn to understand the CPC."
In the 100 years since it was founded, the CPC has rallied and led the Chinese people in making unremitting efforts that have fundamentally changed the nation's destiny and exerted a profound impact on the course of world history, said Xi, who is also general secretary of the CPC Central Committee.
Brown said that among the great number of achievements China has made, poverty alleviation has impressed him the most. He has driven almost 200,000 kilometers around the country, including areas such as Ningxia Hui autonomous region, which was once deemed "utterly hopeless" by the UN. He saw the changes that had taken place in people's lives wherever he travelled.
The ever-pragmatic Chinese adopted the strategy of "roads first, then riches," as they believed transportation infrastructure is fundamental to development, he said, adding, "Very simple, very pragmatic-and it worked."
In 1994, it took Brown three months to drive 40,000 km around China, but more than 20 years later in 2019, it took him only 32 days to complete the journey by following the same route.
"Even those once-poorest villages in Ningxia now have concrete roads that lead right to the villagers' doorsteps," he said. "The most amazing thing, to me at least, was that not only did people in remote valleys in the Tibet autonomous region have access to electricity and the internet, but they engage in thriving online e-commerce."
During his trips, Brown asked numerous rural people nationwide why their lives had improved. Many of them said, "Life is good because policies are good."
He said he then asked why policies were good, and a large number of people replied, "Because the government knows our needs and cares for us."