Li praises foreign firms' contribution
Share - WeChat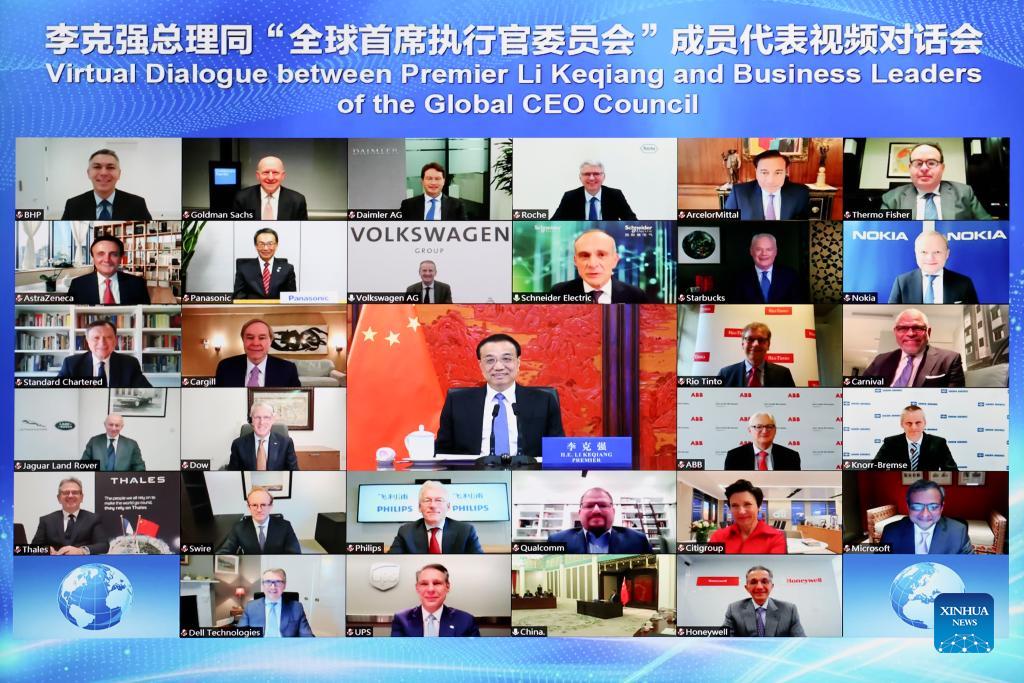 Premier has virtual meeting with about 30 major international companies
China is a marketplace "with huge potential", and it will continue working to create a business climate that is market-based, internationalized and follows the rule of law, Premier Li Keqiang told international business leaders, encouraging companies from all countries to continue to expand their investment in China.
Reform and opening-up is a path China must follow to achieve modernization, Li said, adding that the nation will continue its strict protection of intellectual property rights and impartial treatment of international and domestic companies, and deepen its reforms to streamline administrative power and improve the government's regulation and services, among other measures.
The premier made the remarks during a virtual meeting in Beijing on Wednesday night with representatives of about 30 Fortune Global 500 companies, including Schneider Electric, Dow, ABB, Panasonic, Cargill, Rio Tinto, Starbucks and Volkswagen.
Li praised international companies for their contributions to China's reform and opening-up and its cause of modernization, and he had in-depth discussions with the business leaders.
The government is implementing the strategy of innovation-driven development, and will maintain its institutional arrangement for tax-and-fee reduction to increase the proportion of research and development investment in China's gross domestic product, Li said.
The government will support companies in their innovation drive through methods that are fair, inclusive and market-based, Li said. He added that it will also enhance the development of new energies and clean utilization of coal through technical innovation and cooperation, and try to achieve green and low-carbon development while ensuring adequate supply of electricity.
Li also briefed the participants on China's economic situation. Facing new downward pressure, the nation will focus more on stabilizing economic growth and ensuring economic performance remains within a reasonable range, he said.
There are as many as 150 million market entities in China, Li said, adding that the government will make every effort to relieve companies of the difficulties they are experiencing in order to stabilize growth and employment.
The government will also encourage entrepreneurship and innovation in order to generate more jobs and increase creativity, the premier said.
The government will make and implement macro policies according to the needs of market entities, strengthen fiscal and financial support for them, reduce their taxes and fees and lower their financing costs, he said.
The business leaders taking part in the meeting expressed their confidence in the prospects for China's economy and said they hope to actively participate in China's modernization drive.