China's economic plan wins plaudits
Share - WeChat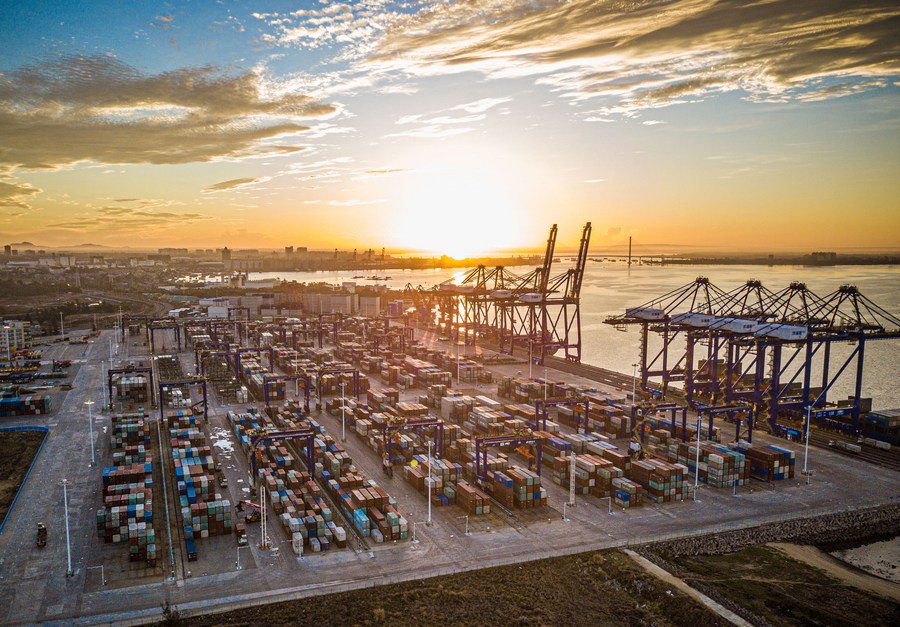 Details on high-quality development hailed by experts in region and beyond
China's well-designed economic plan will continue to boost high-quality development and contribute to the recovery of the regional and global economies from the pandemic, business leaders and analysts said.
China has mapped out the priorities for its economic policies in 2022, highlighting stability as a major target and the necessity to maintain the intensity of fiscal expenditure and roll out new tax cuts and fee reductions to shore up economic growth.
The three-day annual Central Economic Work Conference, which concluded on Friday in Beijing, outlined key tasks in seven aspects, including steps to make macroeconomic policies prudent and effective, energize the vitality of market players and ensure the healthy growth of the real estate sector.
Dar Wong, vice-president of the ASEAN-China Commerce Association, said that stability is always the fundamental base for sustained economic growth. China has drafted a well-designed strategy that will strengthen domestic growth through orderly reforms, as well as cement strong ties with partners in the region.
Beh Hang Kong, executive director of Malaysian property developer Yong Tai, said he welcomed China's strategies to tackle the economic disruptions brought by COVID-19. Whenever the region experiences some economic turbulence, China has always taken up its responsibilities. This is an important consideration, Beh said, especially when some major countries are trying to reap the benefits from economic sanctions during the pandemic.
"I think China's willingness to continue opening its market in this period of time will help enhance the vitality of the regional economy," he said. "The Chinese government not only tries to unleash economic vitality from a macro level but also adjust its measures from a micro level, which help support the survival of small and medium-sized enterprises during this hard time."
Suthiphand Chirathivat, executive director of Thai conglomerate Central Group, said the conference outcomes and its tone show that Chinese policymakers are responding to the changing world in the post-pandemic era. China's economy before COVID-19 was strongly based on openness and globalization, he said.
Southeast Asia and China, and the region at large, must continue to open up and consider what has been done well in terms of being resilient during the crisis, Suthiphand said.
Shared interest
Yuzo Tanaka, a professor of economics at Ryukoku University in Kyoto, said that "high-quality development" was mentioned several times during the conference, and Japan and China have a shared interest in working together on this front.
He said that Japan was one of the top-class industrial and technological powers in the 1980s and early 1990s but is now striving to regain some of this ground.
In contrast, China has achieved great success over the past four decades and is gradually becoming an important player in cutting-edge industrial technologies.
Cooperation between China and Japan in markets and in areas like innovation and new management methods "will not only benefit the two countries but also can lead the world to realize a high-quality development which is more environment-friendly and less dependent on natural resources," he said.
Yan Qin, lead carbon analyst at Refinitiv, a provider of financial market data and infrastructure, said: "China's top leadership reaffirmed the carbon peak and neutrality pledge at this tone-setting economic planning meeting."
Based in Oslo, Norway, Qin added: "This key meeting urged an early shift from the existing energy dual control to carbon dual control including both total emissions and carbon intensity.
"This was the highlight of the work conference in terms of climate policy, and marked the official recognition that carbon targets will be the key."
She said the focus of China's energy transformation will now shift to emission reductions.
"This will further incentivize enterprises and local government to contribute to the green transformation," Qin said.
She said that the signs from China of "a more flexible assessment of energy consumption target will drive the demand for green power and enhance renewables integration to a great extent".
Wang Xu in Tokyo and Chen Yingqun in Beijing contributed to this story.