With more choice, winter travel heats up
Share - WeChat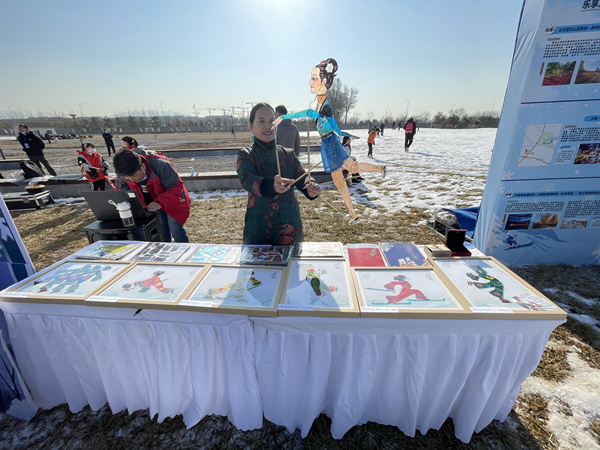 As the 2022 Winter Olympics approach, winter tourism is heating up, especially in the north of the country.
A total of 22 winter tourism routes were unveiled in Beijing in late November.
They feature skiing, hiking and gourmet food, covering popular tourist sites among internet users.
The capital will also host a series of winter sports, and celebrations of Olympic culture and fun experiences from the end of November to mid-February, in a bid to drive winter consumption, according to the local authority.
A winter carnival festival kicked off in late November in Yanqing district, where visitors can enjoy about 60 distinctive winter experiences, including sports and gourmet food prepared by the district authority.
Ski resorts, including the Harbin Ice and Snow World in northernmost Heilongjiang province and the Changbaishan International Resort in Northeast China's Jilin, have opened and already received many winter sports enthusiasts.
As part of the Winter Olympics venue, Zhangjiakou in Hebei province has increased its ski runs, renovated the snow making pipelines and sterilized snow clothes and tools to ensure visitors enjoy a safe visit as they experience the winter charm.
In the city's Chongli district, skiers have flocked to local resorts since early November.
"My family comes here almost every year," says Wang Linqian from Beijing.
"My husband and I find it ideal to ski here, and the transportation via high-speed rail is very convenient," Wang says.
The Ministry of Culture and Tourism and the General Administration of Sport have begun to review ski facilities across the country and will accredit those national ski resorts if they meet requirements for outdoor sports, health preservation, leisure and entertainment experiences.
The idea is to offer more options for winter vacationers.
According to the China Tourism Academy, a record 224 million Chinese people participated in ski and skating activities during the 2018-19 winter season, with winter tourism revenue reaching 386 billion yuan ($60 billion).
The Ministry of Culture and Tourism has issued a winter tourism action plan for 2021-23 to speed up winter sport and industry development, increase the supply of winter tourism products and push for high-quality development of the industry.
Provinces have been very responsive to the plan.
In October, Jilin province proposed that the scale of its winter industry should reach 250 billion yuan by 2025. It will transform and upgrade its winter industry consumption by 2035 and make it a demonstration zone for the country's high-quality winter economy development.
"We will cultivate a group of world-class winter resorts and roll out a series of high-quality, innovative festive winter activities," says Jin Zhenlin, a senior official from the Jilin provincial culture and tourism department.
The Jilin government will optimize medium-sized and small ski facilities and enrich tourism products to increase Jilin's appeal to winter travelers, according to Jin.
Distinctive local culture will be integrated with winter elements. An ice and snow museum and art center will be developed.
In September, Heilongjiang brought forward a plan to deliver an international winter travel destination by 2025 and promote a combination of red and winter tourism.
The province has also launched six travel routes and five major celebrations for this winter season.
"Next, we will focus on promotion and carry out a number of creative marketing activities with rich content," says Zhang Chunyan, an official in charge of marketing at the Heilongjiang Provincial Culture and Tourism Office.
In Altay prefecture of Northwest China's Xinjiang Uygur autonomous region, the traditional horsehide skis are available at local resorts. Locals have a tradition of wearing strips of wood that are wrapped with horsehide, which not only provides enough friction to prevent slipping while ascending snowy and icy slopes, but also makes for a smooth, stable descent.
Travelers can not only try the horsehide skis, but also watch local craftsmen make the ancient winter footwear.
A winter fishing carnival and pasture culture festival will be staged to allow travelers get a taste of how ethnic Chinese spend the season, says Chen Liwei, deputy head of the culture, sports, broadcast, TV and tourism bureau.
Tourism players in the south of the country are overcoming climate restrictions and creating artificial ice and snow facilities for residents to enjoy the same winter fun as their northern counterparts.
The Sunac Snow Park in Guangzhou, Guangdong province, offers indoor skiing and lessons all year around.
To date, the park has offered more than 180,000 training sessions to visitors since it began operations in 2019.
Guangdong has about 20 indoor ice rinks, with a total area of 20,000 square meters.
The key for sustainable winter tourism development is to expand the clientele for winter sports and to ensure it remains attractive to them, says Yang Deming, a senior official with the Sunac park.