Murder mysteries add intrigue to hotels
Share - WeChat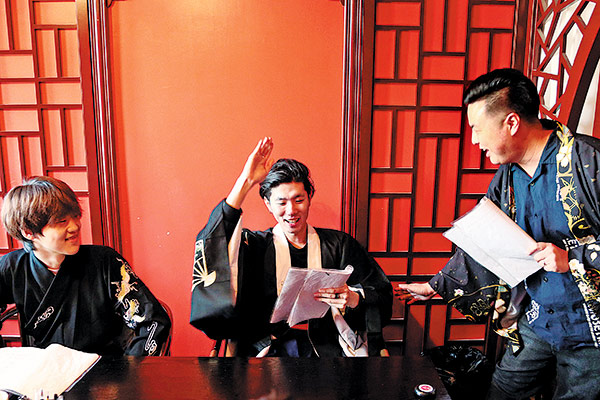 In addition to leisure activities such as shopping, dining, singing and dancing, people now have one more option-acting.
Live action role-play murder mystery games, or jubensha in Chinese, have become a new craze among the young in China. Each session of jubensha typically involves five to 10 participants, who dress up as different characters to solve a crime together guided by a backstory.
According to data from Beijing-based consumer platform Meituan, China had 2,400 jubensha venues in 2019. The number grew to 45,000 in April and is expected to reach 60,000 by the end of this year.
Market consultancy iiMedia Research predicts the market size of the jubensha industry will reach 23.89 billion yuan ($3.77 billion) in 2022.
Some hotels with space for live action games are also getting in on the act to tap into this new bonanza.
When Li Wan, a 29-year-old jubensha enthusiast, returned to her hotel room on a Saturday night, she was still looking for clues. She and her friends had just finished a two-day immersive jubensha game offered by a high-end hotel in Hangzhou, East China's Zhejiang province.
"We combed through clues over afternoon tea while hearing piano music and a code-like knocking sound in the background," Li told Beijing-based China Tourism News. "The story started to unfold the minute we stepped into the hotel. What we heard, saw and touched all became potential clues."
"Compared with regular jubensha venues, hotels can deliver a more immersive experience and better service, which is a critical point considering the COVID-19 situation," she added.
Hotel Indigo Heilong Lake in southwestern Sichuan province has set up three escape room-style jubensha venues, an executive with the hotel told China Tourism News. "Our game scripts integrate well with the hotel's western Sichuan-style mansions, which makes the experience more immersive."
Last year, Ethos Hotel Xiamen in East China's Fujian province invited a popular local jubensha business, Heizi, to design an original game according to the layout and setting of the hotel.
A representative of the hotel told China Tourism News that besides the income from the game, the hotel also saw increased food and beverage revenue.
Some jubensha chains are also seeking cooperation with hotels. An executive of jubensha business Soundmate told China Tourism News: "The locations and environment of hotels are comparatively better. Many consumers have a natural trust in hotels and some jubensha players are also hotel guests. Therefore, we are willing to cooperate with hotels."
A hotel industry insider told China Tourism News that when conditions are ripe, it is natural for jubensha businesses to join hands with hotels.
"On the one hand, the integration of hotels and jubensha games is the cooperation between space and content, and has the potential to create a more immersive experience. On the other hand, many jubensha businesses are facing problems such as poor experiences and low-quality service. Hotels, which pay great attention to guest experiences, have an edge in this aspect," the insider said, adding this is also a good opportunity for hotels to attract more young consumers.
Hotel industry veteran Wu Junjie expressed confidence in the cross-sector collaboration to China Tourism News: "With clear positioning and planning, creative game designs and the right people, the 'hotel plus jubensha' model can increase the revenue of some hotels."
Some hotels have been more cautious about the partnership. Lin Na, a Shanghai-based hotel executive who is working on a jubensha project, told China Tourism News that hotels must think everything through before making the move, such as costs and investment returns.
A representative of a jubensha club in Shanghai said that high-quality scripts, professional staff and a quality service are the most important things regardless of what organization runs a game.
Money-saving practices, such as having hotel staff play characters in the game and selecting scripts without careful consideration, will never work, the representative noted, according to China Tourism News.