Daqing reaches tertiary oil recovery record
Share - WeChat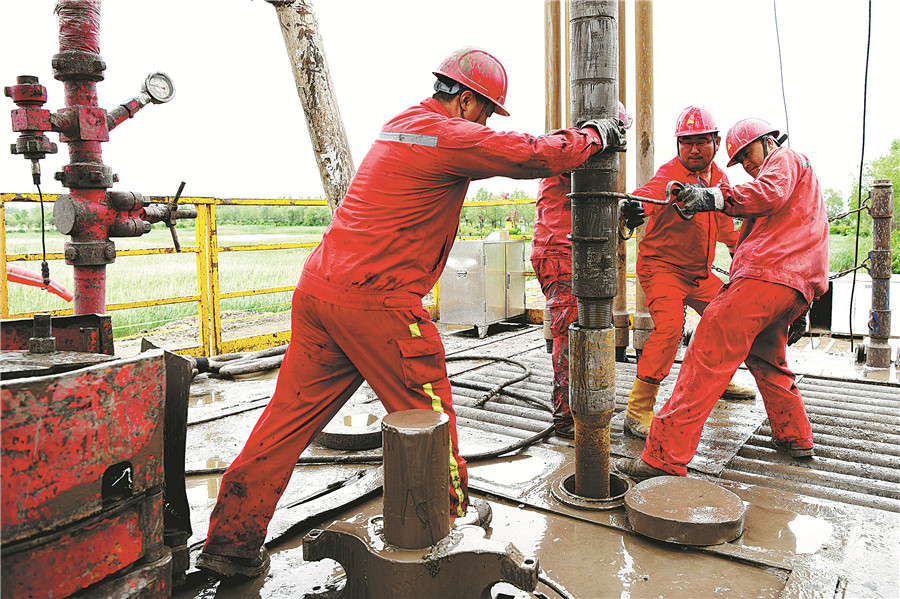 Daqing Oilfield in China's northeastern Heilongjiang province, owned by Daqing Oilfield Co, a subsidiary of China National Petroleum Corp, said on Friday it has reached a significant milestone in its annual tertiary oil recovery, which has exceeded 10 million tons over the past 20 years.
The oilfield has also produced 286 million tons of crude oil so far, making it the world's largest tertiary oil recovery production base.
The company has spent years developing a series of fully developed tertiary oil recovery technologies, which also top the world's rankings, said the parent company CNPC, the country's largest oil and gas company.
Tertiary oil recovery, also known as enhanced oil recovery, is the third stage used to extract oil from an oil reserve.
The primary recovery stage of extracting oil from a reserve works by exploiting the natural disparity in pressure between the surface of the oil well and its subterranean reserves.
Secondary recovery of hydrocarbons involves techniques that compensate the natural energy of the reservoir by injecting fluids, usually water or gas.
The tertiary oil recovery technology has supported the sustainable production of the oilfield, the largest oilfield run by CNPC as well as the country's largest oil production base, while it also pushes forward the development of the world's enhanced oil recovery technology, it said.
Luo Zuoxian, head of intelligence and research at the Sinopec Economics and Development Research Institute, said the Daqing Oilfield has made a substantial contribution to China's oil supplies during the past few decades.
Daqing has been able to maintain sustainable and steady oil output on the back of its technological innovation during the past few years, he said.
"The tertiary oil recovery technology, which adopts physical, chemical and biological methods to take out the residual oil that cannot be exploited with the water flooding technology as much as possible, has improved the recovery ratio of crude oil and made a substantial contribution to China's energy security."
Since the 1960s, Daqing Oilfield began to develop, reserve and apply the tertiary oil recovery technology independently. It has shaped a series of increasingly mature technologies of oil extraction after 40 years of hard work and laborious exploration by its researchers.
Daqing Oilfield has become the largest base for the research and development of the tertiary oil recovery technology and the largest production base adopting the technology in the world.
It has also applied its tertiary oil recovery technology in countries like Russia, Kazakhstan, Indonesia and Oman, the company said.
CNPC has recently discovered a major shale oilfield in Daqing with predicted geological reserves of about 1.268 billion tons.