More Omicron cases arise; Biden unveils plan
Share - WeChat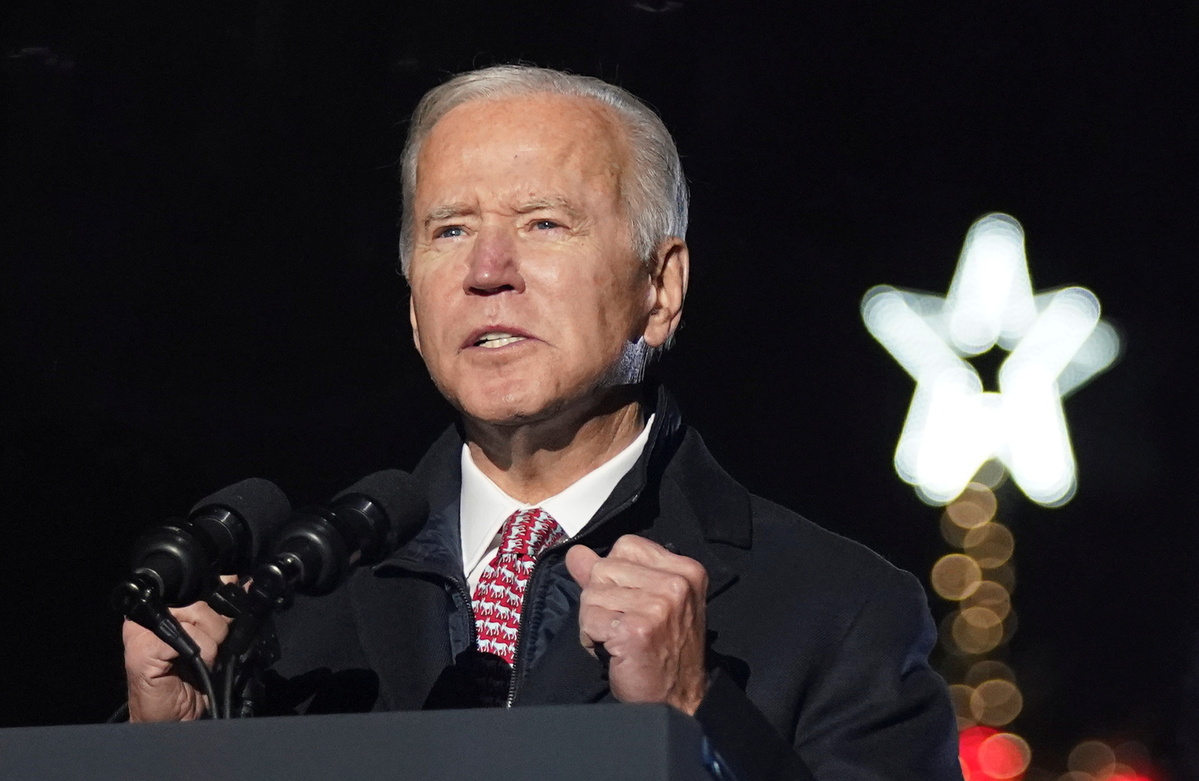 US health officials on Thursday announced seven more cases of the Omicron coronavirus variant in the country — five in the New York City area — as the Biden administration unveiled steps to fight the variant and stem a winter surge of COVID-19.
The administration's plan includes providing Americans with free at-home coronavirus tests, expanding efforts to deliver booster shots, and initiating new testing requirements for international travelers, including Americans.
"Experts say that COVID-19 cases will continue to rise in the weeks ahead and this winter," President Joe Biden said at the National Institutes of Health. "So we need to be ready."
He said the plan is what scientists and his COVID team recommended. The president said none of the measures are mandated and that he wasn't expanding or adding vaccination requirements.
Of the Omicron variant, Biden said, "We are going to fight this variant with science and speed, not chaos and confusion.''
His comments came one day after the first case of a person in the US infected with the variant was detected in California. On Thursday, another case was found in a resident in Minnesota and one in Colorado, and at least five cases emerged in the New York City area.
The cases in New York were announced at a news conference by New York Governor Kathy Hochul and Mayor Bill de Blasio just hours after the Minnesota Department of Health announced the case in a resident who recently was in the city.
Hochul said the New York cases were "minor" and "non-life threatening".
The man in Minnesota hadn't traveled outside the US, but the Colorado woman recently was in South Africa, where scientists first reported the variant.
The Minnesota man, fully vaccinated, traveled to New York to attend the Anime NYC 2021 convention Nov 19-21. He tested positive on Nov 22 and has since recovered. The convention was attended by 53,000 people.
Convention organizers said they are working to trace everyone who attended. All attendees had to wear a mask and be vaccinated with at least one dose of a COVID-19 vaccine to be admitted.
The woman in Colorado, who lives in Arapahoe County, was fully vaccinated but hadn't received a booster shot. She is experiencing mild symptoms and isolating in her home, state health officials said.
In the California case, the fully vaccinated man had traveled to South Africa. He returned home on Nov 22, a couple of days before the World Health Organization (WHO) labeled Omicron as a "variant of concern".
The Biden plan also will require all inbound international travelers — including Americans — to test negative for the coronavirus within one day of departure globally. Mask mandates on airplanes, rail travel and public transportation will be extended through March 18 next year.
To detect the coronavirus infection more easily and to deter it from spreading, free at-home testing is being expanded by requiring insurance companies to reimburse more than 150 million privately insured Americans if they buy over-the-counter, at-home tests. At-home tests also will be distributed through neighborhood sites such as health centers and clinics for the uninsured.
The administration has allocated more than $2 billion to accelerate the production of rapid tests and an additional $1 billion in procuring at-home tests. Eight over-the-counter tests are on the market. No such test was on the market when Biden took office.
Many health experts had criticized the government for not making the test free and more readily available, arguing that a quick and easy test is one of the most effective measures to contain the spread of infections.
Other actions outlined by the White House include more measures to encourage adult Americans, and children ages 5-11, to be vaccinated and get booster shots. Currently, about 43 million Americans are unvaccinated. An additional 100 million who did get vaccinated have not received a booster shot.
Hundreds of family vaccination clinics across the country are joining the effort to get people vaccinated and will offer shots to entire families. Federal pharmacy partners including CVS and Rite Aid will be required to offer family-based scheduling to allow parents to have a one-stop-shop to get their family appointments all at once.
The government is also providing resources to the Food and Drug Administration to support timely review of applications for vaccines for children under the age of 5.
Belinda Robinson in New York contributed to this story.