3 teens killed in Michigan school shooting
Share - WeChat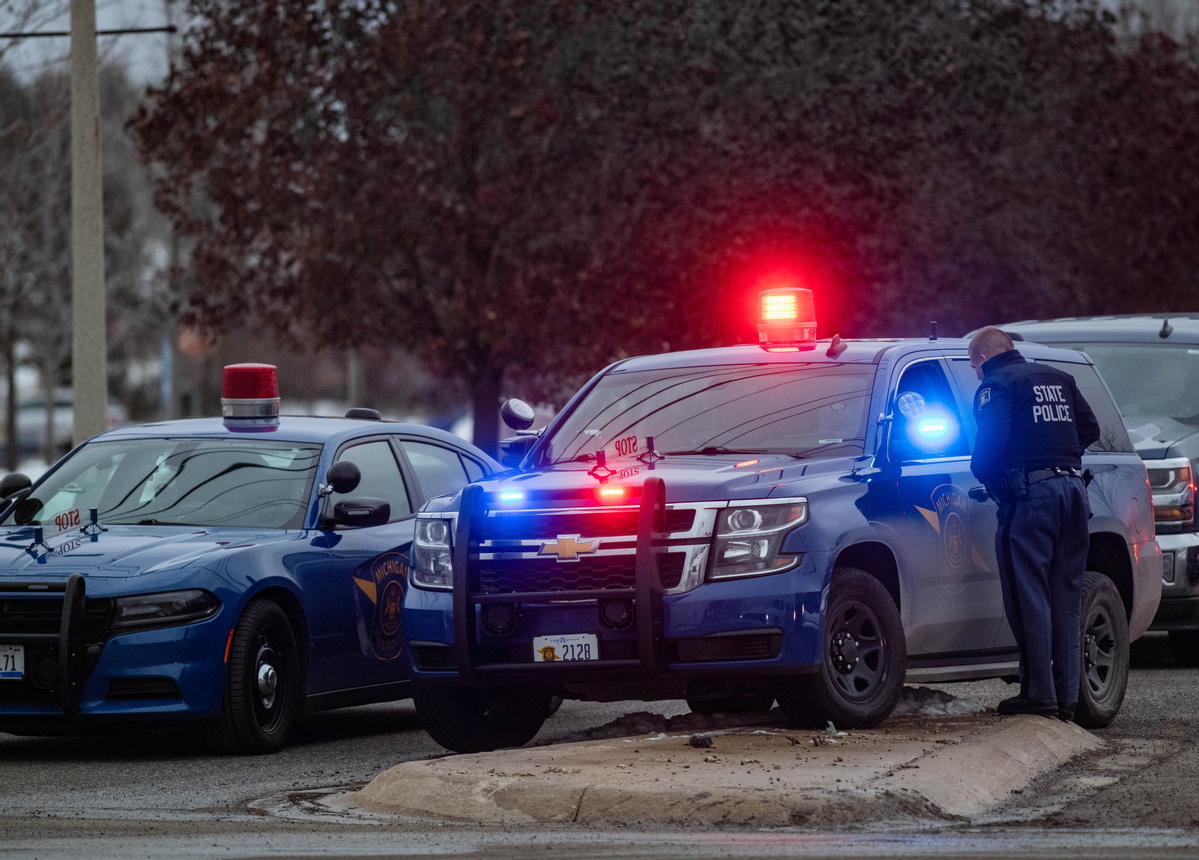 A 15-year-old sophomore opened fire with a semiautomatic handgun at his Michigan high school on Tuesday afternoon, killing three students and wounding eight other people, including a teacher, authorities said.
Police said the three slain students were a 16-year-old boy, and two girls, 14 and 17. Two of the other victims were in surgery Tuesday evening, and the other six were at hospitals in stable condition, authorities said.
The Oakland County Sheriff's Office said the incident at Oxford High School in Oxford Township, roughly 30 miles (48 kilometers) north of Detroit, unfolded in about five minutes.
Oakland County Undersheriff Mike McCabe said that deputies confronted the shooter and, "he had the weapon on him, they took him into custody". He said that the suspect wasn't injured and refused to say how he got the gun into the school, attended by about 1,800 students.
McCabe said that the suspect has asked for a lawyer and hasn't made any statements as to a motive.
About 15 to 20 shots were fired by the suspect, McCabe said, and he appears to have acted alone. He said investigators would be looking through social media posts for any possible motive.
The Detroit Free Press reported that it was unclear if the suspect had targeted anyone, but "some said he was bullied''.
McCabe said he was unaware of any warning signs of a potential shooting at the school, but some parents and students said they had heard rumors before Tuesday that there would be an incident.
Earlier this month, Oxford schools published a note to parents that it was aware that "numerous rumors" had "circulated throughout our building this week", and the school was reviewing the concerns, the Free Press reported Tuesday.
Robin Redding, the parent of a 12th-grader, told The Associated Press that there had been rumblings of trouble at the school.
"He was not in school today," she said of her son, Treshan Bryant. "He just said that, 'Ma, I don't feel comfortable. None of the kids that we go to school with are going today.'"
Jody Job, chair of the Oakland County Democratic Party, told the Free Press that her son didn't go to school Tuesday because "he felt like something was going to go down".
"I think there was just a level of discomfort with some of the students," she said. "I don't know what they're communicating to each other. That's a whole other world I'm not a part of."
Tim Throne, the superintendent of Oxford Community Schools, declined at a news briefing to say why the school doesn't have metal detectors and said that he couldn't recall the topic coming up.
Oxford High School students told reporters of a chaotic and confused scene when a voice over the intercom announced an active shooter.
Abbey Hodder, a 15-year-old sophomore, was in chemistry class when she thought she heard glass breaking.
"My teacher kind of ran out and was scrambling," she told the Free Press. "The next thing I knew I saw he was pushing tables. It's part of school protocol to barricade, so we all knew, barricade, barricade down. And we all started pushing tables."
Shootings involving children and teenagers also have been on the rise.
There were 991 gun violence deaths among people 17 or younger in 2019, according to the website Gun Violence Archive, which tracks shootings from more than 7,500 law enforcement, media, government and commercial sources. That number rose to 1,375 in 2020.
Through the first week of October, CBS News reported that shootings in 2021 had claimed 1,165 young lives and left 3,216 youths injured.
Experts say idleness caused by the pandemic is partly to blame, with easy access to guns and disputes that too often end with gunfire.
Lieutenant Mike Shaw of the Michigan State Police said he believes this is the first active-shooter situation in Michigan in a school in decades. A 6-year-old girl was shot and killed at an elementary school by a 6-year-old boy on Feb 29, 2000.
In 2020, Michigan reported 20 mass shootings that killed 19 and injured 72.