Shenzhen displays a dramatic change
Share - WeChat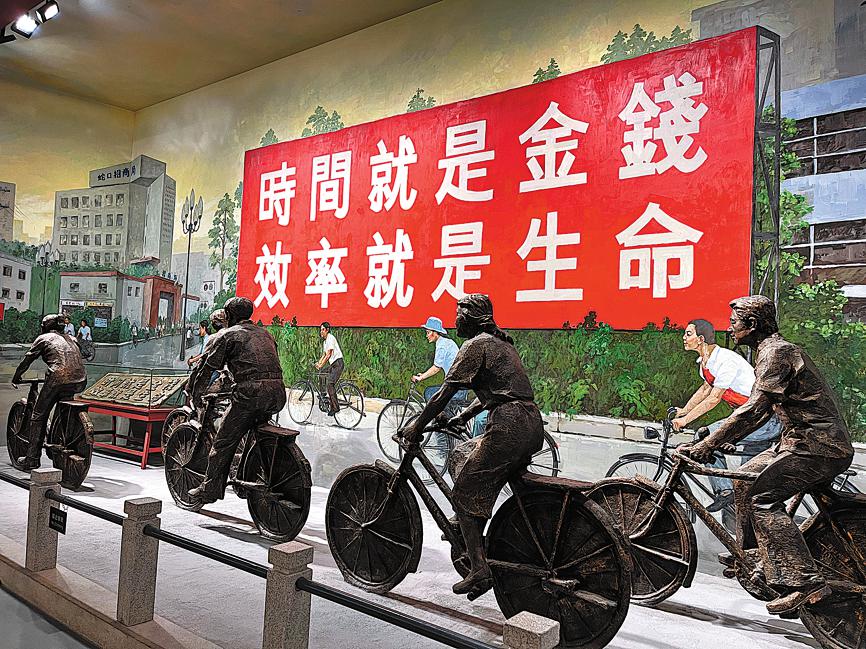 For a few minutes, Yuan Yue stands in front of an old photo on display at the Shenzhen Reform and Opening-up Exhibition Hall, located in the city's downtown Futian district. The photo features several poorly-dressed men riding bicycles along a bumpy, muddy road.
The men, according to the caption, were workers from Xinhua bookstore who were sending books to rural areas of southern Guangdong province in the 1970s.
"I couldn't imagine how things have changed so significantly. How big a difference there is in our lives today compared to 40 years ago," Yuan sighs. "Look at the skyscrapers outside. Can you imagine that the plot of land on which we now stand was all farmland at that time?"
Yuan, 36, has been working in Shenzhen, Guangdong province, for 13 years, but it is the first time she has visited the exhibition hall and has recently watched the show, Great Tides Surge Along the Pearl River. The exhibition focuses on Guangdong's economic and social development since the country's reform and opening-up began in 1978.
The exhibition is an important window through which to showcase the history and experience of the past 40 years, says Ye Yang, head of Shenzhen Museum, who participated in the construction of the Shenzhen Reform and Opening-up Exhibition Hall.
During President Xi Jinping's visit to Guangdong province in 2018, his first stop in Shenzhen was the exhibition hall. So far, the exhibition has attracted more than 1.9 million visitors and in excess of 5,200 domestic and overseas tour groups.