Worry easing over developers' offshore debt
Share - WeChat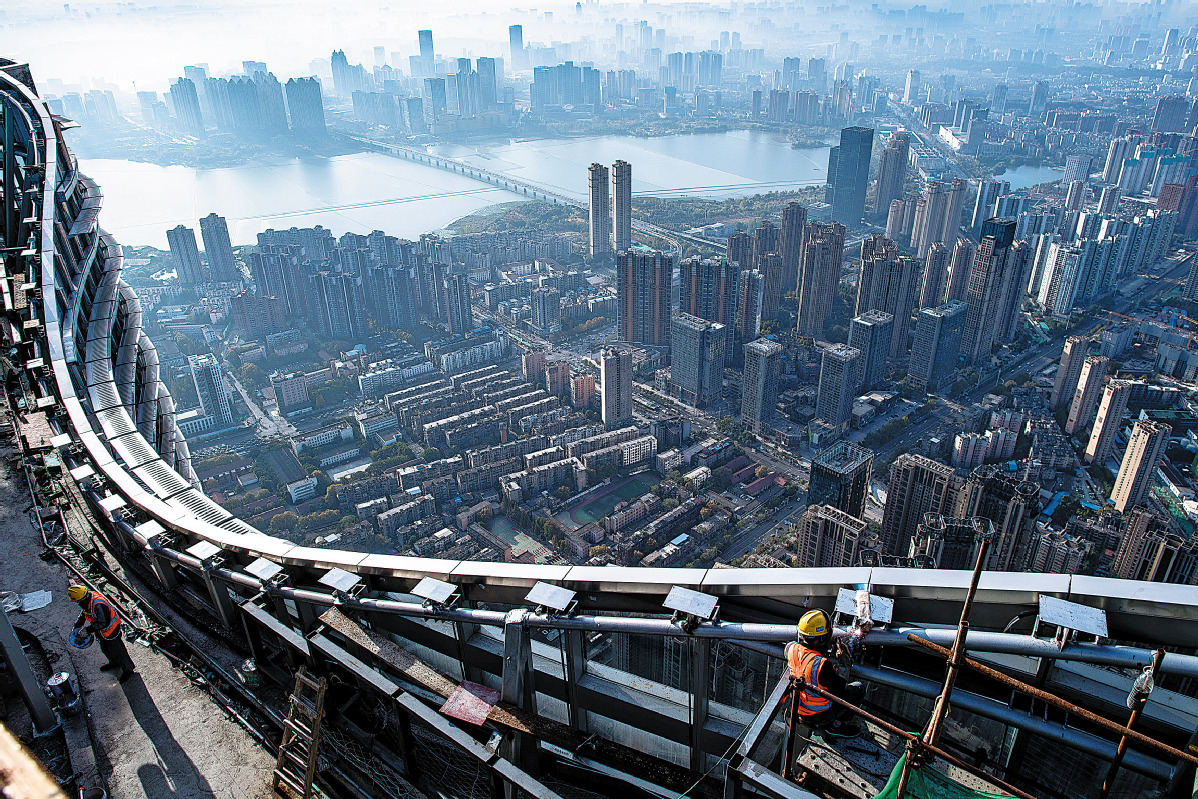 Rebound in real estate bonds, vows to address strains cited by experts
There is growing evidence of a silver lining to concern over the potential for some Chinese developers to default on offshore debts, experts said. The potential has jangled global investors' nerves since real estate giant Evergrande Group missed payments in September.
Observers point to the fact that the price of real estate bonds has rebounded strongly, and at least 20 Chinese developers announced within a week they would issue or have issued bonds in the interbank market. Officials from central and local levels also have all voiced a commitment to addressing the cash strains of real estate developers.
The financial health of China's real estate sector is deemed so important for global financial stability that the United States Federal Reserve and Treasury Department said they have been paying attention to the sector's stress. The sector generates a quarter of China's GDP directly and indirectly and has offshore bonds worth about $250 billion, according to estimates from PGIM Fixed Income, a global asset manager.
Though the peak of offshore defaults may still be on the horizon, experts said any systemic financial risks or major threat to the global economy would be kept at bay, thanks to Beijing's fine-tuning of real estate deleveraging, the revival in credit conditions and stabilizing market expectations.
Some institutional investors have even started tapping into oversold opportunities offered by quality-name developers after sell-offs, attracted by high yields, cheap valuations and, most importantly, the still stable long-term prospects of the sector.
"I don't think there is going be a (major) economic contagion or financial contagion of the broader sort for the global economy," said Jack Mclntyre, a portfolio manager with Brandywine Global Investment Management.
"The property market as a whole is deleveraging. And when you deleverage in a slower growth environment, there are always some challenges," he said. Yet the challenges should remain manageable as the Chinese government is expected to avoid deleveraging moves being overwhelming and imperiling economic and social stability, which remains at the core of policy priorities, according to Mclntyre.
In a bid to lower risk in the highly leveraged real estate sector and contain property price bubbles, China launched a series of measures starting last year, including the "three red lines" to contain the debt level of selected developers and cap the concentration ratios for bank loans to the real estate sector.
As financing conditions tightened while property sales soured, some heavily indebted developers have had difficulties servicing their debts, with Evergrande's missed interest payments on three of its dollar bonds spooking investors since late September.
While Evergrande avoided official defaults by making the payments later, China Industrial Securities Co found that nine Chinese developers had defaulted on offshore dollar bonds this year, with unpaid claims totaling $28.07 billion.