Stronger partnerships needed to eliminate malaria
Share - WeChat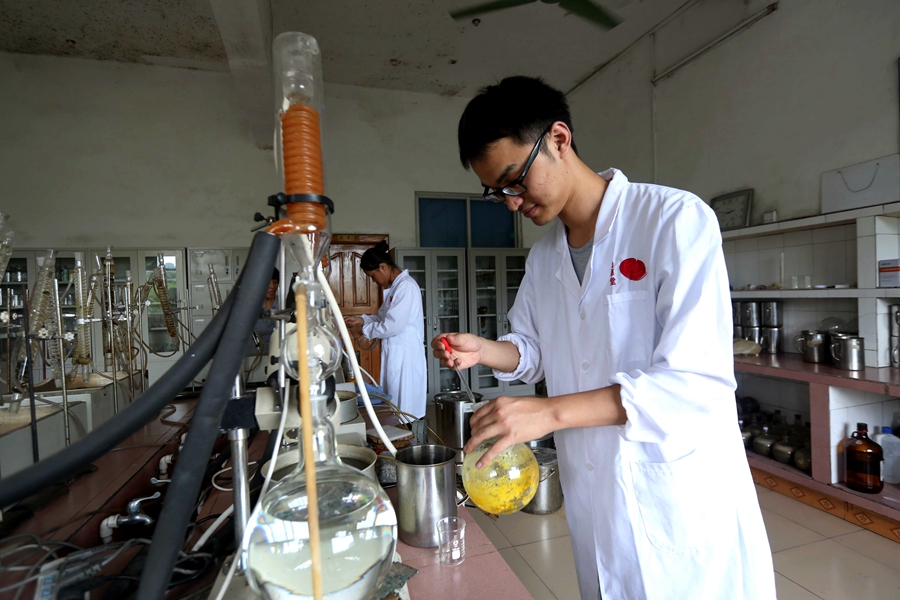 China's extraordinary achievement in bringing 30 million malaria cases a year to zero over the course of seven decades shows the life-saving progress a country can make when it combines a strong commitment to addressing public health challenges with long-term investment in innovation.
Since it began operations in 2002, the Global Fund to Fight AIDS, Tuberculosis and Malaria has worked side-by-side with China in its efforts to eliminate malaria. It invested $114 million in China's national malaria response from 2003 to 2013. It has also partnered to fight HIV and tuberculosis in China with investments totaling $690 million over the same period.
These joint efforts have borne fruit, as China successfully eradicated malaria in the country this year.
In recent years, China has become a donor and strategic partner of the Global Fund. It is also a major supplier of health products to implementing countries. Today, the Global Fund dedicates nearly 50 percent of the amount allocated for antimalarial medicines to help lower-income countries fight malaria with anti-malarial drugs from China. What's more, China provides 100 percent of the drugs procured for seasonal malaria chemoprevention for children under the age of 5.
There is a lot we can learn from China's work to eliminate malaria.
China has made continuous innovations in developing antimalarial drugs, tools and methods. In 1972, Chinese Nobel Laureate Tu Youyou and her team discovered artemisinin, a compound that is used to produce artemisinin-based combination therapies, which the World Health Organization has recommended as the priority treatment for malaria.
More recently, China has advanced disease surveillance by developing the"1-3-7" malaria surveillance and response approach, a strategy that entails the reporting of confirmed cases within one day, investigation of specific cases within three days, and targeted control measures to prevent further transmission within seven days. This approach quickly proved its effectiveness in the country's national malaria elimination program.
China's innovation has led to the improvement of hundreds of millions of lives in China. However, malaria still kills more than 400,000 people per year in other countries-mainly in Africa. China's further engagement with the international community to scale up innovations and make them widely available as global public goods could improve many more lives in other parts of the world.
With its experience, technologies and innovation in anti-malaria products, China can play a bigger role in malaria elimination across the globe.
First, as countries seek products to help them respond to the challenges of antimicrobial resistance, China's focus on innovation could spur the development of tools such as mosquito nets, drugs and insecticides that can combat such resistance. To this end, Chinese companies should collaborate with enterprises around the world to foster innovation.
Second, China's expertise in malaria surveillance can be leveraged to the benefit of partners in low- and middle-income countries that are most affected by malaria today. Surveillance is the cornerstone of evaluating the effectiveness of measures to prevent and contain malaria and other diseases.
Data collection is essential for targeted programming at the local level and is a key component for building resilient and sustainable systems for health in Africa. The Chinese"1-3-7" malaria surveillance model has already been expanded to Tanzania, Burkina Faso and Zambia with the support of the Bill& Melinda Gates Foundation.
Third, China has the financial resources to sustain the long-term investments needed to eliminate malaria in high-burden countries. In the Sahel region-a semiarid area of western and north-central Africa-despite existing investments by governments and international partners such as the Global Fund, there is a funding gap of $40.5 million to cover the total cost of seasonal malaria chemoprevention to prevent malaria in children under 5.
Tripartite cooperation between China, the Global Fund and high-burden countries in Africa could leverage China's financial contributions to the Global Fund on one hand, and China's bilateral assistance on malaria elimination to countries on the other hand. Partners including China could also help fill funding gaps to expand seasonal malaria chemoprevention coverage for children in Sahel countries and support selected countries with technical assistance on disease surveillance and malaria elimination.
The Global Fund's partnership with China over the past 20 years has been transformative. Today, we are exploring ways to expand our collaboration, including in the Greater Mekong area, where cross-border malaria control efforts are underway. China can take on a greater leadership role in the global fight against malaria by sharing expertise on surveillance and malaria control, supporting community health systems in high-burden countries, and mobilizing additional financial resources for seasonal malaria chemoprevention and other key malaria interventions.
The Global Fund is encouraging partners including China to increase support to multilateral institutions to scale up equitable access to lifesaving medicines in low-income countries, and to assist them in their malaria elimination efforts.
Since 2000, global efforts to control and eliminate malaria worldwide have saved 7 million lives and prevented 1 billion cases of the disease. These results show that strong multilateral commitment and community leadership can force one of the world's oldest and deadliest infectious diseases into retreat.
To achieve the United Nations 2030 Sustainable Development Goals, we need governments, multilateral organizations and foundations to work together to further increase investments in innovation and strengthen global collaboration to ensure that such innovations reach the most vulnerable communities around the world. China has the experience to make crucial contributions to this effort.
Together with China and other partners such as the WHO, we have the power to eliminate malaria in Asia, Africa and around the world to save lives-especially those of children under 5-and transform communities.
The author is head of the malaria section at the Global Fund to Fight AIDS, Tuberculosis and Malaria.
The views do not necessarily reflect those of China Daily.