Time we woke up to the other side of fanquan
Share - WeChat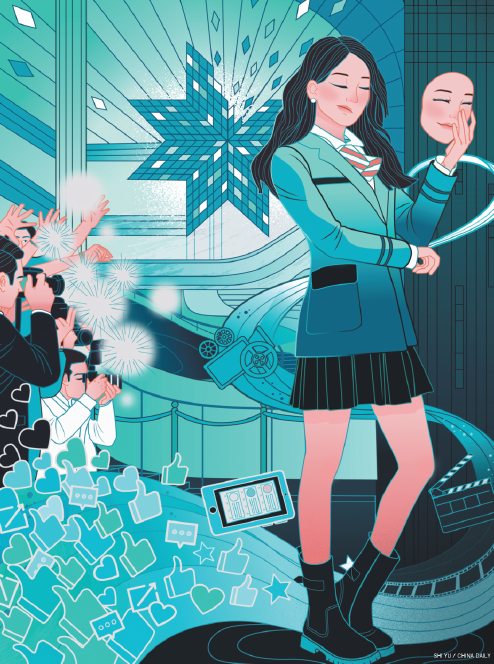 What kind of person is best suited to become an idol who can inject positive energy into the youth? Certainly not the 88 people who have been placed on the livestreaming ban list.
Chinese authorities are turning their attention to the fan culture prevalent in society. On Tuesday, the China Association of Performing Arts introduced a list of 88 people who are banned from livestreaming. The list includes Guo Laoshi, who was known for her crude sense of humor, and tainted stars such as Kris Wu and Zhang Zhehan.
The measures were necessary after the entertainment stars were found mired in scandals ranging from sexual assault to tax evasion.
On Monday, the authorities in Hangzhou, capital of Zhejiang province, had slapped fines worth $14.6 million on two top livestreamers, Cherie and Lin Shanshan, for misreporting personal income as business income to evade taxes — tactics similar to those employed by actresses Fan Bingbing and Zheng Shuang.
Such regulatory action will serve society well. People who want to become stars must first of all behave themselves. In the past, some stars have let their fans down when their misdemeanors were exposed and their image came crashing down.
Sometimes "chaotic" fan behavior has led to conflicts between young fans and their parents.
On Chinese social networking sites, fan groups are often referred to as fanquan, or "fan circles". The fans are mostly believed to belong to Generation Z, being born after 1995, and their numbers have grown significantly in recent years.
However, gone are the days when celebrities served as role models to exemplify what hard work could accomplish. These days fanquan knows no limits. Fans go to any extent in order to blindly support tainted entertainment stars. They waste their time, and even money, for their stars and frequently engage in verbally abusing fans of their stars' rivals.
There have even been reports of teenaged fans stealing their parents' money and credit cards to buy products endorsed by their idols.
Therefore, it was high time the authorities to ensure the healthy development of fan culture among the young. Teenagers, whose minds are still immature, make up a bulk of such fan circles. Such toxic fan culture can play a negative role on the development of adolescent minds. Also, doing away with such fanquan is necessary for creating a healthy competitive environment in the entertainment industry.
Entertainment stars and their agencies should shoulder some social responsibilities to ensure the fans know how to behave and abide by social rules.
The author is a writer with China Daily.
Most Viewed in 24 Hours
China Views