Europe's virus rules spark violence amid spike
Share - WeChat Europe is facing up to a difficult winter with a fourth wave of novel coronavirus infections taking hold and as political protests against social restrictions begin to turn violent.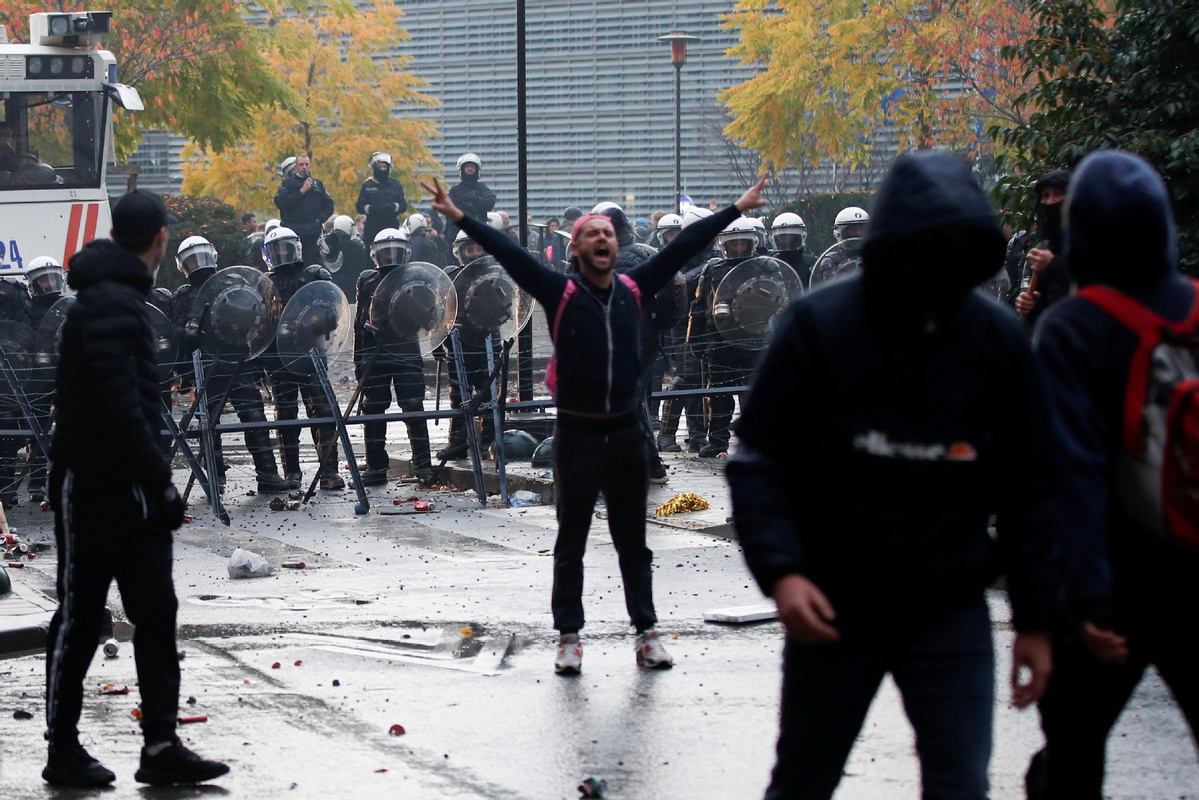 Tighter rules to contain the COVID-19 surge have triggered demonstrations across the continent with news agencies reporting unrest over the weekend in Austria, the Netherlands, Italy, Switzerland, Belgium and Croatia.
Reuters news agency reported that tens of thousands of protesters marched through the center of Brussels on Sunday, with witnesses saying police used water cannons and tear gas against demonstrators who were throwing smoke bombs, fireworks and rocks.
Demonstrations began peacefully before violence erupted in front of the European Commission headquarters, it said.
Last week, Belgium tightened coronavirus restrictions, making mask use compulsory and enforcing work from home rules as infections rates soared.
Police in the Netherlands were reported to have opened fire on a crowd during protests on Friday in Rotterdam, which the city's mayor said had turned into "an orgy of violence". Reuters said riots continued in cities across the country on Saturday and Sunday, with police clashing with mobs of angry youths.
Protests gained momentum after the Dutch government announced plans for the use of a national coronavirus pass and after some lockdown measures were introduced last week.
In Austria, the BBC reported that tens of thousands of people in the capital Vienna protested against renewed curbs that include a full national lockdown, which started on Monday. Austria last week announced plans to make COVID-19 vaccination compulsory, the first European nation to do so, with the law due to take effect in February.
Case rates are rocketing in Austria and the Netherlands, where vaccine rates lag behind the United Kingdom, according to data from the European Centre for Disease Prevention and Control.
Austria's Health Minister Wolfgang Mueckstein told ORF TV on Sunday night that "it is a situation where we have to react now," adding, "a lockdown, a relatively tough method, a sledgehammer, is the only option to reduce the numbers (of infections) here".
The sharp rise in infections across Europe has prompted warnings from the World Health Organization.
The WHO's regional director Hans Kluge told the BBC on Saturday that unless measures were tightened across Europe, half a million more deaths could be recorded by next spring.
Sky News noted that European governments must balance trying to contain the disease with maintaining economic recovery, adding that cases in Europe are at their highest levels since April last year, when COVID-19 was at its initial peak in Italy.
Politicians in Germany are debating making COVID-19 vaccinations compulsory amid surging case rates, Sky said.
Tourism commissioner, Thomas Bareiss, told German news agency DPA that the increasingly worsening situation in the country means it is "unavoidable" that coronavirus inoculations will be compulsory.
Writing in Germany's Die Welt newspaper, Tilman Kuban, head of the youth wing of Chancellor Angela Merkel's Christian Democratic Union, said: "We've reached a point at which we must clearly say that we need de facto compulsory vaccination and a lockdown for the unvaccinated."