Genesis premieres Electrified GV70 amid rapid development in China
Share - WeChat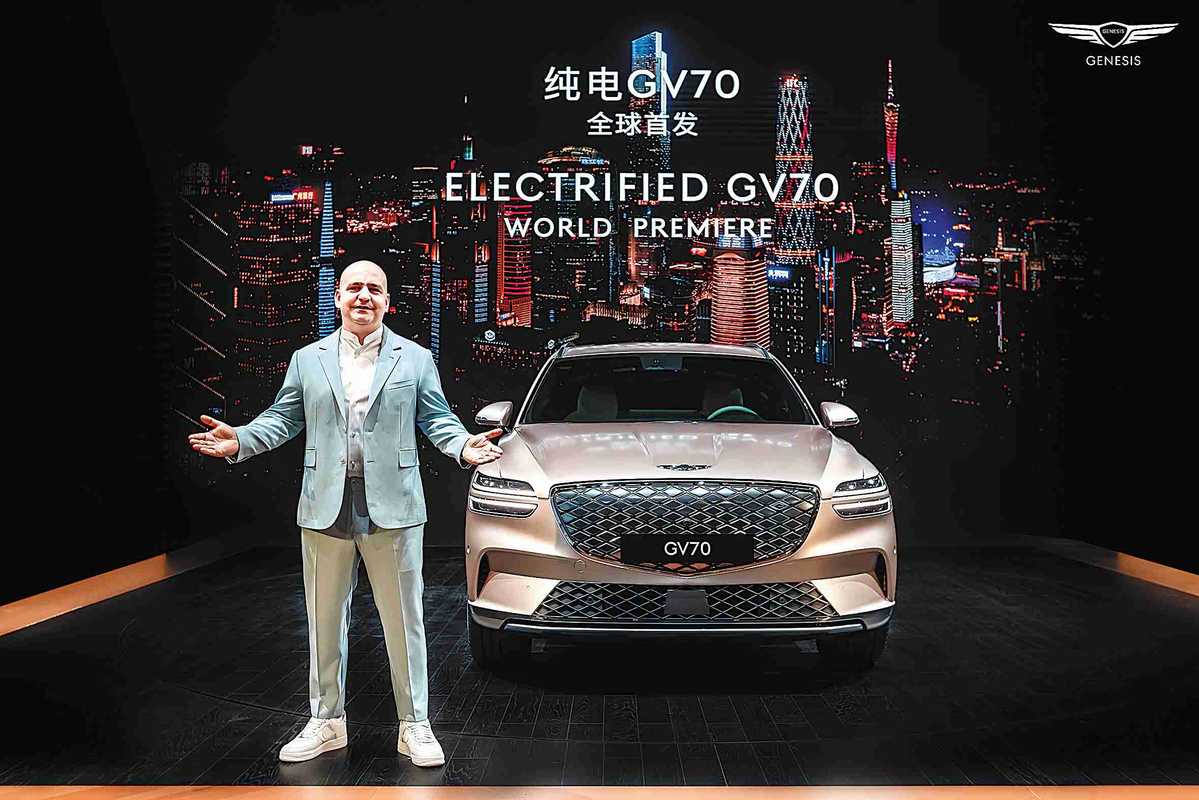 Sustainable luxury
Henne said: "Hosting the world premiere of the Genesis Electrified GV70 in China signals the next step in our audacious journey to a sustainable future.
"China is leading the acceleration toward electrification, which is why we are excited to welcome the latest Genesis model that will help us move forward toward a sustainable future."
Sangyup Lee, head of Genesis Global design, said: "Genesis' vision for a sustainable future opens a new world of possibilities and opportunities. The delicate balance of athleticism and elegance is behind every aesthetic decision we make. The Genesis Electrified GV70 manifests how we expand the Genesis design."
The model uses a variety of eco-friendly materials, including wool woven seats and recycled nylon flooring, to furnish the interior.
As an athletic and dynamic vehicle, the Genesis Electrified GV70 offers a competitive and powerful performance to satisfy drivers.
With a maximum power output of 160 kilowatts and 350 Newton meters of torque for the front and rear, the Genesis Electrified GV70 delivers a total maximum output of 360 kW(in Boost Mode) and 700 Nm of torque. This model can go from 0-100 km per hour in 4.5 seconds in Boost Mode.
The Genesis Electrified GV70 is the first Genesis model to feature the SUV-specific e-Terrain Mode, which allows a stable driving experience in various environments.
The pure electric SUV has a maximum all-electric range of more than 500 km under China Light-duty vehicle Test Cycle standards, and it can charge from 10 percent to 80 percent in just 18 minutes in fast-charging mode.
Furthermore, the model is equipped with a V2L(vehicle-to-load) feature, which can achieve reverse charging with maximum output of 3.6 kW and help customers to use electric appliances outside the vehicle.
A variety of cutting-edge technologies are featured, including the Smart Regenerative Braking System that can regenerate energy through the braking system based on driving habits and road conditions, and i-Pedal (Intelligent Pedal) that allows to accelerate, decelerate and stop just with the accelerator.
Genesis will continue to bring more exceptional products with refined performance, design, safety and innovation for Chinese customers, the carmaker said.