Efforts underway to keep growth target on fairway
Share - WeChat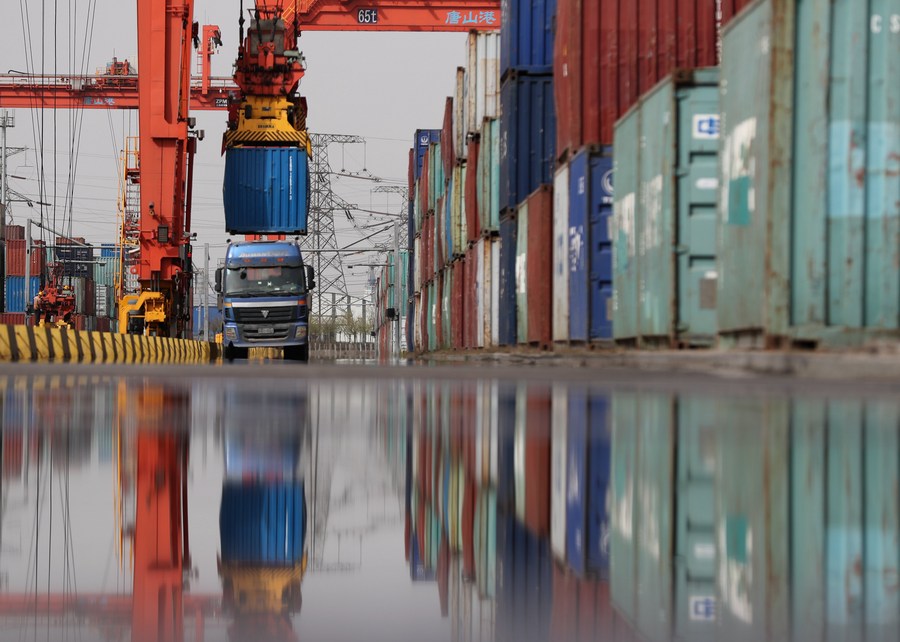 Policy shifts toward more easing stance seen as key to offset downward pressure
China is preparing new measures to counter economic headwinds and realign its GDP with stated growth targets this year and next, such as expansionary fiscal moves and accommodative monetary support alongside efforts to secure the job market, according to experts.
Officials and economists see cross-cyclical adjustments, or policy shifts toward a more easing stance, as crucial to offset new downward pressure emerging in the fourth quarter, with a rise in financing constraints in the property sector and ongoing coronavirus resurgences.
But this year's main goals can be achieved, Premier Li Keqiang told scholars and entrepreneurs at a seminar on Friday. He called for new methods to support manufacturers and smaller firms, including further tax and fee cuts, as well as measures to ease pressure of rising commodity prices, according to a meeting statement.
The People's Bank of China, the central bank, issued its third quarter monetary policy report on Friday, which stressed ensuring sufficient liquidity and maintaining stable credit growth. The PBOC vowed to "strive to accomplish the main objectives and tasks of economic development this year".
The report listed several structural monetary policy tools that authorities have adopted or will employ to increase the central bank's lending to financial institutions, including 700 billion yuan ($109.69 billion) of relending funds to support the fields of agriculture, smaller businesses, regional development and clean energy.
Wang Yiming, vice-chairman of the China Center for International Economic Exchanges, said that enhancing cross-cyclical adjustment is necessary both for coping with rising global uncertainty and new challenges seen in the domestic economy.
China's economy has not yet returned to a normal level, and supportive measures are necessary to sustain growth, said Wang, who is also a member of the central bank's monetary policy committee.
Possible measures include a set of more proactive fiscal actions focusing on accelerating local government special bond issuances and injecting funds into key construction projects to promote effective investment.
The Ministry of Finance said on Friday that policymakers are looking at allocating new quotas of local government bonds in advance in 2022-a rare measure that was utilized once before following the outbreak of the pandemic in 2020. The ministry also vowed to guide local authorities to speed up fund injections into construction projects.
A team from the International Monetary Fund restated its prediction on Friday that China's GDP will grow 5.6 percent in 2022, after the body's Article IV regular consultation was held from Oct 28 to Nov 10.
The IMF economists suggested that macroeconomic policies in China need to be supportive.
"The fiscal policy, which has been significantly contractionary this year, should temporarily shift to a neutral stance and focus on strengthening social protections and promoting green investment over traditional infrastructure spending," the IMF said.
In terms of the monetary policy, Wang from CCIEE said that relending and rediscounts could be effective tools in increasing credit for smaller businesses, manufacturing, technological innovation and green development.
Robin Xing, Morgan Stanley's chief China economist, predicted the country may set its 2022 GDP growth target at "around 5.5 percent", compared with "above 6 percent" in 2021. He expects a clear policy shift toward countercyclical easing, featuring a slightly wider augmented fiscal deficit starting next quarter.
Xing expects that the annual central economic working conference, which may start in mid-December, could strike a "more dovish" stance in terms of more proactive fiscal easing, including corporate tax cuts, pro-consumption measures such as subsidies and an expansion of green infrastructure investment, as well as more local government special bond issuances.
Feng Ming, a senior researcher at the Chinese Academy of Social Sciences, said he believes preferential tax breaks for smaller businesses are likely to at least continue for the coming year.