Expo shows China's role in boosting economy
Share - WeChat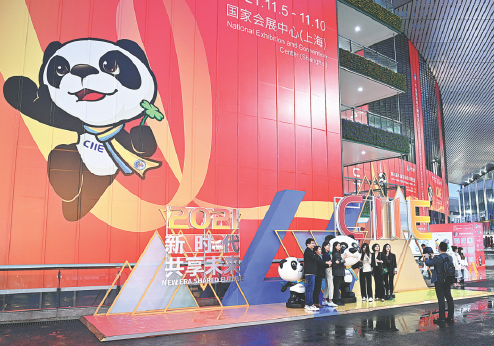 Nation 'exploring more efficient ways' to connect markets
Despite the persistence of COVID-19 worldwide, commerce is quite alive in China thanks to the nation's efforts in fighting the pandemic and reviving the economy. That was demonstrated recently when 120,000 cans of pine nuts from Afghanistan sold out within minutes at the fourth China International Import Expo in Shanghai, which ended on Nov 10.
The pine nuts, along with a dazzling array of imported products from over 10 countries and regions, were sold through a livestream broadcast hosted by e-commerce livestreamer Li Jiaqi and CCTV anchor Wang Bingbing.
The sale of the pine nuts, a portion of the 45 metric tons of the product that arrived at Shanghai from Kabul this month, highlighted the first time that Afghanistan has exported goods to China under the new Taliban-led government.
A record high of around 3,000 businesses from 127 countries and regions participated in this year's event, reaching tentative agreements worth $70.72 billion, according to the CIIE Bureau. Companies have booked booths for next year's expo at a faster rate than that of this year.
Industry experts said the results are a result of China's higher level of opening-up amid the pandemic and global economic slowdown. It also showed vividly how China has facilitated international trade and injected vitality into the world economy.
The Communist Party of China issued a landmark resolution on the major achievements and historical experience of the Party over the past century. The document was adopted at the sixth plenary session of the 19th CPC Central Committee, held in Beijing from Nov 8 to 11.
With continuous progress in reform and opening up, China achieved the historic transformations from a highly centralized planned economy into a socialist market economy brimming with vitality, and from a country that was largely isolated into one that is open to the outside world across the board, the document said.
"Holding of the CIIE demonstrated that China honors its commitment to high-level opening-up and sharing development dividends with others to shore up globalization," said Zhang Yansheng, chief researcher at the China Center for International Economic Exchanges.
"The world is in urgent need of more trade orders and increased demand to revive the staggering economic recovery, as well as communication to reach consensus and find more effective ways to combat COVID-19 and repair global industrial and supply chains," Zhang said.