L'Oreal apologizes over Nov 11 promotion snafu
Share - WeChat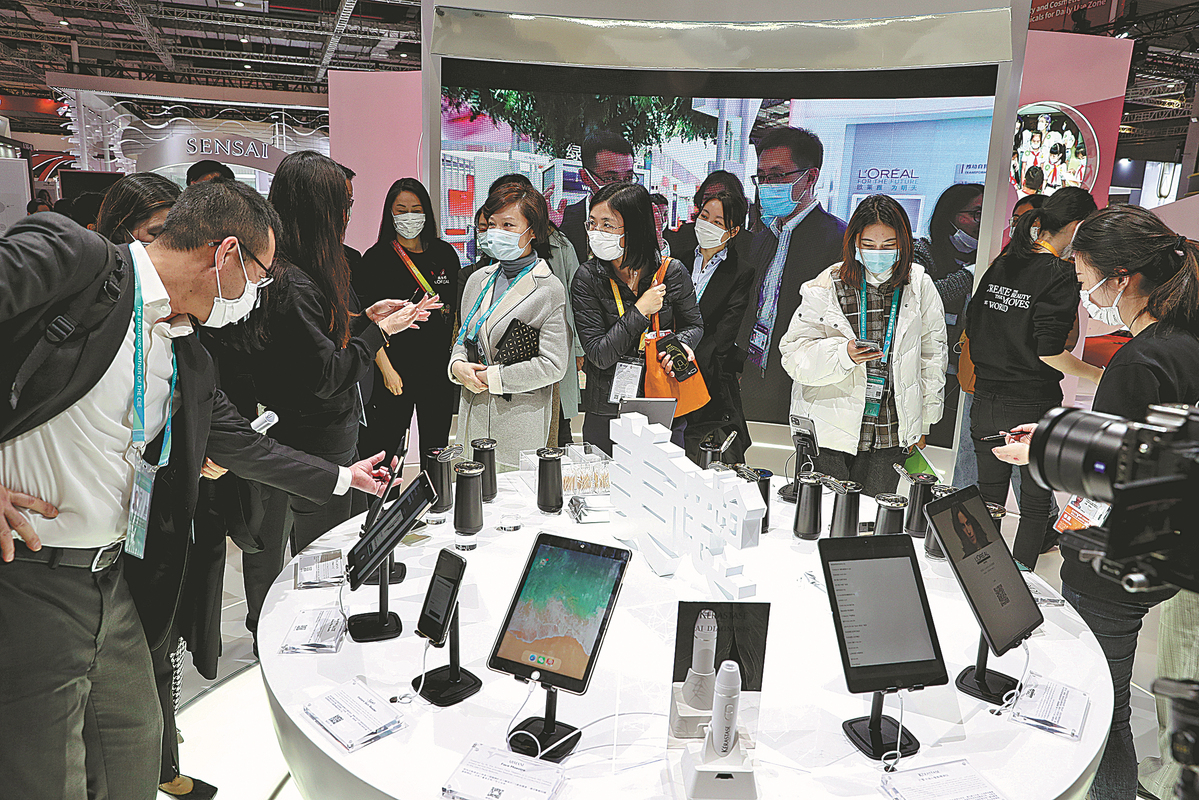 Cosmetics giant L'Oreal Group offered compensation and issued apologies to customers following a sales dispute related to a Nov 11 promotion, highlighting the intricate dynamics between brands and livestreaming hosts in China's ultra-competitive retail landscape, industry experts said.
L'Oreal Paris, a mass market skincare brand under the French company, stirred a public outcry after two influential Chinese livestreamers fell foul of the company, citing a promise of "deepest discounts" which did not materialize.
On Friday, the company said it will offer a 200 yuan ($31.32) coupon to customers who spent 999 yuan or more on one of its facial masks in the brand's flagship online store during the presale of its Double 11 festival on Tmall, the business-to-customer site where most major brands have set up a presence. The coupons are valid through June 20, 2022.
Li Jiaqi, known as China's lipstick king for his feat of selling 15,000 lipsticks in just five minutes through livestreaming sessions, said L'Oreal Paris had advertised that customers stand to secure the steepest discount for a facial mask if they tuned in to Li's livestreaming sessions during a pre-sale for the Nov 11 campaign, China's largest shopping spree.
Consumers later found out they were able to buy the same product at nearly half the price by snatching vouchers during L'Oreal Paris' own livestreaming sessions.
Angry buyers took to microblogging service Weibo to complain, making the topic trend on the site's search ranking. Both Li and Viya, another heavyweight livestreaming saleswoman, decided to pause cooperation with the brand until the matter is properly settled.
L'Oreal Paris apologized, attributing it to an overly complex discount mechanism. It said it is working with authorities on an exhaustive investigation into the dispute, and will provide a fair and appropriate solution to consumers as soon as possible.
Li Min, partner at Shanghai Hansheng Law Offices, said L'Oreal's practice could involve deceptive promotion, mainly in the form of false advertisement.
"The brand instigated customers to place a down payment on Oct 20 by implying that appointed livestreamers had the cheapest price, but fell short of expectations," he said, pointing to the potential violation of the Advertisement Law.
The issue highlighted the shifting paradigm between brands and livestreaming hosts, from one of symbiosis to one of tension, if not confrontation, said market insiders.
There are two common ways of livestreaming. One is through internet celebrities like Li and Viya who market select products on behalf of brands and take a commission. The other is brands assigning dedicated personnel to do the job in-house.
"At first, this could be an amicable win-win. Brands make themselves heard thanks to influencers' cult following, and influencers who obtain low discounts from brands manage to win the hearts of more followers and reinforce their influence," said Mo Daiqing, a senior analyst at consultancy Internet Economy Institute.
But influencers' increasing bargaining power and the consequently bigger share of commissions being required are dissuading established brands from employing third-party livestreamers and instead do livestreaming hands-on, Mo noted.
Such a trend was picked up by consultancy Kantar, which polled 1,000 customers participating in this year's Nov 11 shopping gala.
Among the 747 people who watched at least one livestreaming session during the event, 83 percent said they watched sessions conducted by their beloved brands, which is significantly higher than those conducted by Key Opinion Leaders at 43 percent and those participated in by celebrities at 30 percent.
"The longer-term sustainability still lies in merchants and brands, because at the end of the day it is products and reliable channels that speak for themselves," said Mo.
James Yang, a partner at consultancy Bain, believed the ubiquitous presence of livestreaming has become "an additional complication for brands".
"Not only do you have to choose what products, promotions and packages you want to launch on Nov 11, but now you also have to be very specific on what platforms you will do this in, and why," he said.
As such, Yang believes retailers should make progress cultivating advocacy that goes beyond a superficial "we like your deals" endorsement, which is a common tag-line for live-streamers.