To engage in fair competition with China, US should make major changes
Share - WeChat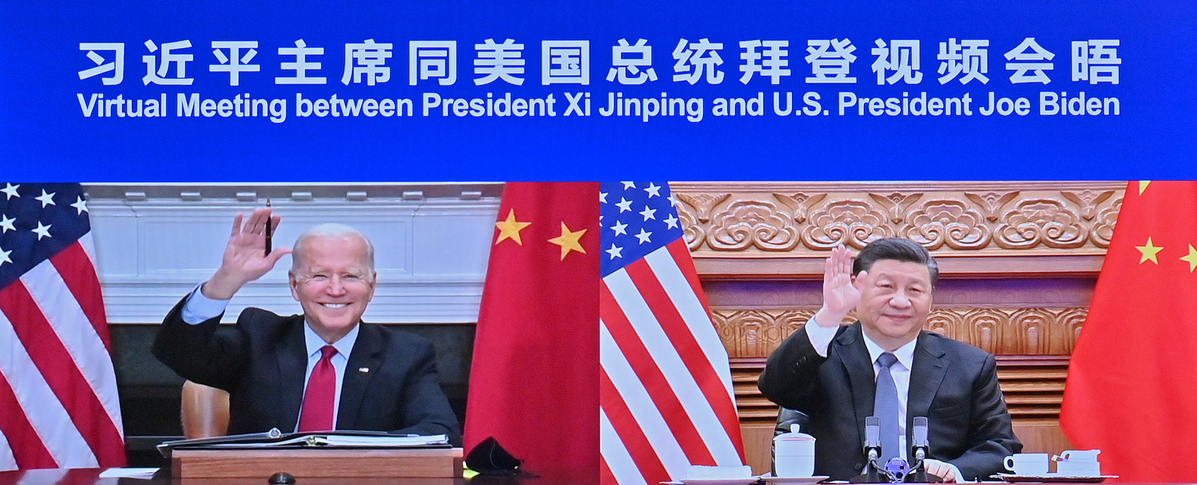 The meeting between President Xi Jinping and his US counterpart Joe Biden, via video link, on Tuesday was a positive step toward stabilizing bilateral relations, which have been in a free fall since previous US president Donald Trump reversed decades of US policy on China.
Xi and Biden know each other since they were vice-presidents of China and the US when messages from both sides were less confrontational, if not more cordial.
During their meeting on Tuesday, Xi emphasized the three principles for China-US relations — mutual respect, peaceful coexistence and win-win cooperation — while Biden stressed the importance of managing strategic risks and the need for "guardrails" to ensure that competition does not veer into conflict and to keep the lines of communication open.
But it was the Trump administration that abruptly suspended the lines of communications, by cancelling the Strategic & Economic Dialogue, Joint Commission on Commerce and Trade, and the dozens of high-level mechanisms that had proved useful for decades in deepening cooperation and managing differences between the two countries. The irresponsible US action has deprived the two governments of vital channels of communication they need badly to defuse tensions.
Biden has been using words such as "competition" and "stiff competition" to describe US-China relations, but his administration has not been promoting fair competition. Instead, it is trying to sabotage China's development.
For example, the US has been coercing some European and Asian countries to exclude Chinese high-tech giant Huawei from their 5G networks and using its economic might to force companies to abandon the Chinese market, and include more and more Chinese companies in the discriminative Entity List. This is not competition but outright sabotage.
Trump's tariff and trade wars against China, which were criticized by Biden during his presidential campaign, have not been halted despite the fact that they are hurting the US, including contributing to its worst inflation in decades, a fact also acknowledged by Treasury Secretary Janet Yellen. No wonder in a letter to Biden on Nov 12, two dozen business groups, including the US-China Business Council and the US Chamber of Commerce, urged his administration to remove the tariffs on Chinese imports to help ease inflation.
US officials have been going around the world demonizing China for the Belt and Road Initiative and China's help to developing countries to fight the COVID-19 pandemic. This is certainly not fair or responsible competition.
While emphasizing that the US remains committed to the one-China policy, Biden said the US strongly opposes unilateral efforts to change the status quo across the Taiwan Straits. But it is the US that since the Trump administration has been challenging the status quo, by breaking decades of practice by taking phone calls from Taiwan authorities, sending high-level US officials to the island and selling more arms to Taiwan, not to mention the Congress passing provocative laws regarding Taiwan and the US president signing them.
Biden needs to muster enough courage to reverse Trump's disastrous policy on China in the face of 2022 mid-term election and 2024 presidential election given that talking tough on China, however absurd, helps gain political mileage for both the Republicans and Democrats.
No one expects major China-US disputes to be resolved through one meeting, but the one on Tuesday is a good start which should be continued. As a journalist who was stationed in the US for nearly nine years, I feel the Biden administration could take the good start forward by relaxing the visa restrictions on Chinese journalists that was imposed by former US secretary of state Mike Pompeo.
The author is chief of China Daily EU Bureau based in Brussels.
chenweihua@chinadaily.com.cn
Most Viewed in 24 Hours
China Views