Dancing in step with history
Share - WeChat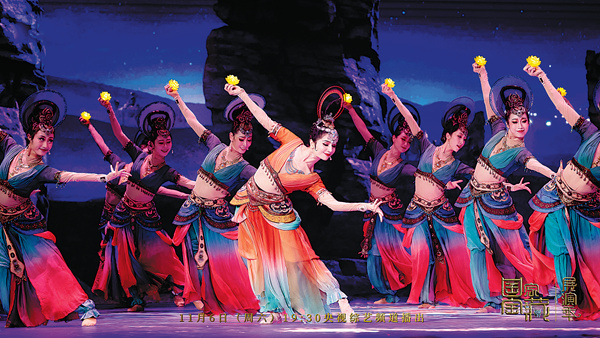 An excerpt of the dance drama is shown on the stage of The Nation's Greatest Treasures: Show Season, a spinoff of a popular variety show by China Central Television.
The first season of The Nation's Greatest Treasures was released in December 2017 and soon became a cultural phenomenon thanks to its blend of cultural heritage knowledge and mass entertainment.
In each episode, three key exhibits from a museum were selected and were introduced by celebrities by way of short stage dramas or comedies, and the vivid behind-the-scenes stories surrounding the relics were later unrolled by experts and their conservators.
Three seasons of the variety show, highlighting 81 cultural relics, have been aired, with each receiving a rating above 9 points out of a total 10 on Douban, China's major film and TV review platform.
In its current Show Season, which was premiered in October, some of these treasures return to the stage in another form.
A Panorama of Rivers and Mountains was the first cultural relic to appear on the stage of The Nation's Greatest Treasures. Nevertheless, when Zhang moves in dance to reflect Wang's despair and ardor, audiences may develop a new understanding and appreciation of this cultural grandeur.
"We have rich historical treasures like this painting," Zhang says, adding that today's generation should learn to appreciate them, or they may vanish.
"It behooves us to retain these legacies through creative forms," he says.
Success of The Nation's Greatest Treasures enables its production crew to explore the possibility of building a franchise, and Show Season is the first attempt at that.
"In previous seasons of the variety show, cultural relics are the absolute main stars," Yu Lei, director of the program, says. "All our expressional methods, invited guests, and all the other elements in the show have to center on the relics. We cannot detract from their luster.
Most Popular