Nations pledge to block attempted migrant crossings
Share - WeChat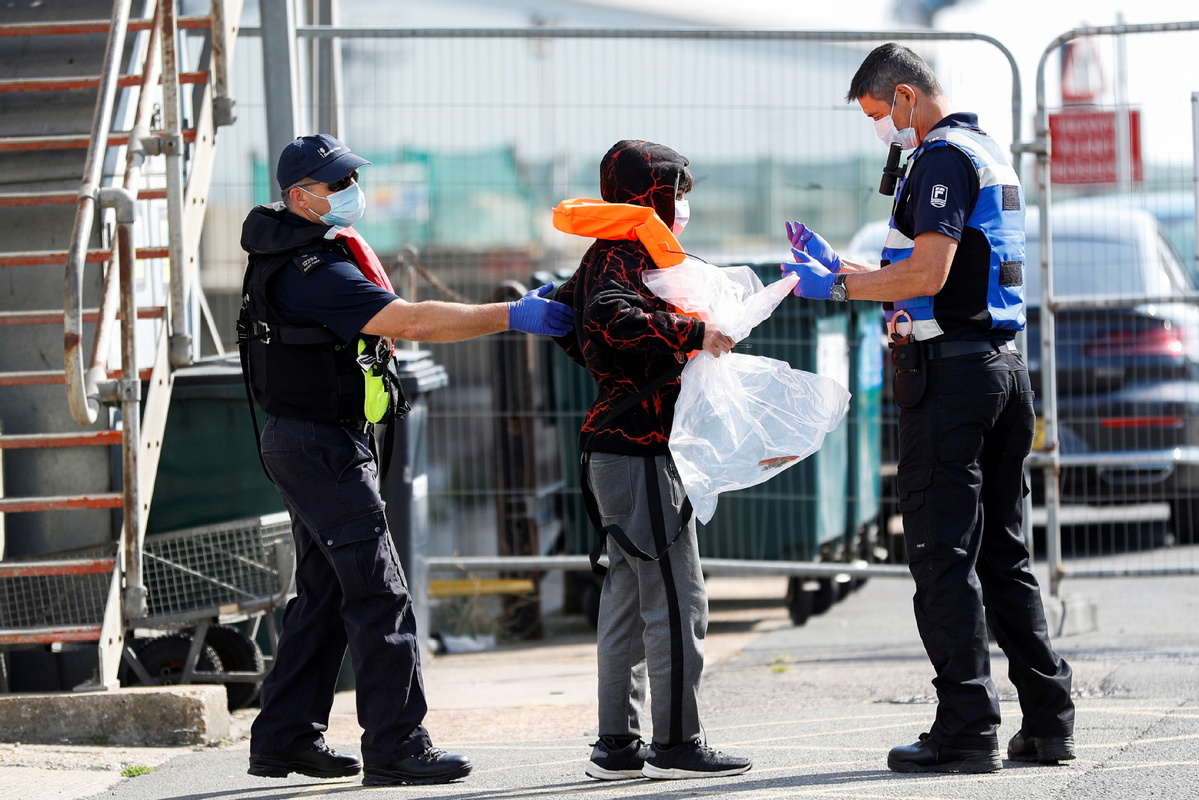 French riot police broke up an illegal migrant camp near Dunkirk on Tuesday soon after ministers from France and the United Kingdom jointly pledged to make attempted crossings of the English Channel by boats full of migrants "unviable".
On the instructions of French Interior Minister Gerald Darmanin, officers began pulling down tents at Grande-Synthe, a northern coastal site, after some 1500 men, women and children were escorted to buses, Reuters news agency reported.
French media said that more than 1,000 people were being evacuated and transferred to local shelter facilities, such as sports halls and other public buildings.
In an online call on Monday night, the UK Home Secretary Priti Patel and her French counterpart Darmanin pledged to stop "100 per cent" of migrant crossings. The announcement comes after record numbers of migrants arrived in Britain on a single day last week.
A report in The Daily Telegraph said so far this year, a record 23,500 migrants have crossed to the UK, which is nearly treble the total for the whole of last year. French police say smugglers are too good at evading security and that they can only stem the fl ow, noted Reuters.
France and Britain have been quarrelling over the issue, but have now agreed to deploy joint security and police operations to catch people smugglers in northern France, reported The Times.
In a joint statement, Patel and Darmanin said: "The Home Secretary spoke to her French counterpart Gerald Darmanin to discuss the problem of small boats crossing the Channel and the operational response to it.
"Both the Home Secretary and Interior Minister agreed to strengthen operational cooperation further. More must be done to stop the dangerous crossings.
"They agreed to accelerate the delivery of the commitments made in the joint agreement of July 2021 to deliver on their joint determination to prevent 100 percent of crossings and make this deadly route unviable."
The statement added that Patel and Darmanin also discussed "a range of additional steps, alongside additional technical solutions to tackle organized crime groups and respond to the escalating issue".
The Times noted that the UK has previously demanded that France deploys joint patrols in the Channel, but that France still refuses to do this. The paper also said that previously, UK government sources had accused France of "ceding sovereign territory to people smugglers".
Darmanin had earlier said Britain was "in no position to be giving lessons to us" on tackling the crisis and that Britain's labor laws encouraged migrants to attempt the dangerous crossing of the Channel by dinghy, reported Reuters. He also urged British politicians to stop using France as "a punch-ball in their domestic politics," said the Telegraph.