China's green pledges luring foreign solutions providers
Share - WeChat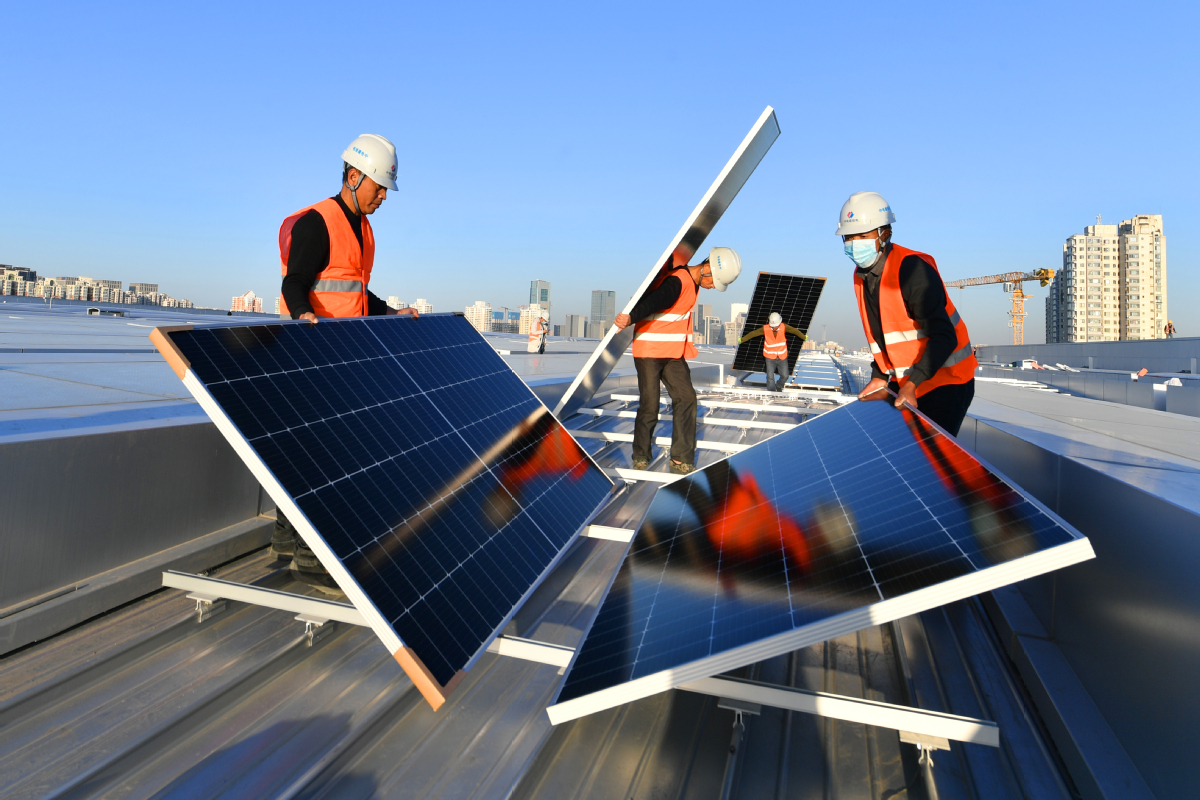 Joint efforts highlighted by executives in achieving 2030, 2060 carbon goals
China's recent moves to fulfill its climate commitments demonstrate the nation's strong sense of responsibility, encouraging foreign players operating in the country to share with local business partners the latest green and low-carbon solutions, and tackle climate change shoulder to shoulder, business executives said.
As China aims to peak carbon dioxide emissions by 2030 and achieve carbon neutrality by 2060, the government has rolled out top design guidelines for achieving such goals, and an even detailed action plan for the 2030 target.
Danfoss Group, one of Denmark's largest industrial enterprises which attended the fourth China International Import Expo from Nov 5 to 10 in Shanghai, demonstrated its innovative electrification, digitalization and intelligent manufacturing solutions.
A global leader in low carbon and green technologies, the company launched the "Danfoss Green Low-Carbon Park", in which various solutions are applied to achieve energy saving, reduce energy consumption and emissions, and other green goals. The park was displayed in the form of a sandbox during the Shanghai event.
The company also displayed the latest results of a carbon-neutral project under construction in Sonderborg, an economic hub in southern Denmark where Danfoss is based.
"All industries need to develop specific action lines for carbon dioxide emissions peak and carbon neutrality as soon as possible," said Xu Yang, president of Danfoss China. "We are bringing highly energy-efficient solutions and products, proven in China and globally, and are ready to support our partners to achieve carbon neutrality goals."
The company signed a strategic cooperation agreement with Shanghai Electric Wind Power Group to jointly build a zero-carbon industrial park in Haiyan county under Jiaxing, Zhejiang province.
Under the deal, the two companies will collaborate in many areas, such as the innovation and implementation of zero-carbon technologies, the utilization of green and renewable energy, and the improvement of energy efficiency.
German conglomerate Siemens AG, one of the very first technology companies globally that announced a corporate commitment to carbon neutrality by 2030, launched a "Zero-carbon Pioneer Initiative" in China in September. The company will co-create a green ecosystem with all partners and jointly build end-to-end zero-carbon industrial chains.
The company presented for the first time at the CIIE this year its trusted product "carbon footprint accurate calculation and tracking "solution, which can make carbon footprints transparent for the product life cycle.
"China's carbon goals are of great significance and not easy to achieve, but we believe with firm moves, China will eventually meet its goals," said Xiao Song, global executive vice-president of Siemens AG.
The country's carbon goals urge acceleration in carbon reduction and industrial upgrades, Xiao said, adding digitalization is a way to achieve that.
The company's first original digitalized factory in China, which is in Nanjing, Jiangsu province, has enjoyed significant improvement in operation efficiency, with production capacity increasing by nearly two times while product launch timeframes were shortened by 20 percent.
The factory applies multiple measures to curb carbon dioxide emissions, such as geothermal technologies, photovoltaic power generation, and the energy monitoring system.
Xiao said Siemens will continue to promote technological innovations and call for joint efforts from more upstream and downstream partners to apply related innovations in factories.
"The low-carbon transition requires joint efforts from all parties," said Xiao, who is also the president of Siemens China.
Zhang Yansheng, chief researcher at the China Center for International Economic Exchanges, said green development is the way for humans to deal with the climate crisis, and the international community should join hands to advance green development.
China's realization of its carbon goals needs support from advanced technologies, and intellectual property rights protections should not become an excuse by people with different ideologies to refuse cooperation and share in knowledge and new technologies, Zhang said.