Sinomach spends big on Shanghai extravaganza
Share - WeChat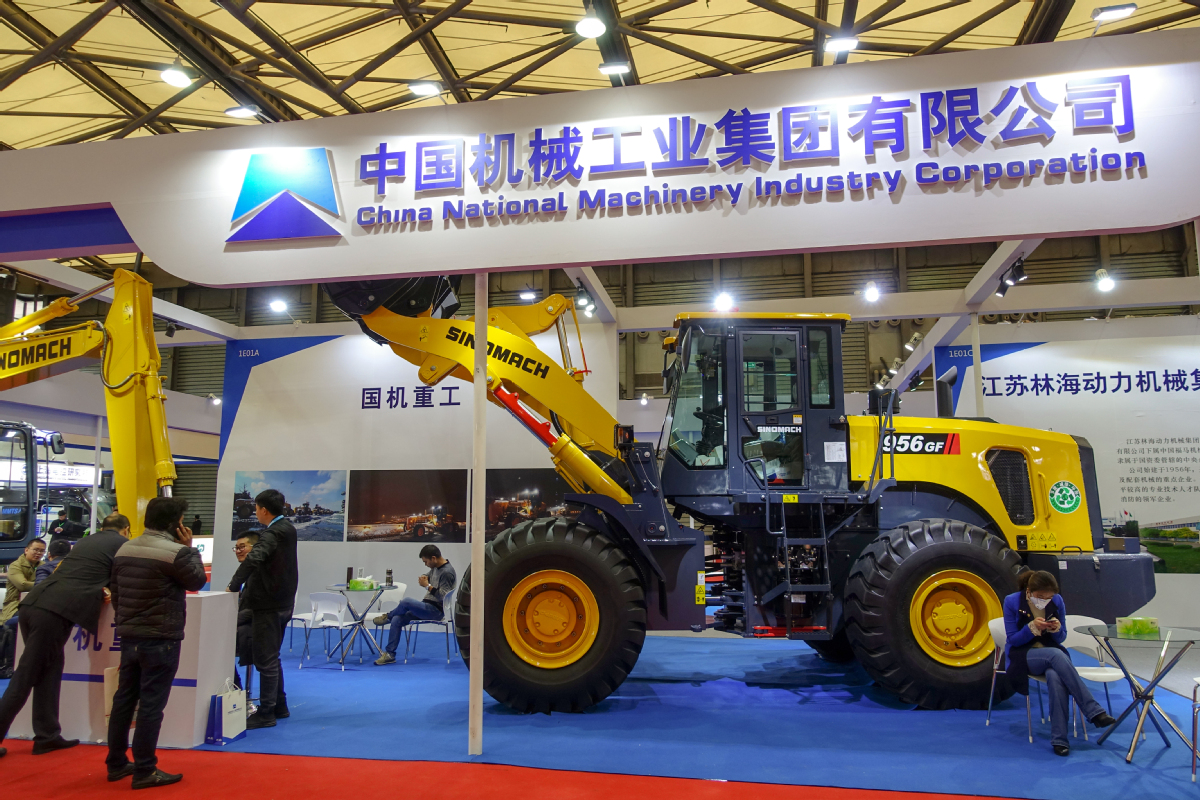 China National Machinery Industry Corp, also known as Sinomach, a centrally-administered State-owned manufacturer of industrial equipment, has set goals of importing more products from high-end power generators to commodities through platforms such as the China International Import Expo to side with the country's dual-circulation growth paradigm and green development.
The Beijing-based State-owned enterprise sealed 11 import deals with a total contract value of $1.89 billion during the fourth CIIE, which ended in Shanghai on Wednesday. These contracts involve high-end equipment, automobiles, trade in services, bulk commodities, foodstuff, and agricultural products.
"Benefiting from China's resilient economy, Sinomach, which is also a main developer of the China-Belarus Industrial Park in Minsk, Belarus, has extended its cooperation with overseas partners by seizing opportunities emerging in the green and low carbon fields, as well as from industrial and consumption upgrades," said Ding Hongxiang, the group's vice-president.
"By taking part in the CIIE, we have been able to reach more overseas markets and become a technology-driven innovator," he said. "In the meantime, our global partners are also benefiting from the grand event as they get to share in the opportunities from China's development powered by the dual-circulation development pattern."
Under the dual-circulation model, the domestic market is the mainstay while the domestic and foreign markets reinforce each other.
For example, Sinomach signed a framework procurement agreement with Rolls-Royce Power Systems Co Ltd during the fourth CIIE to import low-emission diesel engines and generator equipment to support China's high-end equipment manufacturing sector, as well as promote sustainable development outlined in China's 14th Five-Year Plan (2021-25).
The two parties also agreed to increase cooperation in the areas of natural gas and biomass gas development in the coming years.
Apart from signing import deals for cotton yarn from India and Pakistan to stabilize the industrial chain for domestic textile and garment manufacturers during the CIIE, Sinomach sealed a beef import agreement with the Minsk state government of Belarus to import 4,000 metric tons of beef on an annual basis.
Ding said the Chinese group has been upholding the country's foreign trade in the area of high-end equipment for a long time. The group to date has imported and exported a total of $192.7 billion worth of industrial goods and commodities, including buying $88.6 billion worth of products from overseas markets.
With China setting a target to combat climate change by speeding up reductions in emissions to reach carbon neutrality before 2060, Ding said Sinomach has produced a number of energy conservation and environmental protection equipment to advance the country's green and low-carbon development.
Luoyang Bearing Research Institute Co Ltd, a Henan province-based Sinomach subsidiary, completed installation and debugging of the main shaft bearing for a seven-megawatt offshore wind turbine in late October.
The main shaft bearing introduces two sets of tapered roller-bearing arrangements with an outer diameter of 3,100 millimeters. It is the largest processed wind turbine main shaft bearing with the highest accuracy standard in China.
The debut of this product filled the gap in the domestic market of high-power wind turbine main shaft bearings, and broke the long-term monopoly of foreign bearing companies in the field, information released by Sinomach said.
"The wider and deeper collaboration between Chinese companies and businesses around the world further testifies the country's commitment to opening-up," said Liu Xiangdong, a researcher at the China Center for International Economic Exchanges in Beijing.
He said the majority of SOEs will raise their investment in such areas as green industries, new materials, high-end manufacturing, big data, artificial intelligence and integrated circuits to stay competitive in the coming years, as sustainable growth and digitalization have become key growth drivers.