Cutting-edge devices shining in Shanghai
Share - WeChat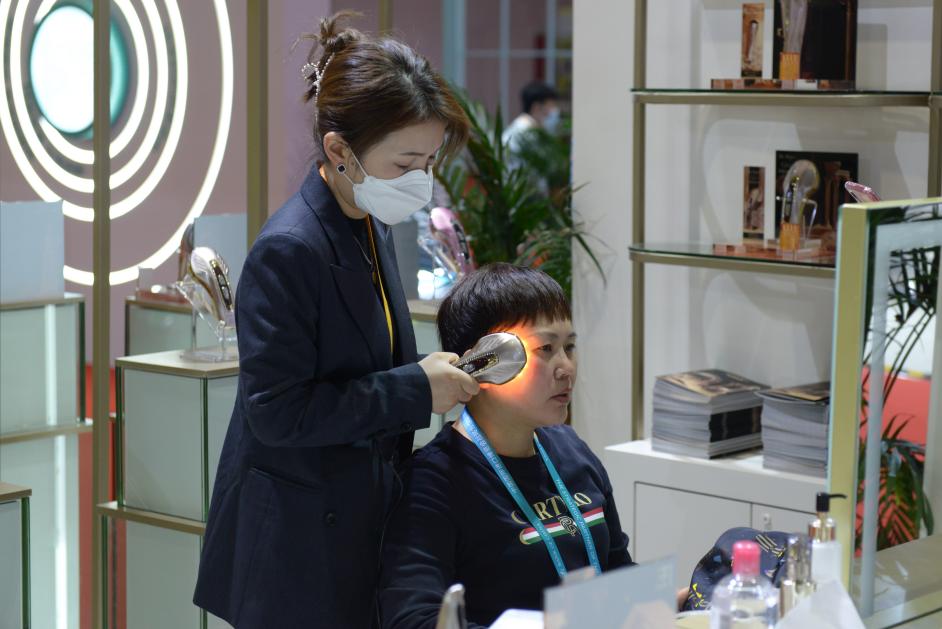 As younger generations in China attach great importance to skincare and tend to seek solutions via medical cosmetology, multiple international brands for beauty devices are piling into the Chinese market, with high-tech backing products to meet consumers' diversified demand.
The fourth China International Import Expo in Shanghai added a concentrated display area for beauty tools and instruments this year, attracting heavyweight exhibitors from Japan, the United States, Israel and Germany showcasing their "smart facial treatment recipes".
Artistic&Co, a high-end skincare device maker based in Japan, took part in the CIIE for the first time and made a new product debut-a household beauty tool customized for Asian men.
"Nowadays, a growing number of males in the post-90s and post-00s generations highlight refinement in daily life," said Qiu Xingchuan, brand marketing director for Artistic&Co.
Instead of getting treatment at a beauty salon, quarantine has led people to begin to try skincare machines at home, which brings the industry huge opportunities, according to Qiu, and Artistic&Co expects to take advantage of the CIIE as a platform to offer Chinese users professional, effective and safe beauty services.
Nu Skin, a US-based company in the direct sales, skincare, and wellness industry, also showcased its newest innovation-ageLOC beauty devices with "variable pulse micro-current technology".
The company emphasizes the critical role of technology in research and development, to meet consumers' personalized skincare needs.
"As China's economy continues to expand, there will be a greater demand for health and beauty products," said Vincent Cheng, president of Nu Skin for the Chinese mainland.
He cited a report released in March by Zhiyan.org, a domestic consulting company, saying the market size of beauty tools in China this year will be close to 10 billion yuan ($1.56 billion), and in 2026, the figure is estimated to surpass 20 billion yuan.
From 2014 to 2019, demand for beauty devices increased from 1.32 million to 6.55 million units, a compound growth rate of 37.79 percent year-on-year, according to the report.
"That's why we devoted ourselves to this sector in China, since the market is full of vitality and promise," Cheng added.