Putin, Lukashenko discuss migrant flows
Share - WeChat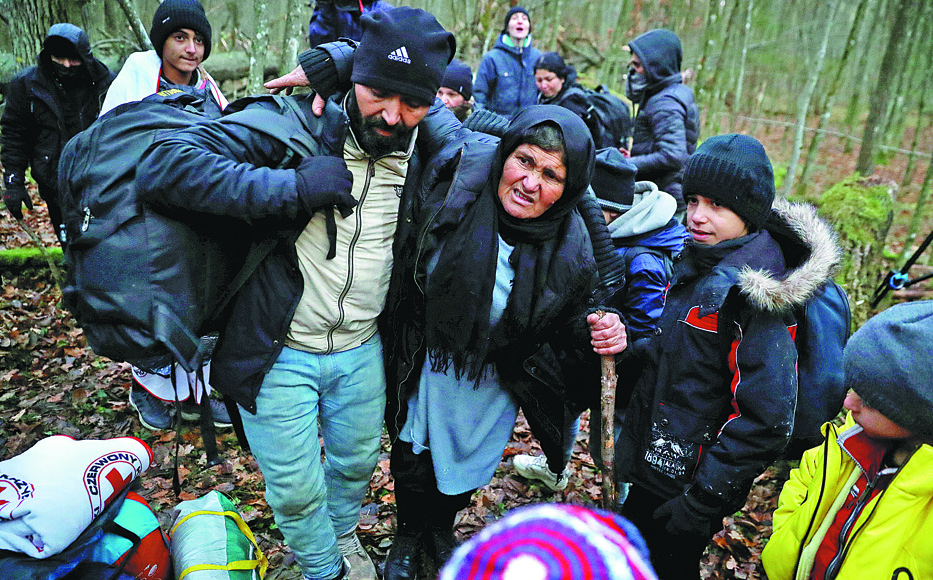 The leaders of Russia and Belarus on Tuesday discussed the tensions arising from migrants massing on the Belarus-Poland border, the Kremlin said.
In a phone call, Russian President Vladimir Putin and his Belarusian counterpart Alexander Lukashenko exchanged views on the issue, the Kremlin said.
It said the leaders reiterated their commitment to the further development of mutually beneficial integration processes in the spirit of partnership and allied relations.
The talks came after several thousand migrants approached the Polish border on Monday. Some of them tried to tear down barbed-wire fencing and break through into Poland. Polish law enforcement officers used tear gas to stop the migrants.
According to Russian state news agency Tass, more than 30,000 migrants have tried to cross from Belarus into Poland this year, and over 4,000 illegal migrants have been detained at the Lithuanian-Belarusian border.
Belarus on Wednesday accused Polish security forces of severely beating some migrants that had tried to cross into European Union territory, as the political rhetoric over the crisis on their border escalates.
Agence France-Presse reported that hundreds of migrants are trapped on the border with Poland in freezing temperatures, and the presence of troops from both sides has raised fears of a confrontation.
The Belarusian border guard service said on Wednesday in a statement that four ethnic Kurds had been beaten by Polish guards as they attempted to cross the border.
Chain-link fence
Images published by the border guards showed a chain-link fence delineating the border, migrants sitting around fires, and four men, some with bloody clothes and one with cuts on his hands, covering their faces.
"Judging by the numerous injuries on the bodies of the migrants, the Polish security forces mistreated the people and, using force, pushed them out behind a barbed-wire fence on the border with Belarus," the statement said. The men had been given medical assistance, it said.
Russian Foreign Minister Sergey Lavrov on Tuesday suggested that the EU could provide financial assistance to Belarus in order to encourage it to stop migrants from crossing over.
Poland and the EU have accused Belarus of orchestrating the migrant flows to destabilize the region. But Lavrov said the EU had to be consistent on how it treated third countries used by migrants to cross into the EU.
Lukashenko has denied the accusations leveled against his government by the West.
Lavrov argued that the growing standoff on the frontier was the fault of the EU, saying that Brussels' migration policies are responsible for a worsening humanitarian crisis on the border between Poland and Belarus.
On Tuesday, Polish Prime Minister Mateusz Morawiecki accused Russia of being behind the crisis. The Kremlin had not yet responded to that allegation.