SMEs hail benefits of attending import expo
Share - WeChat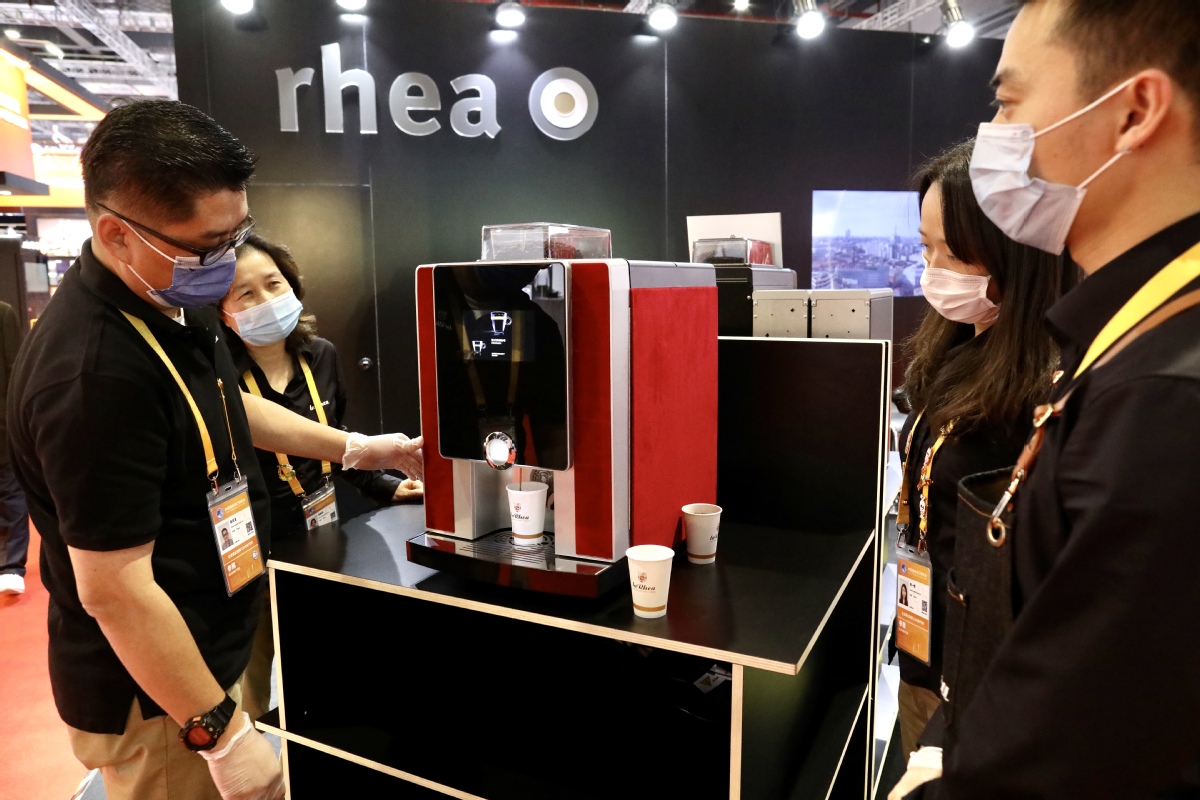 Foreign small and medium-sized companies have hailed the China International Import Expo in Shanghai as a fruitful event that allows them to tap into China's massive consumer population and the multitude of opportunities available.
For Rhea Vendors Group, an Italian manufacturer of vending machines for drinks and snacks, the CIIE is seen as an important platform to reach consumers in one of the world's largest coffee markets.
Among the exhibits by the company, which is attending the CIIE for the first time, is the Vari+ Grande, a fully automatic bean-to-cup machine equipped with an advanced heating system that allows users to control temperatures.
"The CIIE is a key channel for reaching the target market. We used to think that tea is the most prominent drink in the country, but after deeper research and direct experience in the market, especially in Shanghai-a city renowned for its specialty coffee shops-we understood that Chinese customers are not only fans of coffee, but also connoisseurs of the drink," said Alfred Xu, CEO of Rhea Vendors Group China.
"We are confident we can provide high-end Italian coffee and solutions to this increasingly sophisticated market that requires personalized experiences."
Rhea Vendors Group CEO Andrea Pozzolini pointed out that the company is also aiming to establish long-term partnerships with local partners to create tailor-made solutions from China's advanced digital and retail markets.
Another SME attending the CIIE for the first time this year is Amalia Home Collection, a luxury home textiles company from Portugal. According to Christina Kong, chief representative of Amalia China, the CIIE has allowed the company to strike new partnerships with local fabric suppliers.
"The CIIE has presented us with the opportunity to meet Chinese suppliers who are capable of providing fabrics like cashmere at competitive prices and in multiple colors," said Kong.
While European markets such as Spain, France and Italy are still the main source of revenue for the company, Kong expects the CIIE to open new doors to exploring the massive Chinese market.
"The CIIE allows us to engage our Chinese customers like never before. We believe the expo offers win-win cooperation opportunities and we will develop our plan to expand in China after further research on the domestic market," said Kong, who added that Amalia is planning to open 100 stores in China within five years.
Beer Itzhak Energy, an Israel-based family business, said that the CIIE has allowed it to grow further as the event had facilitated its cooperation with the Lujiazui Administration Bureau in Shanghai's Pudong New Area.
Focused on investing in technological ventures, the company established a partnership with the bureau at the 2nd CIIE in 2019 when one of its subsidiaries, Watergen, participated in the event and showcased machines that can turn humidity from the air into clean drinking water.
What surprised Ivan Melnikov, CEO of Beer Itzhak Energy China, was the overwhelming response the technology received-some 300 potential customers and agents got in touch with the company via CIIE.
That same year, BIE China set its headquarters in the Lujiazui Financial Area and investment has since been channeled toward the construction of manufacturing sites in the Yangtze River Delta region.
Last year, through a collaboration with a Shanghai-based manufacturing enterprise, Beer Itzhak Energy China acquired 50,000 square meters of industrial land to build a manufacturing base in Nanxun, Zhejiang province.
Having experienced the benefits of the expo, the company has returned this year to show off Q-Paint, its new antimicrobial technology for plant and coatings.
"In Jewish culture, we develop businesses where our social networks are. Although there aren't many Jews in China, I feel confident about expanding our business in China as it has favorable policies and initiatives like the Belt and Road Initiative," said Melnikov.