Season of super savings for veteran Singles Day shopper
Share - WeChat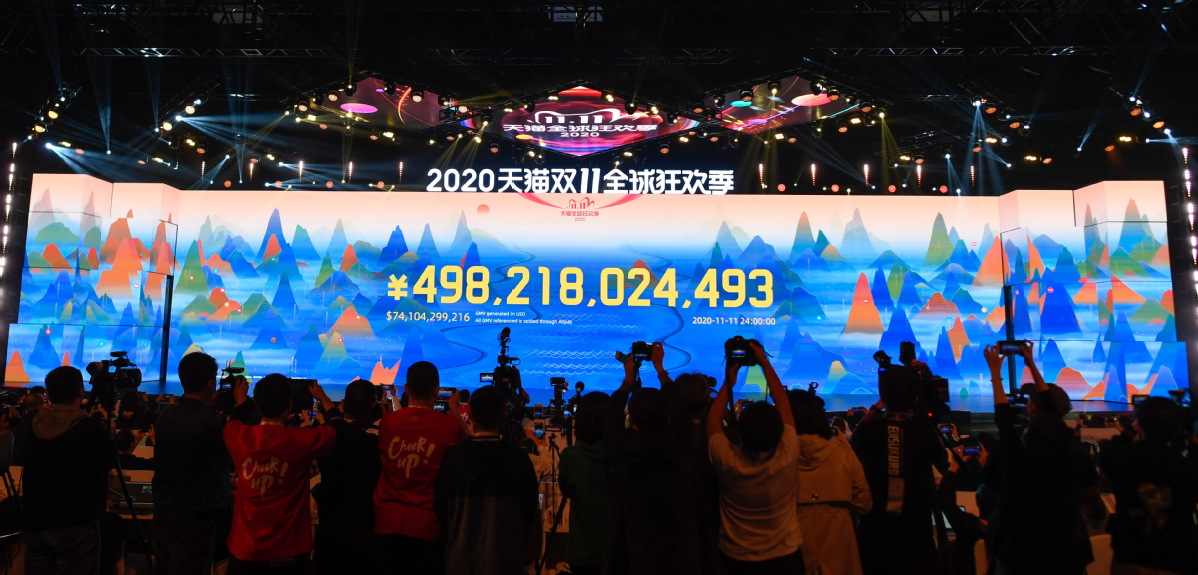 I've already made my list and checked it twice-my shopping list, that is, for Singles Day, which traditionally falls on Nov 11 each year.
While some have compared Singles Day to Black Friday and Cyber Monday, it has since eclipsed those two to generate more sales than both combined, becoming the world's largest shopping event. It is also the most wonderful time of the year for many shoppers like me, with 2021 marking my eighth consecutive occasion to take part online through Alibaba's Taobao platform.
After so many years of participating in the shopping spree, I've witnessed and experienced how it has evolved over the years, for the benefit of consumers like me.
When I first began vying for deals on Taobao, you could only enjoy the advertised overall discount-such as this year's discount of 30 yuan ($4.68) for every 200 yuan spent at all stores combined-if you gathered enough discount vouchers to cover it. In other words, if I anticipated spending 2,000 yuan, I needed to collect at least 300 yuan worth of discount vouchers ahead of time. This necessitated visiting the app during a specific period to pick up enough virtual coupons-and occasionally even sacrificing Taobao points for them.
However, since last year, Taobao scrapped the whole discount voucher scheme, so now across-the-board discounts come automatically, liberating shoppers like me to focus on hunting for bargains.
Staying up until midnight just to score blockbuster deals has also traditionally been tiresome. In the years when I've had the misfortune of pulling an early shift the morning after Singles Day, I would plod through work clouded by a "shopping hangover" for having kept my weary eyes alert so late. Plus, "shopping while fatigued "has led to a few blunders such as the excess calcium supplements mistakenly added to the cart one year.
This year, however, JD has decided to court exhausted shoppers like me by kicking off its initial Singles Day sales at 8 pm, instead of midnight. In a short but snappy TV commercial, JD features a jubilant mix of young people swaying in sync to a pop tune as they sing of how you won't have to burn the midnight oil this time. I'd dance on over to JD myself, if I hadn't already committed myself to another round of purchases at Taobao. Still, with the fierce competition for Singles Day, there's a good chance Taobao will follow JD's lead next time and let all online shoppers rest a little easier at night.
However, one of my favorite Singles Day traditions has endured year after year-presales, which launch around three weeks ahead of Nov 11. This brilliant scheme, where you put a small deposit ahead of time on desired items and then pay the remainder during the gala, guarantees your purchase, thereby eliminating one of the biggest worries of shoppers-the disappointment of not getting what you want.
More shoppers are joining in Singles Day far beyond China, as evidenced by some of my preferred American retailers. Columbia Sportswear, cosmetics brand Paula's Choice, and even Premium Outlets (which runs all of my must-visit shopping centers in the United States) have all sent me email blasts before about deals for Singles Day, proof of how it is turning into a global phenomenon.
Now if you'll excuse me, as "'tis the season to be saving", I've got some shopping to do. Wishing all of you a very merry Singles Day!
Contact the writer at jocelyn@chinadaily.com.cn
Most Viewed in 24 Hours
China Views