Europe again put on back foot by virus
Share - WeChat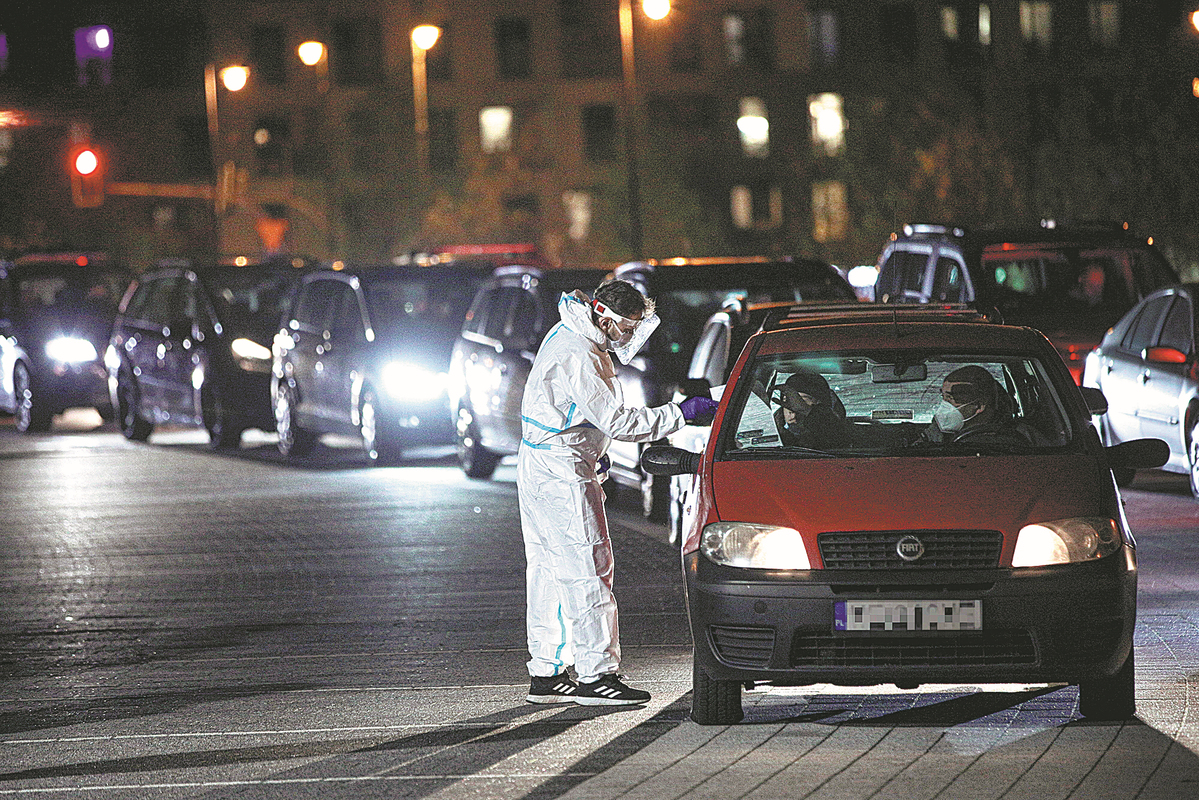 Responses range from pleas for mask wearing to curbs on the unvaccinated
Europe is struggling to deal with a fresh spike in COVID-19 infections that has once again made it an epicenter of the pandemic despite high vaccination rates across much of the region.
French President Emmanuel Macron was expected to address the nation on Tuesday about the situation after French lawmakers on Friday approved an extension of the country's COVID-19 health pass to July next year.
The seven-day average of daily new cases is now 6,200, compared with 4,200 in early October.
In Belgium, Health Minister Frank Vandenbroucke has urged people "to get ready to work from home" as COVID-19 infections and hospitalizations rise in the country. Some 1,900 COVID-19 patients were reported to be in hospitals, including 360 in intensive care; on both counts, the figures are the highest since June.
"We must act now… if this surge continues we will exceed the critical number of 500 people in intensive care, by all accounts a terrible scenario," he told reporters late last week.
He asked people to wear masks, observe social distancing and pleaded with those who are unvaccinated to get jabbed.
In Austria, fresh COVID-19 cases hit a record for 2021, the authorities said on Friday. Those not fully vaccinated were being banned from cafes, restaurants and hairdressers from Monday.
Some 64 percent of Austrians are fully vaccinated, about the average in the European Union. Still, the rate is among the lowest in Western Europe.
Daily infections in the country last Friday hit 9,388, close to the record of 9,586 set a year ago.
"The evolution is exceptional and the occupancies of intensive-care beds are increasing significantly faster than we had expected," Chancellor Alexander Schallenberg, who took office four weeks ago, told a news conference. The measures curtailing the activities of those not fully vaccinated were taking effect on Monday.
Germany, the largest economy in the European Union, is also struggling with mounting infections. The nation logged a record incidence rate of over 200 per 100,000 people on Monday, according to the Robert Koch Institute, the country's federal agency for disease control and prevention.
The previous record rate of 197.6 was set on Dec 22 last year, before COVID-19 vaccines became widely available.
On Monday, Germany reported 15,500 new cases in a 24-hour period, following 37,000 new cases on Friday, a record since the pandemic started.
While concerns are rising, Christian Lindner, leader of the Free Democratic Party, or FDP, who is likely to become finance minister in an upcoming coalition government, said on Saturday that Germany won't return to lockdowns.
"The Bundestag majority of the (Social Democrats), Greens and FDP is excluding the instruments of lockdown and curfew," he told the German newspaper Bild despite the call by some German politicians for new lockdown measures.
But Lindner expressed the view that he wanted to resume free rapid tests for Germans, a practice that was suspended in October.
Hans Kluge, the World Health Organization's regional director for Europe, said last Thursday that Europe and Central Asia are again at the epicenter of the pandemic. He described the current pace of transmission across the 53 countries in the region as "of grave concern".
Over the past four weeks, Europe has seen an increase in new infections of more than 55 percent. The week before his statement, Europe and Central Asia accounted for 59 percent of all new cases globally and 48 percent of reported deaths.
"If we stay on this trajectory, we could see another half a million COVID-19 deaths in Europe and Central Asia by the first of February next year, and 43 countries in our region will face high to extreme stress on hospital beds at some point through the same period," Kluge said.
He attributed the rising number of cases to insufficient vaccination coverage and the relaxation of public health and social measures.
Agencies contributed to the story.