Toyota faces electric challenge in China
Share - WeChat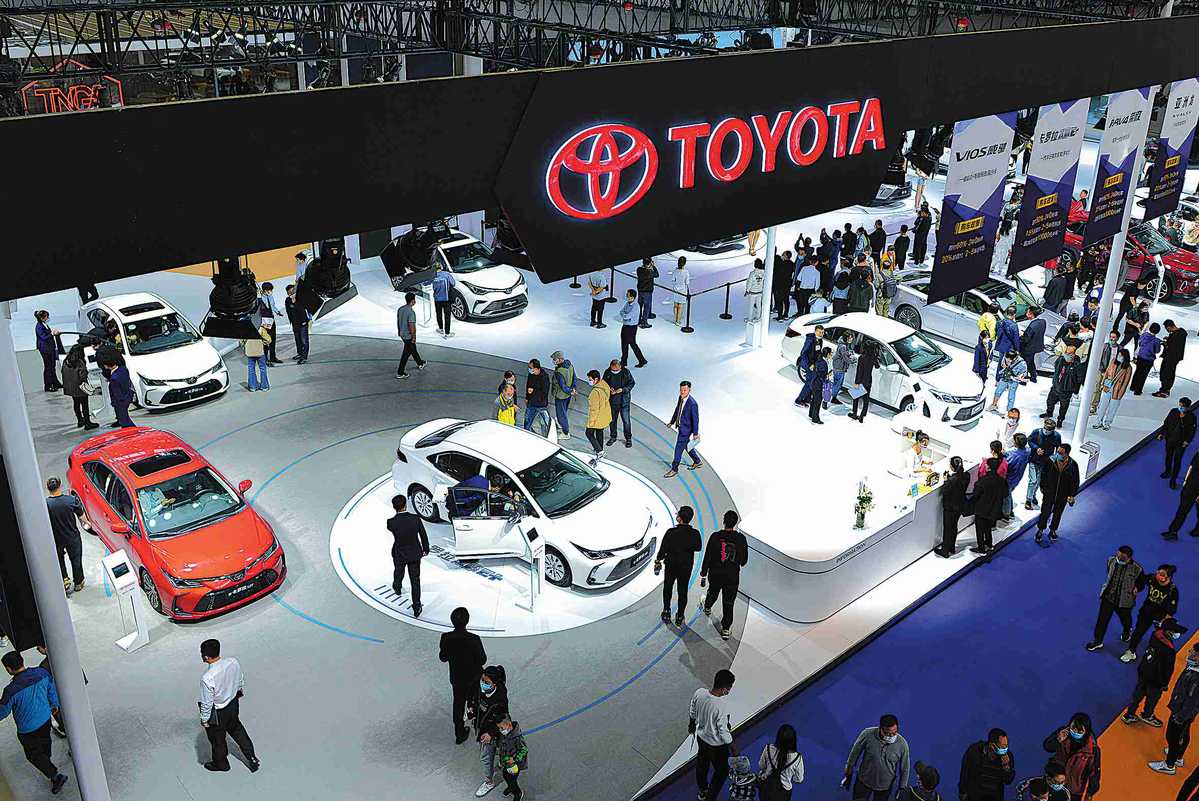 With the ongoing 26th United Nations Climate Change Conference of the Parties (COP26) being held in Glasgow in the United Kingdom, where decisions will be made on reducing carbon emissions, the world's largest car company seems to be at odds with a sizable chunk of global opinion when it comes to electrification.
Japan's Toyota was an early adopter of hybrid electrification for its vehicles, innovating with the Prius model, but has fallen behind when it comes to full electric vehicles. The company's senior management have even made statements against going toward full electric.
At Toyota's annual meeting in January, CEO Akio Toyoda denounced the Japanese government's proposals to phase out gasoline-powered vehicles by the mid-2030s.
He claimed that electric vehicles produce more emissions than internal combustion engines.
He added that electric vehicles are too expensive and that the car industry would collapse if internal combustion engines were phased out.
The first point has been proved false by numerous studies. The second is somewhat correct, with the cost of mass-market electric vehicles significantly higher than comparable internal combustion models. But prices are coming down.
It has even been reported that the Japanese automaker has lobbied lawmakers in the United States to dissuade them from all-electric future.
More importantly, Toyota seems to be at war with itself. While its CEO attacks a market that is growing at a significant pace, it must invest in electrification to mitigate strategic risks.
Toyota has joint ventures with Panasonic and China's BYD, and is building a $1.2-billion electric vehicle manufacturing base in Tianjin. But its electrification pales in comparison to major rivals such as Volkswagen.
Could it be that Toyota is bitter because of all the money it invested in hydrogen fuel-cell technology, which has not captivated the market as it planned?
While hydrogen technology has been advanced by the Japanese carmaker in recent years, battery electric vehicles have improved at a faster rate across many metrics-efficiency, range, charging network, price and popularity.
But Toyota is making some effort, despite the grumblings of its CEO. The company claims that it will have 70 electric models by 2025.
Currently, it has three pure electric models on sale in China. Compared to rivals such as Tesla and Volkswagen, and Chinese brands such as BYD and GAC, Toyota is lagging far behind in the world's largest car market.
A total of 296,000 pure electric vehicles from all brands were sold in China in September alone.
Another danger for the Japanese marque is that it can't rely on its rich history of innovation and reliability.
A host of pure electric startups are following the charge of Tesla and are potentially hovering up the current and future market share of traditional manufacturers.
These startups are examples of how staying well-informed about the demands of the market can pay rich dividends.
It's not being said that hydrogen fuel-cell technology isn't an environmentally friendly and achievable solution for future mobility, it is.
But at the moment, pure electric is outperforming hydrogen and the marketplace has made its decision for now.
Toyota's mantra is to invite people to go on a journey: "Let's Go Places". However, if it doesn't react more quickly to the current climate for pure electric, the only places Toyota's customers will be going are to its competitors.