'Sponge city'
Share - WeChat When Typhoon In-fa pelted Shanghai with heavy rains in July, Xu Jingxin was worried about the "sponge park" he had been working on for the past two years. Located in the city's Lingang area, the park gets its nickname from the ponds, gardens and a wetland connected by swales and designed to retain water in storms and prevent flooding.
Xu, an engineer with the China Construction Technology Consulting and in charge of the construction of the sponge facilities, was concerned about whether the "sponges" that he helped to design could withstand the test of intense rainfall brought by the typhoon.
"I went to check the site when Typhoon In-fa passed, and to my great relief there were very few pools of water on the ground," Xu says. "The system worked well."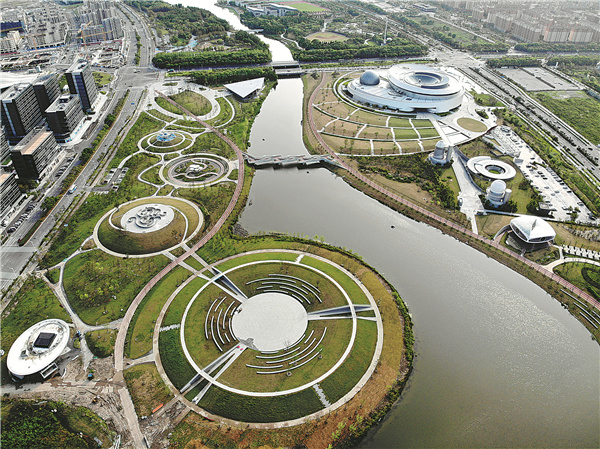 The park was built using permeable material that can absorb and channel water to underground storage units.
Flooding is one of the most serious water-related issues in Chinese cities due to rapid urbanization and the disappearance of natural wetlands. Frequent extreme weather events due to climate change have exacerbated the problem in recent years.
To cope with the problem, the State Council launched the Sponge City pilot project in 2015, with the aim of having 80 percent of urban areas refitted and embedded with sponge facilities by 2030 to absorb and reuse at least 70 percent of rainwater. More and more "sponge cities" have started to emerge across the country over the past six years. Currently, 30 metropolises are part of the project. Shanghai was selected as one of the pilot cities in 2016.