Upholding peace key in S. China Sea
Share - WeChat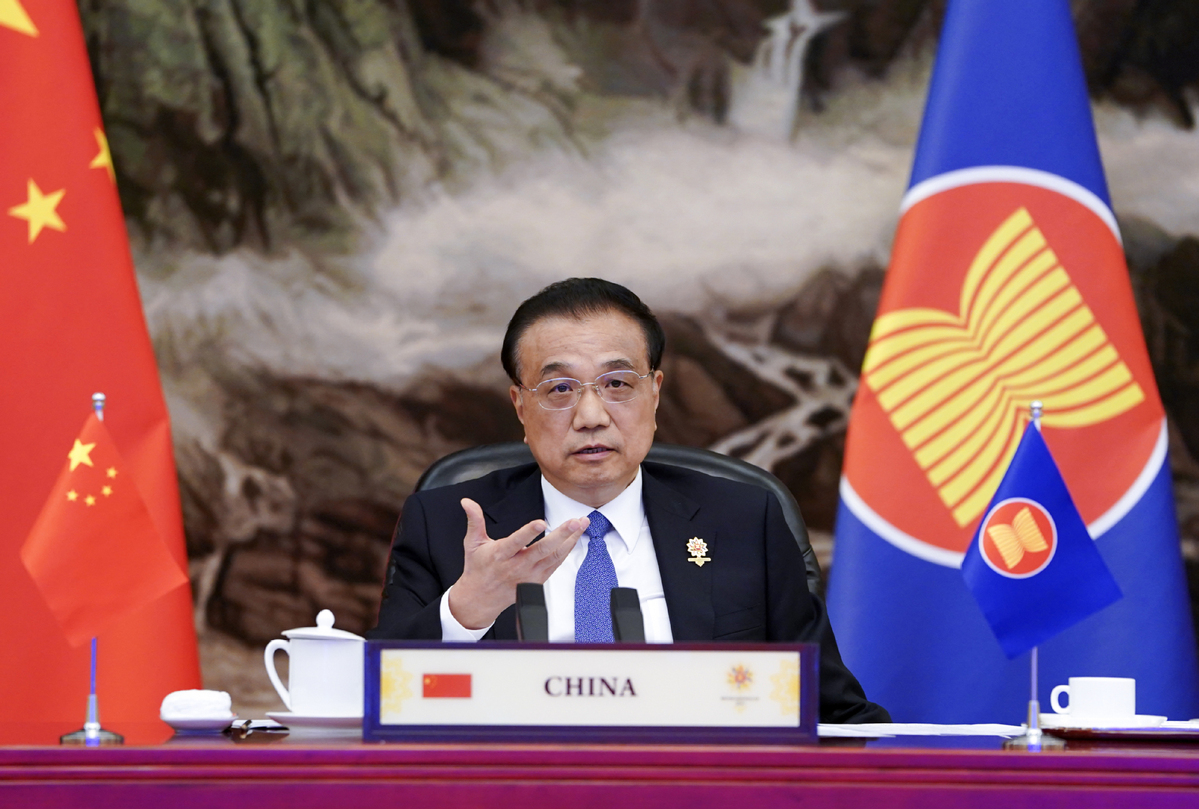 Li says Beijing stands ready to promote common development, bolster solidarity
Premier Li Keqiang has reiterated the significance of upholding peace and stability in the South China Sea and freedom of navigation and overflight, saying that efforts from regional nations to ensure peace in the area must be respected.
Li made the remarks as he addressed the 16th East Asia Summit via video link. The meeting also included leaders from the 10-nation Association of Southeast Asian Nations, Russian President Vladimir Putin, United States President Joe Biden, Indian Prime Minister Narendra Modi and Japanese Prime Minister Fumio Kishida.
Li underscored that the situation in the South China Sea has remained stable due to the joint efforts of China and ASEAN member countries, as the two sides have already reached a consensus on an effective and substantive regional protocol, known as the Declaration on the Conduct of Parties in the South China Sea.
China and ASEAN have resumed consultations on the Code of Conduct in a proactive manner, despite challenges from the pandemic, he said.
Beijing is ready to work with various sides to bolster solidarity, expand cooperation, promote common development and attain prosperity and stability, he added.
The summit was held weeks after the USS Connecticut, a Seawolf-class nuclear attack submarine, had an underwater collision in the South China Sea, about which the Foreign Ministry has expressed grave concern.
Mutual respect for sovereignty and territorial integrity is a basic norm of international relations and a key guiding principle of the East Asian Summit, Li said, urging all sides to strengthen solidarity and coordination and ramp up investments in fighting COVID and enabling economic recovery.
Li made a four-point proposal to promote prosperity and growth in the region, saying that Beijing will do its best to scale up assistance in vaccines and other medical supplies and accelerate steps to move forward with the China-ASEAN public health cooperation initiative.
China, after having applied to join the Comprehensive and Progressive Agreement for Trans-Pacific Partnership, will further raise the level of commitment to opening up, he said, adding that the nation will support endeavors by regional countries to promote the recovery of the tourism sector.
He reiterated China's position in following the principle of common but differentiated responsibilities and implementing the Paris Agreement in a comprehensive and effective manner.
It is important to promote the low-carbon transition in a balanced and orderly manner and ensure stable and secure energy supplies, he added.
Li expressed China's support for the central role of ASEAN, saying that an open, inclusive regional framework with ASEAN at the core is a key element of the long-term peace and prosperity of the region.
The meeting adopted documents including declarations on a sustainable recovery, cooperation on mental health and enabling economic growth through a rebound in tourism.