Merkel hailed for leaving legacy of win-win cooperation
Share - WeChat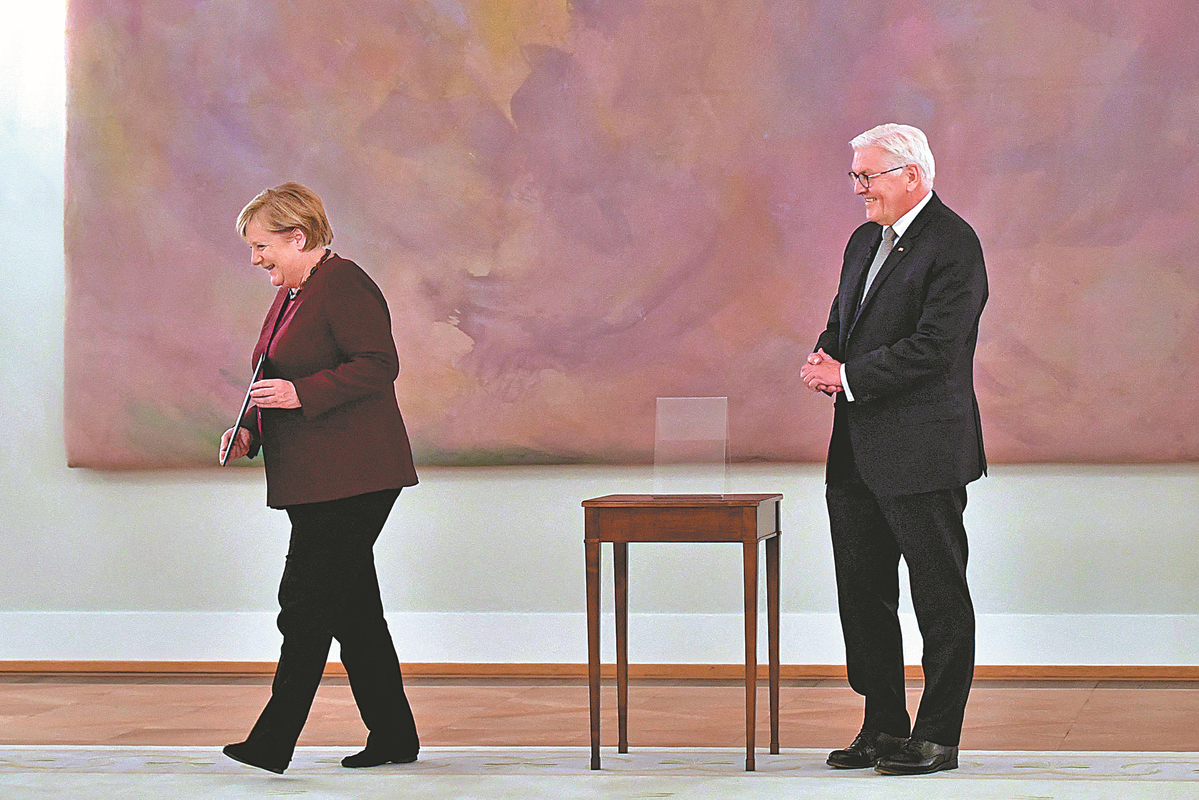 German Chancellor Angela Merkel, who is set to step down after 16 years in office when Germany's new government is formed, has left a legacy of pragmatic and win-win cooperation with China, an approach that is worth inheriting, analysts said.
Merkel received her formal dismissal certificate from German President Frank-Walter Steinmeier on Tuesday and will lead a caretaker government until her successor is sworn in.
Calling Merkel an old friend of the Chinese people, President Xi Jinping, while meeting with her via video link on Oct 13 after Germany held parliamentary elections in September, said that China will keep its door open to her at any time. Merkel did not stand for reelection.
Speaking positively of Merkel's contributions to the development of China-Germany ties and those between China and the European Union, Xi said Merkel is welcome to visit China often. He also expressed his hope that they will be able to communicate face to face again in the future.
Premier Li Keqiang also had a video meeting with Merkel a few days later.
Leaders of China and Germany have maintained frequent communication in recent years, including six phone conversations between Xi and Merkel since the COVID-19 pandemic outbreak. Xi said these exchanges have played a leading role in developing China-Germany ties and China-EU ties.
Merkel has also co-chaired in the past decade all the six rounds of intergovernmental consultation between the two countries, which was initiated in 2011 and has been called a "super engine" driving bilateral cooperation.
At a news briefing on Wednesday, Foreign Ministry spokesman Zhao Lijian praised Merkel for consolidating pragmatic cooperation and friendly exchanges between China and Germany, which has "brought concrete benefits to both countries and their people" and helped promote ties between China and Europe as well as world peace and development.
"We hope the new government of Germany will continue the China policy that is pragmatic and balanced and strengthen cooperation, which is the main tone of bilateral ties," Zhao said.
Merkel, who has served four terms in office, had made it clear that she would not run for a fifth term.
Paying much attention to China-Germany relations, the 67-year-old former scientist has visited China 12 times as German chancellor, traveling to a number of cities and covering almost all regions of China.
Her travel list includes Shenyang in the northeast, Guangzhou in the south, Nanjing in the east, Xi'an in the northwest, Chengdu in the southwest and Wuhan in central China, and her trips were always conducted in a down-to-earth manner.
On her trip to Chengdu in July 2014, for example, Merkel visited a food market and learned from a chef how to make kung pao chicken, a famous local delicacy.
Wang Yiwei, the Jean Monnet Chair professor at Renmin University of China, said Merkel, who has been active in promoting the China-EU Comprehensive Agreement on Investment, is "able to find a balance and deal with differences properly".
Her long time in office has helped avoid major disruptions of Germany's pragmatic approach toward China, which aims to ensure investment of German companies in China and their competitive edge, said Wang, adding that stable relations between the two countries is the cornerstone of steady development of China-EU ties.
China was Germany's most important trading partner in 2020 for the fifth consecutive year, Xinhua quoted Germany's Federal Statistical Office as saying in February.
Cui Hongjian, director of the Department for European Studies at the China Institute of International Studies, said Merkel managed to expand Germany's ties with China from the field of economics to other areas such as politics and people-to-people exchanges, and the past 16 years of cooperation have seen growth of both China and Germany.
Merkel has shown reasoning and openness in her approach to China and is among the "people of insight "in the West who view China's development in a coolheaded way, Cui said.