ASEAN knows perils of US power plays: China Daily editorial
Share - WeChat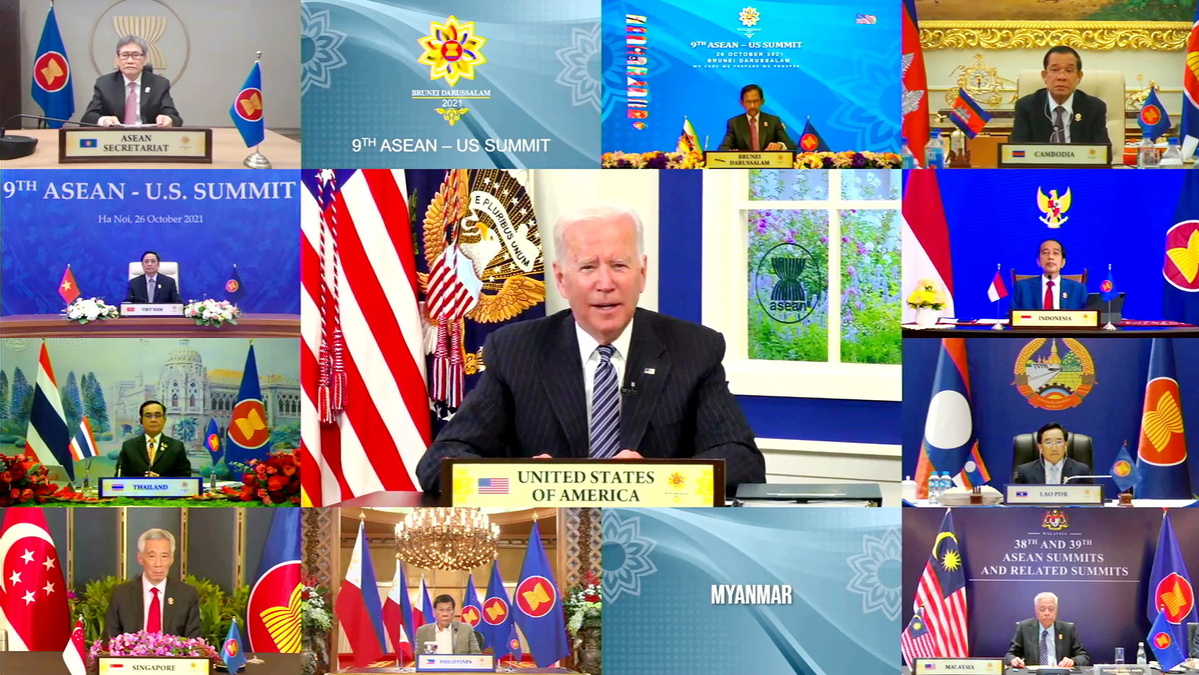 Considering the generally tense relations between Beijing and Washington over the past few years, countries in Southeast Asia have every reason to care about whether and how China and the US interact at the ongoing three-day series of Association of Southeast Asian Nations meetings, and also how each of them engages with ASEAN.
That US President Joe Biden joined Southeast Asian leaders for a virtual summit on Tuesday, the first time in four years that a US president has participated in a meeting with the 10-nation group, was no doubt a sign of the importance the current US administration attaches to it. The ASEAN countries are a crucial part of Washington's envisioned Indo-Pacific strategy, as well as being integral to its supply chain restructuring agenda, a promising market, and a geopolitical bridgehead.
Washington is undoubtedly taking advantage of the meetings to try and draw Southeast Asian nations closer to itself and away from China, as many have observed. So along with the now familiar rhetoric, Biden also came with carrots. His essentially coalition-building appeal reportedly sweetened with a $102 million gift package to enhance the US-ASEAN partnership, together with Biden's pledges on cooperation on supply-chain resilience, climate, and "common challenges on maritime issues".
Yet there was little said on how the White House will deliver when it comes to trade, investment, and infrastructure, nor on how it plans to fulfill its promise to provide COVID-19 vaccines to the region. The US-led Quad pledged in March to provide 1 billion COVID-19 vaccines to Southeast Asian countries by the end of 2022, but little has been done to honor that pledge.
Unlike Washington, Beijing does not treat its relations with the ASEAN members as a mere geopolitical expedient. The friendly ties it has cultivated with countries in the region are solid and have stood the tests of time, and they have been strengthened with practical support and cooperation. ASEAN became China's largest trading partner in the first half of 2021 taking the place of the European Union. And Beijing and the ASEAN members have agreed on the Regional Comprehensive Economic Partnership, ASEAN-China FTA, and are seeking to expedite negotiations for the conclusion of the Code of Conduct in the South China Sea.
ASEAN was founded in 1967 by Indonesia, Malaysia, the Philippines, Singapore and Thailand with the aim of promoting stability in the region during the Vietnam War, a hot war of the Cold War that was spilling into neighboring countries.
The legacy of this is the regional countries' wariness of once again being the victims of the US' power plays. With the US increasingly trying to sow the seeds of division in the region and stir up trouble, the Biden administration is going to have its work cut out convincing the ASEAN members that they do not risk being used and abused like Afghanistan if they become party to Washington's mischief-making.
Most Viewed in 24 Hours
China Views