Sudan enters deadly chaos after military takeover
Share - WeChat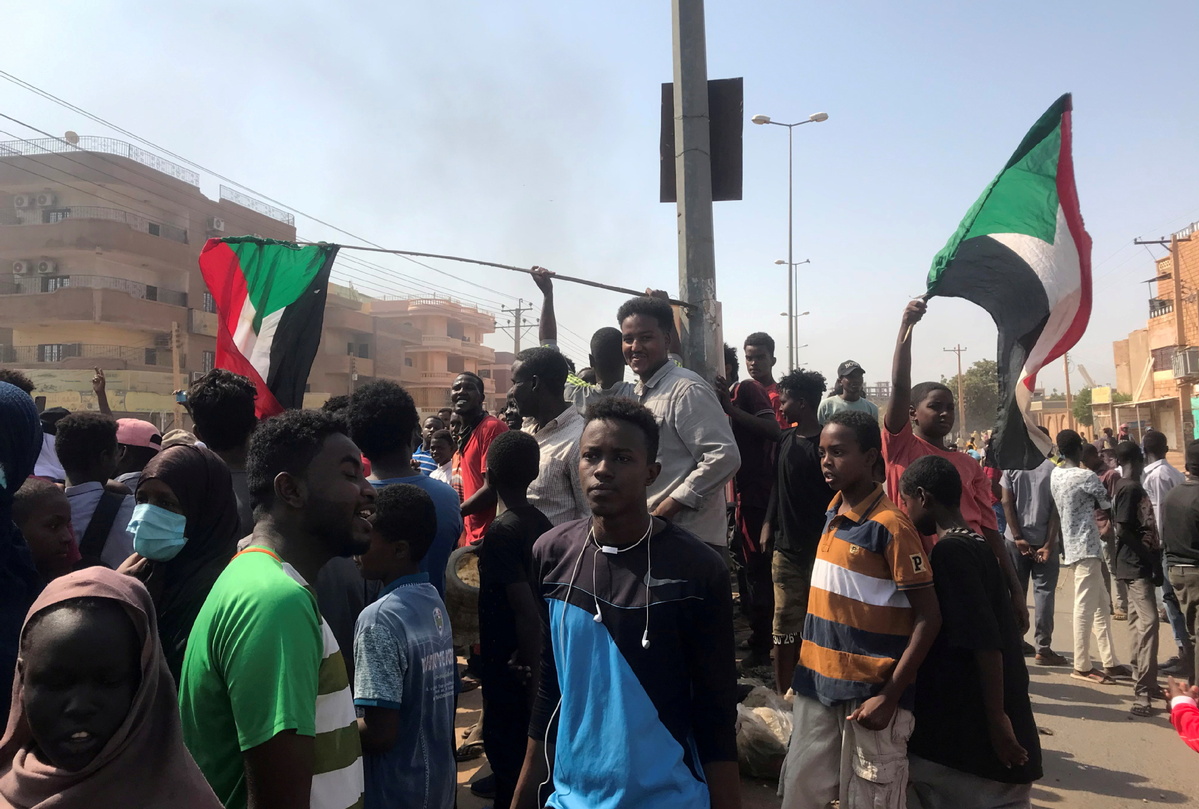 KHARTOUM, Sudan-Protesters were defiant on the streets of the capital Khartoum early on Tuesday as they demonstrated against a military takeover, with international condemnation of the country's security forces ramping up ahead of an expected meeting of the United Nations.
"Returning to the past is not an option," the crowds chanted, despite soldiers earlier opening fire and reportedly killing seven people.
On Monday, soldiers detained Prime Minister Abdalla Hamdok, ministers in his government and civilian members of the ruling council who have been heading a transition to full civilian rule following the April 2019 overthrow of former leader Omar al-Bashir.
The subsequent declaration of a state of emergency and dissolution of the government provoked an immediate international backlash, with the United States, a key backer of Sudan's transition process, strongly condemning the military's actions and suspending $700 million in aid.
The UN demanded Hamdok's "immediate release", while diplomats said the Security Council was expected to meet to discuss the crisis later on Tuesday.
Announcing the state of emergency on Monday, Sudan's top general Abdel Fattah al-Burhan said the army had taken the actions it had "to rectify the revolution's course".
He promised to hold elections in July 2023 and hand over to an elected civilian government then.
On Tuesday, Burhan told a news conference in Khartoum that ousted Hamdok was safe and was keeping at his own house.
Internet services were cut across the country and roads into Khartoum were shut, before soldiers stormed the headquarters of the state broadcaster in the capital's twin city of Omdurman.
But clashes still erupted in Khartoum after Burhan's speech.
"Civilian rule is the people's choice" was another of the chants from the demonstrators, who waved flags and used tires to create burning barricades.
The Information Ministry, which is still loyal to Hamdok, said the civilian government is still the legal transitional authority in the country and denied the dissolution of the cabinet.
Youths opposed to the military takeover barricaded streets and clashed with troops.
7 killed, 140 hurt
Seven demonstrators were killed and about 140 people wounded, according to a Sudanese Health Ministry official.
The disputes between the military and civilian partners in the transitional government had been escalating since an attempted coup on Sept 21.
The military had been meant to pass on leadership of the Sovereign Council to a civilian figure in the coming months. But transitional authorities had struggled to move forward on issues including whether to hand Bashir over to The Hague to face charges in the International Court of Justice.
UN Secretary-General Antonio Guterres said in a statement that the detention of the civilian leaders was "unlawful" and condemned "the ongoing military coup d'etat".
The European Union, the African Union and the Arab League also expressed concerns.
Agencies - Xinhua