Tariffs hinder 're-coupling' bid
Share - WeChat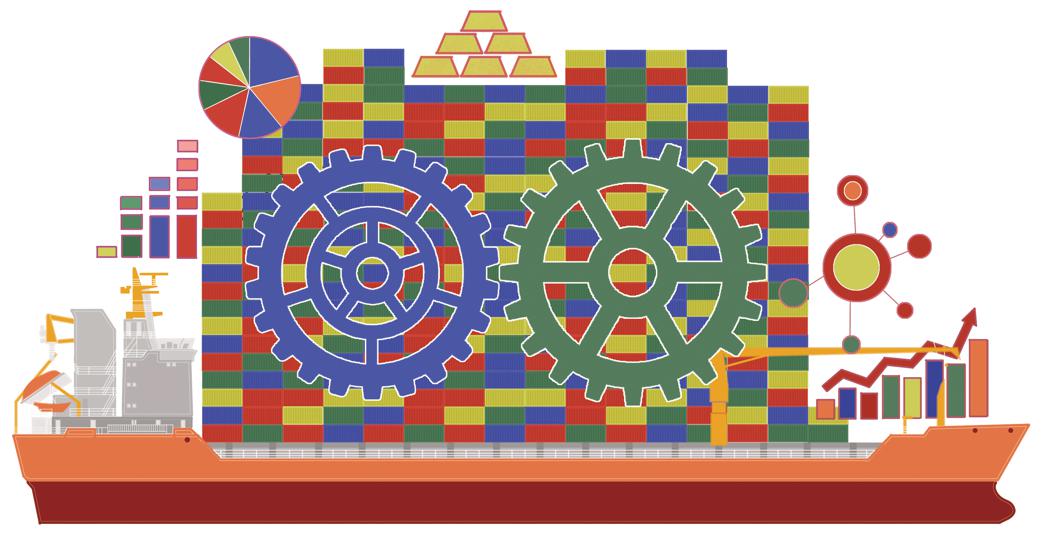 In a speech at the Center for Strategic and International Studies early this month, United States Trade Representative Katherine Tai outlined the Joe Biden administration's approach to trade with China, and distancing the incumbent administration from previous president Donald Trump's "de-coupling" efforts, she called for US-China "re-coupling".
The Chinese media's response to what appears to be a constructive idea has been cautiously positive. But the irony is that the Biden administration has not withdrawn the tariffs the Trump administration imposed on $370 billion of Chinese goods. It has made only limited exemptions. Which seems like a conflicting approach: abandoning the de-coupling policy but maintaining the tariffs which, paradoxically, are aimed at de-coupling the Chinese economy from that of the US.
Trump took several measures aimed at "de-coupling" the Chinese and US economies, and forced or lured US businesses to leave China, but didn't succeed in his designs.
According to China's customs data, in the first three quarters of 2021, China-US trade in goods hit an all-time high of $543.11 billion, up 35.4 percent year-on-year and higher than China's overall increase in trade in goods (32.8 percent up). As such, the total Sino-US trade volume for 2021 could cross $700 billion, more than the historic high of $633 billion in 2018.
Also, Chinese exports to the US in the first three quarters reached $411.54 billion, up 18.0 percent compared with the same period in 2018, and therefore the total exports of the whole of 2021 could break the $478.4 billion record of 2018, even cross $500 billion. Hence, there is no "de-coupling".
According to the US-China Business Council member survey in July 2021, 95 percent of the responding companies said they made profits in the Chinese market last year, and 78 percent said the Chinese market is better than other emerging markets. An AmCham Shanghai member survey released on Oct 6 showed that 82.2 percent of the companies expect their revenue to increase in 2021, and 77.9 percent are optimistic about their business in China at least for the next five years.
And Goldman Sachs and other Wall Street giants have held talks on capital market cooperation directly with the Chinese government, leaving Washington aside.
So what does "re-coupling" really mean?
On Sept 30, a few days before Tai mentioned "re-coupling", Gina Raimondo, US commerce secretary, told the media after the US-European Trade and Technology Commission meeting in Pittsburg that the US will work with its allies to slow down China's innovation and technology advancement. Since the US-European TTC meeting was focused, among other things, on the semiconductor chips supply chain, what Raimondo meant was that China will be excluded from supply chain-and "re-coupled" or re-attached only after the US and its allies fortified the high-tech supply chains and set their rules.
So Tai was only echoing Raimondo. Before the "re-coupling" proposal, Tai said that the overall Sino-US trade relationship is one of "durable coexistence", emphasizing that how "we relate to each other does not affect our two countries. It impacts the entire world and billions of workers".
To ensure "durable coexistence", Tai called for managing competition and promoting fair competition. Tai's narrative puts China in a rule-breaker's position as a "State-centered economic system" lacking "adherence to global trading norms" that undercuts "the Americans and all others around the world". She mentioned cases in which China had "violated" World Trade Organization rules, and claimed the sharp increase in Chinese steel output had rendered 40 percent of US steel workers jobless.
The aim of both Tai and Raimondo was to paint China as a rule-breaker and claim that the US is a rule-defender, and force China to make fundamental changes to its government, industrial and trade policies so that "durable coexistence" becomes possible. As for the US, it will work with its allies to first "save" the supply chain and "strengthen" their rules, and then "re-couple" with China. To realize those goals, the US needs many bargaining chips. And the tariffs are indeed a valuable one.
China should not give in to the US' vilification of its industrial and trading chains and rules, because differences between parties can be resolved only through WTO rules. And since a WTO panel has asserted that the US tariffs violate WTO and General Agreement on Tariffs and Trade rules, the Biden administration should unconditionally withdraw them.
Moreover, contrary to Trump's claim, the US' tariffs against China have failed to stop the flow of Made in China products into the US market, only that American consumers and down-stream manufacturers have been paying the price for them. According to an Oxford Economics study, the tariffs have already cost the US$108 billion, 245,000 jobs and on average every household $675. If not lifted, they will cost the US another $1.6 trillion, 732,000 jobs and $6,400 per household in the next five years.
The Biden administration should not have any illusions about China giving in to its accusations and accepting its rules as international rules. So it should work with China to strengthen bilateral economic, industrial and trade relations for mutual benefit.
The author is a senior fellow at the Chongyang Institute for Financial Studies, Renmin University of China.
The opinions expressed here are those of the writer and do not necessarily represent the views of China Daily and China Daily website.
If you have a specific expertise, or would like to share your thought about our stories, then send us your writings at opinion@chinadaily.com.cn, and comment@chinadaily.com.cn.
Most Viewed in 24 Hours
China Views