Multilateralism essential to building a new world
Share - WeChat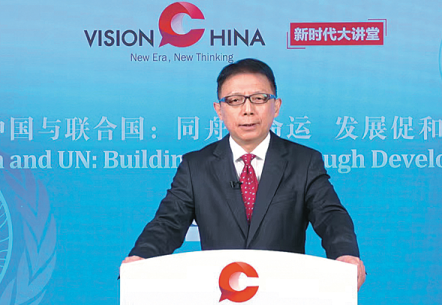 To build a better world for all, countries should work together to seek a shared future, honor the common values of humanity, stay true to real multilateralism and pursue high-quality development, said Zhou Shuchun, publisher and editor-in-chief of China Daily.
Zhou, also a member of the Standing Committee of the 13th National Committee of the Chinese People's Political Consultative Conference, made the comments during a Vision China session hosted by China Daily on Wednesday.
The event was held to celebrate the 50th anniversary of the restoration of the People's Republic of China's lawful seat at the UN.
"Today, the world is experiencing a new phase of uncertainty and volatility, as it is undergoing drastic changes while struggling with a global pandemic, both unseen in a century," he said. "It is a testing time, and one that will shape humanity's future."
Last month, President Xi Jinping elaborated on "jointly building a better world for all" when he addressed the general debate at the 76th session of the UN General Assembly.
Zhou said, "His (Xi's) propositions on 'what kind of world to build' and 'how to build the world' amount to banners that embody the common aspirations of the international community, and they will surely have a far-reaching influence on the future of the world."
On seeking a "shared future", Zhou noted that a great number of sages, scholars and thinkers in history have looked forward and upward to the building of a better world.
Their efforts could be epitomized by "a world of great harmony" sought by China, or by (Plato's) Republic, and "perpetual peace" as pursued in the West, he added.
The proposal for building a community with a shared future for mankind, put forth by President Xi, "represents a modern and realizable version of the dream cherished throughout the history of mankind", he said.
"It will prove to serve as something of a beacon, guiding the ship of history toward a brighter future."
At multiple global events, Beijing has underlined its commitment to honoring the common values of humanity: peace; development; equity; justice; democracy; and freedom.
"There is no doubt that China will dedicate itself more than ever before to the common progress of mankind," he added.
To shore up high-quality development, Zhou highlighted the need to first achieve sustainable development.
"Sustainable development is possible only when it's based on the harmonious coexistence of man and nature," he said.
"Only by working together to build 'a community of all life on Earth' can we secure a better future for ourselves and future generations."