Beijing to help reform global governance
Share - WeChat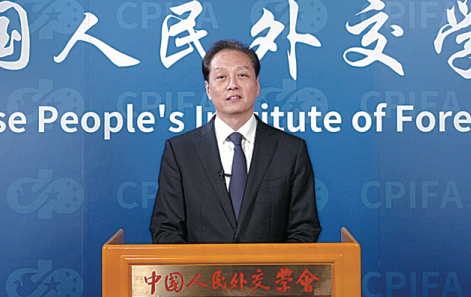 Beijing will further actively engage in reforming and developing the global governance system and "firmly defend the UN's central role in international affairs", a veteran Chinese diplomat said on Wednesday.
Wang Chao, president of the Chinese People's Institute of Foreign Affairs and president of the United Nations Association of China, made the pledge at a Vision China session hosted by China Daily.
"This epoch-making event (the restoration of China's lawful seat at the UN) significantly enhanced the universality, representativeness and authority of the United Nations, (and) ushered in a new stage in China's foreign relations," Wang said.
At present, mankind is facing "the twin challenges of profound changes unseen in a century, and the sudden outbreak of COVID-19", he said.
China has provided more than 1.2 billion doses of finished and bulk vaccines to more than 100 countries and international organizations, and Beijing has vowed to strive to provide 2 billion doses of vaccines to the world by the end of the year.
"China has engaged actively in international cooperation against COVID-19," honoring its commitment of making Chinese vaccines a global public good, Wang said.
Meanwhile, China, like all responsible countries, "is actively contributing wisdom and strength to global governance led by the UN", he noted. "On peace and security issues, China actively promotes the settlement of disputes and conflicts through peaceful means."
In the face of global challenges such as climate change, China has worked earnestly for the adoption of the 2015 Paris Agreement. The country also proposed the target of peaking and neutralizing carbon emissions and set forth new measures for Nationally Determined Contributions (which are integral to the Paris Agreement), he added.
Wang also said China has actively participated in the work of the UN's human rights bodies and contributed to the formulation of international human rights instruments.
The country has "played an important role in promoting constructive dialogue and cooperation in the field of international human rights", he said.
Looking to the future, Wang said China will firmly uphold the UN-centered international system and the international order underpinned by international law.
The Chinese people will continue to work with the "peoples of the United Nations" to uphold the original aspirations of the UN Charter, strengthen confidence, join hands to meet challenges, build peace and stability and achieve common development, he added.
"The road of cooperation between China and the UN is bound to become wider and wider," he said.