New global consumption metropolis rises
Share - WeChat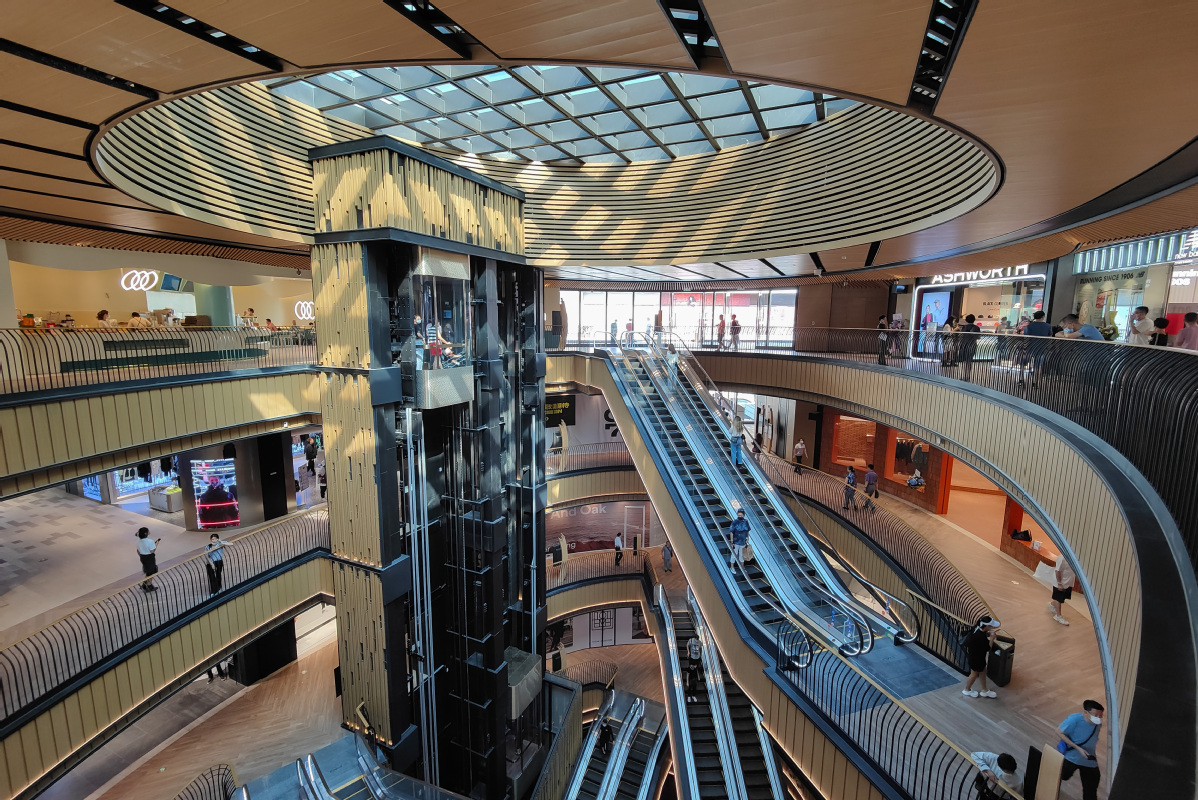 The first store boom comes in various forms and sizes, and has become part of many Chinese cities' efforts to become international consumption hubs.
In the first half, 513 first stores were launched across Shanghai, including six global or Asian debuts, 69 first stores in the Chinese mainland, seven making the first entrance in East China and 431 first shows in Shanghai, according to big data service platform Dataquest China.
Beijing and Chengdu, Sichuan province, were also hot destinations for brands opening their first stores. The two cities attracted 434 brands and 296 brands, respectively, in the first half.
In Shanghai, about 15 percent of the debut brands are international, and they come from Japan, the United States, France, South Korea, the United Kingdom and Italy, according to Dataquest's figures.
"From the perspective of investors and operators of shopping malls, the hashtag of first store plays an important role in helping one shopping mall to differentiate from others," said Xie Chen, head of research with CBRE China.
Many sophisticated shopping centers would usually make sure at least 30 percent of their brands in the mall were first stores of a specific region. Such approaches could become very positive for the shopping centers' early stage marketing and operations, and attract considerable numbers of consumers, Xie said.
First stores are drawing consumers, and so are new debuts in existing shopping centers. Data from commercial real estate services provider CBRE showed that between 8 million sq m and 10 million sq m of new shopping mall space is launched in major Chinese cities annually. In order to retain a shopping center's competitiveness, a convention has developed wherein a shopping mall's brands are adjusted according to the trends of the consumer market.
The continued upgrade of Sun Hung Kai Properties' IGC mall in Guangzhou's Tianhui Plaza for new national or regional-level first stores in the past five years has enabled the shopping center to become a new landmark for affordable luxury in the region. The mall has also become one of the few commercial properties in South China to buck the COVID-19-related downtrend and see its revenue grow.
Several new debut stores of fashion, sweets, accessories and toys were launched at Shanghai's IAPM mall this year, which further consolidated the shopping center's positioning as a one-stop shopping landmark for luxury brands, food and restaurants, entertainment and experience, as well as lifestyle and fashion, according to Maureen Fung, executive director of Sun Hung Kai Real Estate Agency.
The shopping mall has also become the first choice for international luxury brands to launch pop-up stores, said Fung.
Experts said the glamor of first stores is fundamentally backed by China's strong consumption potential. According to the CBRE report, bulk and other transactions of retail and retail-related commercial complexes in the Chinese mainland soared nearly 150 percent year-on-year to 80 billion yuan ($12.44 billion) in the first nine months, with shopping malls taking the lion's share of the trade.
The rapid recovery of the consumer market after the outbreak of the COVID-19 pandemic has beefed up investor confidence, while the 10 to 15 percent price gap from pre-COVID-19 levels makes the situation more appealing.
Internet-based new consumer brand Bananain is looking to operate 30 brick-and-mortar stores across the nation by 2023 with a majority of them being first stores in major Chinese cities.
"To us, first store means the debut of our brand in a specific city, and it connects us to consumers physically," said Zhang Li, head of Bananain's offline business.
So far, the brand has launched its city-level debut stores in Shenzhen in Guangdong province, Shanghai, Hangzhou in Zhejiang province, and Xi'an in Shaanxi province. And Bananain looks to operate five offline stores by the end of this month, with more in the pipeline in the coming years in big Chinese cities.
At the same time, China's leading artificial intelligence and speech technology company iFlytek Co Ltd is advancing its plan to open the first flagship store in 2022.
"In a bid to have our products to reach more people in Chinese cities, iFlytek looks to operate 200 outlet stores by next year with the first flagship store to be unveiled by 2022," said Zhao Xiang, executive vice-president of consumer business with iFlytek.
"While seeking debuts stores, retail operators are equally enthusiastic to collaborate with experienced brands on new concepts to bring fresh and high-quality experiences to consumers, maybe even more," said Paige Chuang, head of retail agency at JLL Shanghai.
The key to attracting consumers on a long-term basis is the business itself, and the good facilities, premium services, and proper positioning in accordance with target consumers, Chuang said.